For decades, the Impala has been Chevrolet's range-topping sedan—and the latest version of the long enduring, best selling, great-big-sedan has recently landed on dealer lots.
With a ground-up do-over, the latest Impala uses technology and comfort, as well as a flaunt-worthy new look, to bring a healthy dose of GM presence to the market currently occupied by other big, semi-luxury models like the Maxima, Avalon, Genesis, Taurus and 300.
What is a Chevrolet Impala LTZ?
The Chevrolet Impala LTZ is a big, comfy place to relax, unwind, and look good doing it. Big, stately and magnificently handsome, the tester wore gorgeous 20-inch wheels and was slathered with details, both obvious and intricate, that reward even a lengthy inspection. Intersecting character lines, a deep, confident grille and a graceful curve over the rear wheel arches drew the most attention from passersby. This might be the best looking sedan Chevrolet's built in ages.
On board, the tester's selection of grey leathers, metallic accents, wood trim and just a touch of colored piping deliver an atmosphere that's uniquely formal and upscale. There's detailed stitching, tight panel gaps and premium materials installed which convey a sense of craftsmanship and pride.
Technicalities
Moving the tester along was the Impala's top-line engine: GM's go-to 3.6L V6. Recently given a do-over by engineers, this unit now weighs less and outputs more, turning out a free-breathing 305 horsepower. Direct Injection and Variable Valve Timing systems work away inside the powerplant as its main weapons against excessive fuel consumption, and a six-speed automatic is standard. Several four-cylinder options are available, too.
Driving the 2014 Chevrolet Impala LTZ
The space, comfort and upscale atmosphere within the Impala lay the foundation for comfortable, long-distance cruising, as do the full suite of automatic features including lights and climate control. The steering system, further, even auto compensates for pull caused by uneven surfaces and side winds. You don't feel this system working, which is sort of the point.
Seats are comfy without being excessively plush, and feature heating and cooling. The driver info display is slick and informative, and all of the high-end must-haves like memory seating, push-button start, premium BOSE audio and full Bluetooth connectivity are on board, too.
Plenty of storage lies within the driver's reach, as do numerous plug-ins for recharging or connecting multimedia devices. The later, as well as navigation and other functions are accessed by a large, bright and easy-to-read touch-screen display which slides upwards at the touch of a button to reveal hidden storage for your wallet, phone or snacks.
Need more room for your stuff? The monster trunk has you covered.
On the open highway at speed, wind and road noise levels are about average for the segment: not mind-blowingly quiet but kept well in check. Impala's suspension is comfort first, though it's not floaty and geriatric, nor is it opposed to being thrown into a bend at speed. It's pretty much just right for a touch of sportiness alongside some long-haul comfort.
All said, drivers should expect to find the Impala LTZ very well equipped for sitting back, relaxing and enjoying the ride with comfort and confidence.
Full-throttle jam for passing or merging should prove adequate for most, and driven gently, the big V6 barely makes a peep. After a week at the wheel, I averaged a thrifty 9L / 100km combined in city and speedy highway driving. For a 300-plus horsepower sedan of this size, I was expecting a much bigger fuel bill.
Ins and Outs of the 2014 Chevrolet Impala LTZ
End of the day, the all-new Impala is packed with a big list of highly relevant feature content—and should prove a car with many strengths and only a few weaknesses. Your writer made note of light steering effort and a delightfully tight turning circle in parking situations, and above-average performance from the xenon headlights at night.
Noted complaints included limited headroom for taller drivers, and an instrument cluster that's just plain boring compared to the rest of the cabin—even if it's easy to read. Further, the manual-mode on the automatic transmission is slow to react and lacks any sort of performance benefit, making this a gearbox best left in 'Drive'. Some drivers will wish for bigger side-mirrors, too.
Comparing the 2014 Chevrolet Impala LTZ
Consider the Impala LTZ a priority test-drive if you're in the market, alongside the more dynamic looking
Ford Taurus
, the
Hyundai Genesis
with available V8 power, and the great-big sensible-sedan superhero, the
Toyota Avalon
. Impala will connect easily with drivers after long-haul comfort, confidence, relevant technologies and notably good real-world fuel mileage.
Road Tests and Reviews

Consumers
2014 Chevrolet Impala 1LTZ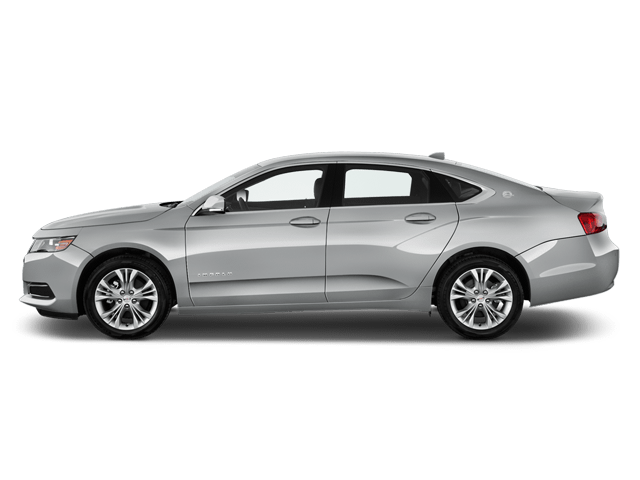 2014 Chevrolet Impala 1LTZ