Bread-and-butter cars -- or gateway cars -- are the first steps into a brand. They are typically the bestselling nameplates for a given manufacturer, and thus serve a number of purposes.
In some cases, cars like the Corolla define the value and identity of a brand in a given market. Toyota, in Canada and around the world, owes much of their success to the C-segment car. The same goes for the Mazda3: this sporty, small car has given Mazda wings the last decade.
Such is their importance in Canada, and the fact that they are both new for 2014, we pitted the two against each other last year, and although the results were concrete, we'd only begun to scratch the surface of the segment.
This time around, we've gone all out. This compact comparo test contains the top six bestselling compact cars in Canada from 2013. Sure, we could have landed the top 10, but (as usual) the logistics become mind-boggling.
Thus, to the No. 3 and No. 4 respectively, we add the No. 1 seller, the Honda Civic, the No. 2 Hyundai Elantra, the No. 5 Chevrolet Cruze, and the No. 6 Volkswagen Jetta. This sextet of small cars accounts for nearly 270,000 new deliveries a year -- a huge amount in Canada.
The number of units might be remarkable, but what truly impresses is the level of kit that can be obtained with these cars. This explains why all, save for the Corolla, are loaded to the gills with tech equipment complete with touchscreens and gadgets galore.
While these may not be the versions with the highest take-rate (lowest in most cases in fact), it does expose us to the intense intent forwarded by the car manufacturers to demonstrate that their lower priced cars need not be "cheap."
As these cars are often purchased as a burgeoning family car, we thought it wise to put together a parallel user-friendliness comparison test that covers all the important aspects such as will a "normal" adult fit in the 2nd row when two child seats are installed, and how accessible is the trunk?
So, we give to you the following grudge match results.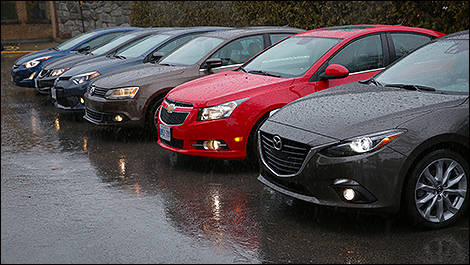 Photo: Philippe Champoux