Muskoka, ON -
The all-new
2014 Infiniti Q50
is the worthy successor to the sporty and competent G37 Sedan. Unlike the G37, the new Q50 is available as a hybrid model.
In the Q50's case, "hybrid" is more about increased performance than a huge fuel-economy leap, though there is a decent one. The Q50 also delivers its performance in a hybrid way, which may not be everyone's cup of tea. Ultimately, the hybridization builds on what the Q50 already excels at: sporty driving and technological leadership.
What is the Infiniti Q50 Hybrid Sport AWD?
The Q50 Hybrid utilizes a hybrid system that was first seen on its big brother sedan, the former Infiniti M, now rechristened the Q70.
2014 Infiniti Q50 Hybrid Sport AWD Price and Specs
Going front to back, the drivetrain looks like this:
3.5L V6 with 302 hp and 258 lb-ft of torque;
Special clutch that can deactivate the V6 any time electric driving is possible;
Electric motor rated at 67 hp and 214 lb-ft of torque;
7-speed automatic transmission with no torque converter;
Another clutch to smooth the transition whenever either power unit engages or disengages (this clutch also eliminates the need for the torque converter).
A lithium-ion 50 kW battery is located to the rear of the right rear passenger. Regenerative "braking" also helps recharging.
The hybrid system adds about 70 kg to the 2014 Infiniti Q50's weight, and reduces trunk capacity by 17 litres.
There are three hybrid models: RWD Premium $47,000, AWD Premium $49,500, and
AWD Sport
$56,450. They're all high-end models, and ask about $5,000 more than equally highly equipped non-hybrid Q50s.
Our tester was the high-flying Sport model, in classy Black Obsidian, with a fetching brown saddle leather interior. There are so many high-tech features on this vehicle we don't even know where to start…
Driving the 2014 Infiniti Q50 Hybrid Sport AWD
But how about with "drive by wire steering?" The Q50 is the world's first production vehicle available with the technology, which Infiniti calls Direct Adaptive Steering.
Sensors, software, two electric motors, some other bits, and lots of wire make it all happen and replace a conventional direct mechanical link between the steering wheel and the steering rack. As such, and as advertised, the steering wheel of our AWD Hybrid was almost vibration-free.
The system opens up the door for lots of additional spin-off technologies, like the ability to select different steering weights and ratios, and Active Lane Control, which is another step beyond Lane Departure Warning because it automatically makes minute steering adjusts to keep you in the centre of the lane!
The 2014 Infiniti Q50 is all about making life easy for the driver if you want to go that way, but it's also ready with a sport setting if you want to go the other way. The Q50 is an extremely versatile sports luxury sedan that can suit many driving styles, moods, and conditions.
It's "hybridness" is low-key when it comes to visual badging and instrument displays, but not when using your right foot.
You need a lighter or more sensitive foot than mine to keep the 2014 Infiniti Q50 in electric mode from a full stop for any longer than a few seconds. If you want to just go from a dead stop, the manner in which it all comes together never felt all that smooth.
At higher speeds, the integration is almost unnoticeable, except when you want to make haste quickly. Punching the gas pedal while cruising virtually makes this Infiniti Q50 jump out of its skin -- wow. Infiniti says the combined horsepower of the gas and electric units is 360, but with all that torque from the electric motor (214 lb-ft) instantly added to the fire, it feels like way more.
You don't have to feel guilty about goosing the accelerator, either when you know a lot of the extra motivation comes from all that nice, clean, and free electricity.
Our AWD tester is rated at an excellent 6.3L/100 km highway; 7.5L city and 7.0L combined. On our driving route from Toronto to cottage country, we actually averaged that highway number of 6.3L/100km -- and we had fun!
Inside and Out the 2014 Infiniti Q50 Hybrid AWD
Our hybrid obviously shares the same interior and exterior as the regular Q50, which is to say both offer that fine and signature Infiniti blend of technology and elegance.
The showpiece of the new cabin is the novel twin-screen. The top 8" screen is primarily for driving-related information, operated by the touch and steering-wheel switches or the big Infiniti Controller. The lower 7" touchscreen is primarily for infotainment systems.
Comparing the 2014 Infiniti Q50 Hybrid AWD
The
BMW ActiveHybrid 3
and
Lexus ES 300h
might be its closest competitors; all three are designed as "performance luxury hybrids." The Infiniti Q50 is in a good space: larger and more powerful than the BMW, and smaller and less expensive than the similarly powered Lexus. Although, more "performance hybrids" are also on the way.
Road Tests and Reviews

Consumers
2014 Infiniti Q50 Sport AWD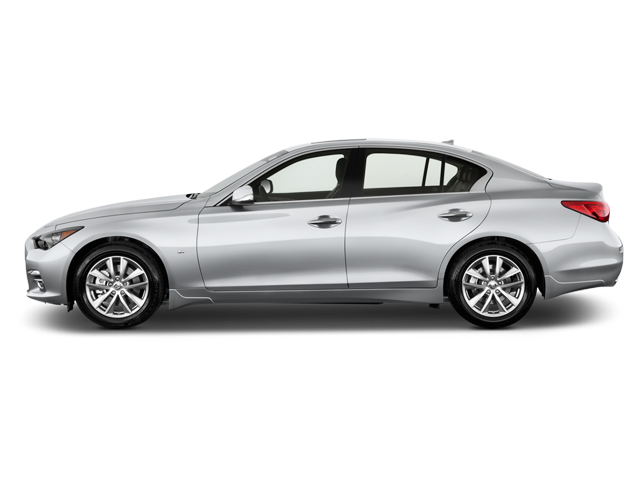 2014 Infiniti Q50 Sport AWD