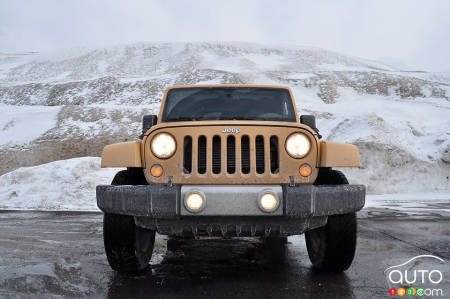 I started the month out behind the wheel of a
Jeep Compass
and then graduated to a
Jeep Cherokee
to finally end in the shuddery, loud, unsophisticated cabin of the granddaddy of them all, the Jeep Wrangler. Unapologetically raw, the Wrangler is the
true
Jeep currently available in my books, and I loved every minute of it.
What is a Jeep Wrangler?
Whether it be the CJ, YJ, TJ or latest-gen JK, the Jeep Wrangler is the quintessential four-wheel off-road SUV from Chrysler. While some historians herald the Wrangler as a direct descendant of the WWII Willys civilian Jeeps, others credit Chrysler with having stolen the design and look. Either way you look at it, this is a rough-and-tumble vehicle, and it always has been.
In 2007, the Jeep Wrangler saw a complete redesign, and for the first time was offered with four doors in a long-wheelbase model. A short wheelbase, two-door version is still available. Of course, all wheelbases offer the option to remove the roof and all doors. After all, it's a Jeep.
2014 Jeep Wrangler Unlimited Sahara 4x4 Price and Specs
It would seem that Jeep likes to offer its customers options, as it offers seven different models to choose from in its Wrangler lineup. Starting at just over $20k, the starter Jeep Wrangler Sport offers up everything you'd want in a basic off-roader with a removable fabric roof. On the other hand, the top-trim Jeep Wrangler Unlimited Rubicon comes in at $34,595 before you start adding all the fancy trail-rated extras.
Somewhere in the middle sat my particular tester, a 2014 Jeep Wrangler Unlimited Sahara 4x4. With a base price of $33,795, extras like leather seats, reinforced roof and the 5-speed auto pushed the price to $45,360.
No matter what model you choose, the 3.6L Pentastar V6 is good for 285 horsepower and 260 lb-ft of torque. There is an available 6-speed manual that I've driven in a Rubicon, and can attest that it doesn't make the Wrangler any quicker, but is more entertaining to drive than the 5-speed slushbox in my Unlimited Sahara.
Driving the 2014 Jeep Wrangler Unlimited Sahara 4x4
This is not a plushy, comfortable, Sunday-drive kind of car by any stretch of the imagination. If you want that, look to the Cherokee or Grand Cherokee even, but never the Wrangler.
Loud, obnoxious, shuddery, unruly; these are all qualities the Jeep Wrangler Unlimited Sahara 4x4 has in spades -- and that's just fine because it's supposed to.
A social media follower commented on a photo I'd posted of the Wrangler and mentioned something about never knowing which directions the wheels are pointed in, and all I could do was chuckle and agree. Steering is so vague and disconnected thanks in no small part to the recirculating ball setup that corrections while driving even in a straight line were often almost comical.
The transmission is sluggish and labored, and pickup from the 3.6L is nearly nonexistent. It often feels like the Wrangler weighs about 2,000lbs more than it actually does. This is not a blazingly fast vehicle by any stretch. It's meant to crawl over rocks, down muddy embankments, and cross desert dunes with ease. Highway jaunts are out of its element, and the ridiculous level of road and wind noise at speeds is more proof.
Fuel economy wasn't entirely horrible in the 2014 Jeep Wrangler Unlimited Sahara 4x4, with my average hovering in the 13.5L/100km range, which is roughly what I achieved in the Jeep Cherokee the week before.
Inside and Out of the 2014 Jeep Wrangler Unlimited Sahara 4x4
As I've said above, this is the Jeep. It looks manly. It looks raw. It looks unfinished, and it should. This vehicle is meant to be covered nose to tail in mud and leaves and then survive a complete hosing down inside and out. And it can.
Refinement? There is none. Blunt, big buttons and knobs along with sturdy handles and the like made to last and withstand a bit of a beating.
Perhaps my favourite part about all Jeeps is the "easter egg" additions in each vehicle. From the old Willy decal hiding behind the front right tweeter on the windshield, to the same Willy silhouette on the wheel rims, I love Jeep's nod to its heritage through a continued look and these little "treasures" owners can discover along the way.
Space inside the 2014 Jeep Wrangler Unlimited Sahara 4x4 is decent, although legroom in the rear seems like it could be better. My son's feet were firmly pressed up against the front passenger seat when someone was seated there, comfortably. The hinged rear cargo door is always a bonus for easy loading.
Comparing the 2014 Jeep Wrangler Unlimited Sahara 4x4
In my opinion, the only true competition for the Jeep Wrangler is the Toyota FJ Cruiser. In terms of raw, unadulterated off-road-ness, the FJ is on par. Throw in the likes of the LR2 and it's just too luxurious to seriously rival the Wrangler.
If you want to spend your weekends exploring uncharted backroads, or winching with your friends, the Wrangler is the way to go.
Road Tests and Reviews

Consumers
2014 Jeep Wrangler Sahara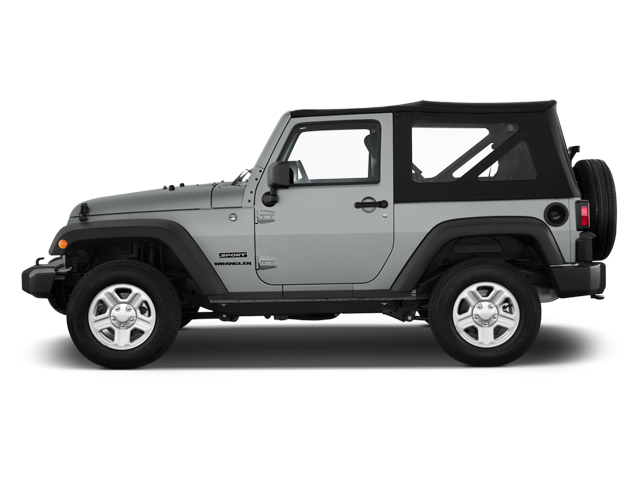 2014 Jeep Wrangler Sahara