Quebec City, Quebec -
What's this new little car that comes in a variety of odd colours, you say? Well, I forgive you for asking. During its North American debut at the Montreal Auto Show earlier this year, the company simply referred to it as "the new 2014 Mitsubishi small car" or "Canada's newest subcompact." The name "
Mirage
" was only confirmed in April at the Edmonton Auto Show.
You're probably aware that Mitsubishi once sold a Mirage in the U.S. (rebadged as a Dodge Colt in Canada). So why bring it back now? Simple: The reputation is there, and Mitsubishi doesn't have to pay a huge sum to trademark a brand new name.
What is the Mitsubishi Mirage?
The 2014 Mitsubishi Mirage is a five-door subcompact car from Japan that is actually built in Laem Chebang, Thailand, and already sold in many countries around the world under the "Mirage" name. In Europe, however, they call it "Space Star."
The 2014 Mitsubishi Mirage essentially targets first-time buyers, and promises easy, fuel-efficient driving.
2014 Mitsubishi Mirage Prices and Specs
Three trim levels are available with the 2014 Mitsubishi Mirage. The base ES, which starts at just $12,498, comes standard with a 60/40 split-folding rear seat, USB/iPod connectivity, an engine immobilizer, and a manual transmission. You can select a CVT for an extra $1,200.
The mid-level SE adds air conditioning, fog lights, alloy wheels, and heated front seats. Expect to pay $15,398 for a manual version, and $16,598 with the CVT.
Finally, the SE Convenience is priced from $15,898 (manual), and includes more upscale amenities such as cruise control, Bluetooth, and a leather-wrapped steering wheel.
The 2014 Mitsubishi Mirage gets going via a 1.2L 3-cylinder engine that produces a mere 74 horsepower and as many torques. While these numbers may seem laughable on paper, you must know that the Mirage's power-to-weight ratio is slightly better than the
Chevrolet Spark
's. Obviously, accelerating to highway speeds takes time, but don't worry, you'll get there.
Official fuel consumption ratings are as low as 5.3L/100km in the city and 4.4L/100km on the highway -- on par with modern hybrids and diesel-powered compact cars.
Mitsubishi's commitment to safety resulted in the 2014 Mitsubishi Mirage offering seven airbags, stability control, ABS, and Electronic Brakeforce Distribution (EBD) as standard equipment across the line. Moreover, the Reinforced Impact Safety Evolution (RISE) body simultaneously drops the car's weight and increases crash protection.
Driving the 2014 Mitsubishi Mirage
On a beautiful late-summer day, we sampled the new 2014 Mitsubishi Mirage around Quebec City and nearby Orleans Island. Both manual- and CVT-equipped models were at our disposal.
Subcompact cars usually provide little excitement behind the wheel, and this one is no exception. The new CVT 7, which uses a technology equivalent to 14 gears, is totally focused on saving fuel. The ultra-low revs certainly demand some getting used to: When decelerating, they drop so low that you begin to wonder if the engine will turn off all together.
With the 5-speed manual gearbox, the little mill revs at a much higher pace, which is why it doesn't achieve the same outstanding fuel-economy numbers. The clutch suffers from a very long pedal stroke, and its action could be smoother.
The 2014 Mitsubishi Mirage feels harsh at full throttle. On the flip side, the interior is pretty quiet when cruising at moderate speeds, especially with the CVT.
The electric power steering offers variable assist, while the front disc brakes and rear drum brakes do a nice job, overall. Similar to other city cars, the suspension fails to deliver a sophisticated ride.
Finally, given my 5'1" stature, I liked the high driving position in the 2014 Mitsubishi Mirage, but for headroom's sake, I was glad not to be 6'0" or taller. The steering wheel tilts but does not telescope.
Inside and Out of the 2014 Mitsubishi Mirage
In keeping with Mitsubishi's goal of offering customers an easy ownership experience, the audio system in the 2014 Mitsubishi Mirage is quite basic and straightforward. Technophiles will much prefer the touchscreen interfaces in the Chevrolet Spark and
Nissan Versa
.
Elsewhere, I was impressed with cargo room. The trunk can swallow more items than the car's design will lead you to believe. With the rear seats folded, total capacity amounts to 487 litres.
The seats provide decent comfort, although the upright rear seats may generate a few complaints after a while.
Comparing the 2014 Mitsubishi Mirage
The more tech-savvy Chevrolet Spark, well-established
Toyota Yaris
, and dynamic
Mazda2
will be the main rivals to the 2014 Mitsubishi Mirage, which has affordable pricing, generous room, superb fuel economy, and a 10-year/160,000-km warranty going for it.
Road Tests and Reviews

Consumers
2014 Mitsubishi Mirage ES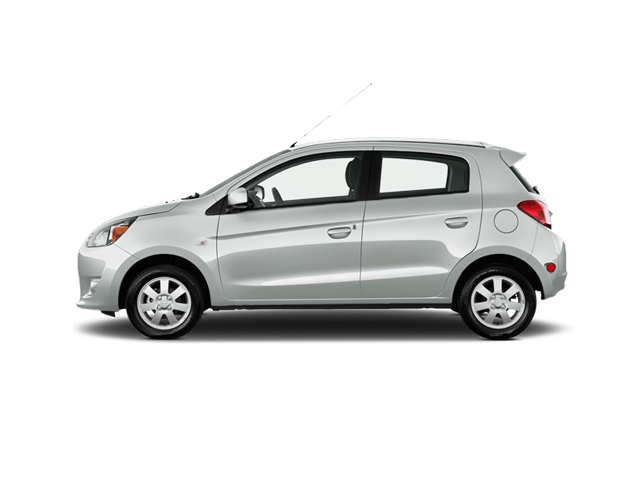 2014 Mitsubishi Mirage ES