I understand the allure and draw of hybrid vehicles. I swear I do. More fuel efficient, better for the environment, and all that jazz. However, it's rare that I walk away from a hybrid saying, "Wow, that's a fantastic car to drive! I had so much fun behind the wheel and can't wait to drive it again." I might be a rarity, but I like to drive. Hybrids rarely give me that satisfaction.
Sadly, the Pathfinder fell into that same hybrid soul-draining category. However, despite that I still quite liked the vehicle as a whole. In terms of ride comfort, space, and design the 2014 Nissan Pathfinder Hybrid SV is a winner in my books.
What is the Nissan Pathfinder?
For starters, the Pathfinder has been around since the mid-'80s. And for anyone who thinks the
JUKE
's clever rear hidden door handles are newfangled, they'd best look back to 1990 at the first gen Pathfinders where Nissan first introduced this feature to give the illusion of two doors only.
Available first as a body-on-frame structure, the second generation switched to the unibody configuration, which is what the latest (and now fourth generation) has done, as well.
2014 Nissan Pathfinder Hybrid Platinum Premium Price and Specs
Starting a good $10k over the price of a base non-hybrid Pathfinder, the 2014 Nissan Pathfinder Hybrid SV comes in at $39,248 before any extras. Springing for the Platinum Premium edition (which garners a dual panoramic moonroof and a tri-zone entertainment system) means you're starting just under $50k.
Regardless of trim level, you'll be piloting a 2.5L 4-cylinder supercharged engine along with a 15kW electric motor good for 250 horsepower. Nissan claims the Pathfinder Hybrid will turn in numbers in the 7L/100km range, but I only managed to get that number in the mid-11s. Perhaps the cold weather had a great deal to do with it... Controlling the Pathfinder Hybrid's power is a next-generation XTRONIC CVT.
Driving the 2014 Nissan Pathfinder Hybrid Platinum Premium
So, no, this wasn't a super-exciting week of driving. However, it wasn't so horrible that I wanted to pour hot coffee in my lap simply to spice things up. While I am no fan of CVTs, Nissan does make a good one and the Pathfinder Hybrid's transmission was smooth and responsive when I wanted it to be with the engine playing nicely if asked.
If nothing else, the 2014 Nissan Pathfinder Hybrid is extremely comfortable. Long trips or short hauls, this is a great ride. Front or back seats, there's plenty of space; and with the Platinum Premium addition I had the luxury of rear entertainment screens to keep my 2-year-old happy if he got too unruly.
Did I "use" the hyrbrid-ness of the 2014 Nissan Pathfinder Hybrid? Kind of. The vehicle ran on battery power in most stop-and-go traffic situations, and for a few seconds when first turned on, but otherwise I was on gas all the time. And after having a supercharged V6
Range Rover Sport
the week before spitting out fuel consumption numbers just 1L above the Pathfinder Hyrbid, I can't say I was too impressed.
Inside and Out of the 2014 Nissan Pathfinder Hybrid Platinum Premium
The newly updated exterior of the 2014 Nissan Pathfinder is quite handsome. The more bulbous exterior look carried over from the Murano suits the Pathfinder and gives it a much softer look without dumbing it down.
New LED taillights add a touch of modern, and 18" aluminum-alloy wheels ensure this SUV also looks stylish in all the right ways to attract younger buyers.
Inside, the positive design cues continue. The simplistic layout of the centre stack is a pleasant change from the norm of button overload. While it might trick you into thinking it's useful, the 4.2" Advanced Drive-Assist Display in the driver gauges is anything but helpful and kind of distracting. I usually kept it on the foot-pedal energy graphic, just for fun.
The most poorly designed part of the 2014 Nissan Pathfinder Hybrid's interior? The steering wheel. I can't tell you how many times I changed the channel or activated something with the toggle switches on each side. They stick out too much and are poorly placed if you drive with proper hand placement.
Space is not an issue in the 2014 Nissan Pathfinder Hybrid, although I was a little shocked that my son was able to kick the front passenger seat when a person was seated comfortably there. He's only 2 years old and his legs are not that long…
Comparing the 2014 Nissan Pathfinder Hybrid
Having just driven the brand new
2014 Toyota Highlander
(in both hybrid and regular versions), I'd say this is its steepest competition. While they are extremely similar, I feel like the Toyota moves ahead slightly if only in terms of design and relevance.
Road Tests and Reviews

Consumers
2014 Nissan Pathfinder Hybrid Platinum Premium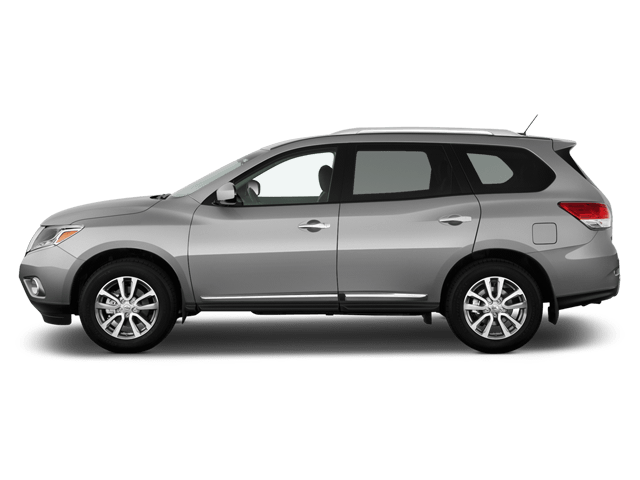 2014 Nissan Pathfinder Hybrid Platinum Premium