So, you've made it in life. Your wife – she's a stunner, with a doctorate in something or other, and she's been able to clone herself perfectly into two equally beautiful children. Your job – executive, you're a magnate in your industry, able to cut through all the hiccups to make the real decisions, which you do very well and are compensated handsomely. Your house – it's big, but you prefer to be understated and traditional, along with having modern flair and convenience.
Your car – it's a Range Rover. Because you need to show the world you have everything mentioned above.
Once the mobility choice of British armed forces, the Range Rover has evolved into the luxury off-roader of today; a status symbol on wheels. And while it still possesses the same strength in capability, those ten letters across the hood are what really sell this tour de force to the awaiting elite.
What is the Range Rover V8 Supercharged?
Along with the recently deceased Hummer and ChryCo's Jeep brand, Range Rover finds its origins in the industrial military complex.
Yet, over the years, it has been treated like the corporate red headed stepchild of other automotive companies. Land Rover, after seeing ownership by British Leyland, BMW, and Ford, finally has a parent, India's Tata Motors, that's willing to give the legendary marque the attention (and money) it deserves.
The not-so-beaten path gladiators now find more homes in upscale neighborhoods than in the arid brush of Africa.
2014 Range Rover Supercharged Price and Specs
While one might expect the top-line Landie to start in the $80k range, the Range Rover V8 Supercharged gets a base price of $114,990. That's a mighty big pill.
For that stock portfolio cashout, you receive Range Rover lettering across the front (that is important as Land Rovers are for farmers) and a 5.0-litre supercharged V8 engine belching 510 horsepower and 461 lb-ft of torque mated to an eight-speed transmission. All that power is sent to an intelligent full-time four-wheel drive system managed by Land Rover's Terrain Response 2, an automatic system with General; Grass/Gravel/Snow; Mud/Ruts; Sand, and Rock Crawl modes.
While the Range Rover V8 Supercharged might look very similar to its little brother Range Rover Sport, the split rear hatch and bigger body shows your fellow man you are top management material.
Driving the 2014 Range Rover V8 Supercharged
While I was expecting the luxo-off-roader to be a mix of suave creature comforts and effortless power delivery, the truth is a bit more rough and tumble.
Range Rover's 5.0-litre supercharged V8 is smooth, but not silky, and the eight-speed automatic doesn't do it any favors. Giving the accelerator a heftier push than normal results in some fairly harsh kick-downs for a car costing well north of a hundred grand.
That said, the Range Rover did get power to the ground, no matter the conditions. During a snowy week in Montreal, the Range Rover took everything thrown at it and I'm sure it could handle a hell of a lot more.
On road, the Range Rover V8 Supercharged was fairly velvety, though a slightly suppler ride would be preferred. While you could definitely feel the tar-sealed cracks, they weren't displeasingly jarring or smooth as glass. Quebec's notorious potholes and other road imperfections did their best to unsettle the sure-footed Landie to no avail as the big SUV took it all in stride.
Inside and Out of the 2014 Range Rover V8 Supercharged
It's hard to change the face of an icon. Carrot Top tried it and that didn't work out too well. So has Jeep with the new
Cherokee
to fairly mixed reviews..
The Range Rover's face is equal parts menacing and sophisticated, depending on which country you live in and the reason why it's chasing you. And with it's long and low stance, this SUV is perfectly suited in front of a $500 a plate restaurant during a Friday evening out.
Inside, classiness continues in a barebones, utilitarian way. Everything you need is at your fingertips. Ruining the experience is Range Rover's infotainment system that plays host to secondary and audio controls. It's response times can only be rivaled by a first day bureaucrat just back from an Oktoberfest vacation.
If there is one saving grace of the Range Rover's technological creature comforts, it's the optional 18-speaker Meridian audio system that does its best to recreate a Victoria concert hall. And if your offspring aren't keen on listening to music selected by CBC Radio 2, a rear seat entertainment package is available for $2,400.
Comparing the 2014 Range Rover V8 Supercharged
While icons tend to take on their own loyal following that eschew cross shopping, the Range Rover does have to do battle with the
Mercedes-Benz G-class
. The German marque's military-derived SUV may sport a similar price tag, but it doesn't offer up the same refinement and luxury as the Range Rover. Other luxury SUVs may provide better luxury and refinement, yet aren't nearly as capable.
For the do-it-all family with a large budget looking to conquer the world in style, this is the car for you, and everyone will know it.
Road Tests and Reviews

Experts

Consumers
2014 Land Rover Range Rover
2014 Land Rover Range Rover Supercharged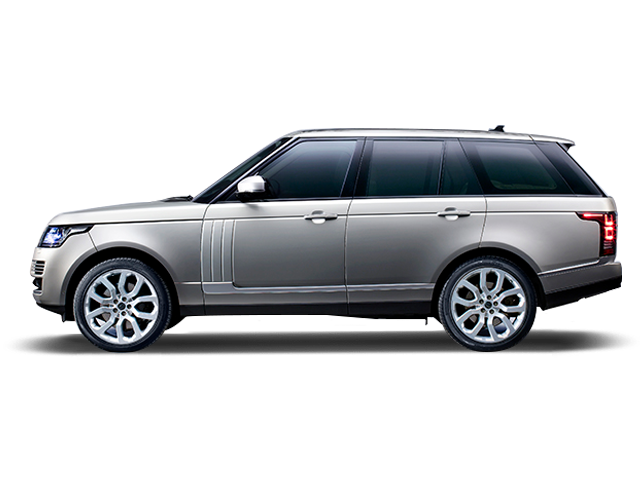 2014 Land Rover Range Rover Supercharged