At the same time as my esteemed colleague was off driving the new
2015 WRX
in the Californian sun, I was stuck at home in well-below-zero temperatures and snow behind the wheel of a '14 Subaru Impreza. While the two may seem worlds apart, they are borne of the same basic instincts, and that's saying something.
To me, the Impreza has always been the underdog -- the one no one saw coming -- and in its latest iteration, I think that's never been truer. Is it the best compact out there? No. However, it's definitely one of the top contenders, and I don't think enough consumers are aware of just how good this car can be.
What is the Subaru Impreza?
The Impreza just passed its 20-year mark in North America, and in those two decades it's managed to make quite the impression, but not necessarily in its base form as
just
the Impreza. Garnering a cult following for its WRX and STI versions, the Impreza offers up driving dynamics and AWD in a compact package that's seen some radical redesigns over the generations.
Now in its fourth generation, the Impreza has branched off and is no longer associated with the WRX and
STI
as they are now stand-alone models free of the Impreza name. Will this help or hinder the model? Time will tell.
2014 Subaru Impreza Price and Specs
With no less than eight models to choose from, there is a Subaru Impreza for everyone. At the bottom of the group sits the 2.0i 4-door with a starting price of $19,995. And at the very top, the 2.0i Limited Package 5-door hatch sits very pretty at $27,795.
Right in the middle of it all was my particular tester, a Subaru Impreza 2.0i Sport Package sedan with a starting price of $23,895.
No matter which vehicle you choose in the lineup, you'll be graced with Subaru's excellent 2.0L horizontally opposed 4-cylinder BOXER engine that's good for 148 horsepower and 145 lb-ft of torque. While a 5-speed manual transmission is standard, Subaru's Lineartronic CVT with manual mode is an option.
Driving the 2014 Subaru Impreza 2.0i Sport
Full disclosure: My very first car was a Subaru Impreza. It was a base model with a manual transmission. I loved it for its AWD and its fun-to-drive nature. It could be as civilized as it could be feisty when asked; and by partnership I've also spent the better part of a decade with a WRX parked in the garage. So, I may be a bit biased here (you've been warned).
Granted, this 2014 Subaru Impreza was no turbocharged WRX, but it was quite nice to drive. For starters, it had life. It was eager to go; so eager in fact that depressing the throttle from a parking spot was almost shocking as it would jump forward, ready to get the show on the road. When compared to the Prius and Rogue I'd driven the week before, it was a pleasant departure from stunted throttle response.
In all honesty, Subaru's Lineartronic CVT is very nice. It's not obnoxiously loud and is responsive. And despite the manual mode option in my Sport Package tester, I was happy to let the transmission perform as it pleased.
Steering is precise and while the body roll is apparent, I understand the Impreza is meant to be a comfortable cruiser, not a corner-munching track star (that's the WRX and STI's jobs).
The AWD is as high-performing as ever, and no matter what our Canadian "spring" threw at me that week, the 2014 Impreza took it in stride.
Inside and Out of the 2014 Subaru Impreza 2.0i Sport
As I mentioned above, the Impreza has seen many facelifts over the years. This latest Impreza is perhaps the most generic looking one of all.
Through a series of "dumbed down" design choices, Subaru has opened up the door to the masses and made their cars more accessible and acceptable to a greater buying public. Where flared wheel arches and a fairly aggressive front fascia may have been off-putting to some buyers, a gentler look and softer edges and sidings appeals to a great number.
Inside, the 2014 Subaru Impreza offers up standard fare and is both comfortable and practical. There's nothing spectacular to write home about, but it is roomy. The back seat offered up ample space for my son's baby seat and the door openings are blissfully more practical than they were on the '04 Impreza.
Comparing the 2014 Subaru Impreza 2.0i Sport
In terms of competition, the Impreza is up against some strong names: Toyota Corolla, Hyundai Elantra and Ford Focus. However, what it has going for it is AWD and an all-year drivability some crave, as well as the practicality, fuel economy, and design those in the market for cars such as these are looking for.
Road Tests and Reviews

Consumers
2014 Subaru Impreza 2.0i Sport Package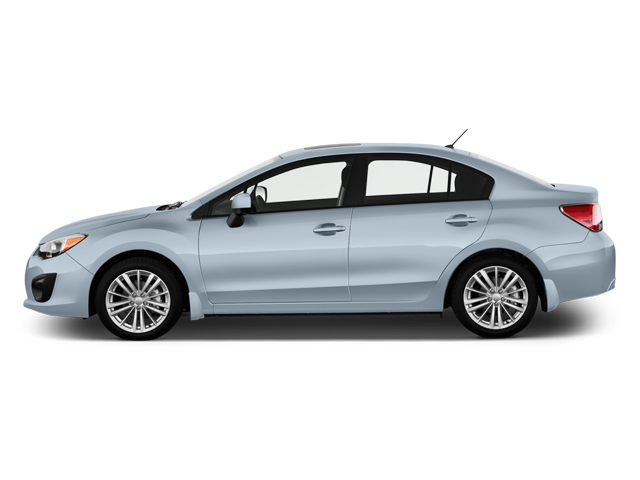 2014 Subaru Impreza 2.0i Sport Package