Aston Martin experience pictures at ICAR
You know that moment you swing your gaze across a room and you catch someone's eye: For that brief moment you feel something, deep down. A million scenarios play through your brain and body in those seemingly endless seconds. And you want to do it all again, as many times as possible. So you get up and you introduce yourself.
When I entered the staging area at the ICAR racetrack in Mirabel, QC. where a lineup of brand new Aston Martins awaited me, my eye immediately caught and held on to a China Grey V12 Vantage S. Rendered speechless and motionless for a moment, I knew I had to get behind the wheel. I knew I had to learn more about this vehicle. I knew I'd probably fall in love immediately, but I didn't care.
The look of love… or is that lust?
Staring into the carbon fibre grille (which you'll likely recognize from the Vantage GT vehicles), smooth flowing headlights and bold, mesh vents stretched across a bulging hood that belies the beast within; how could I not feel a bit weak in the knees?
As I run my gaze from the elegantly slopping nose to the bold, muscular shoulder line, I'm struck by the pure sensuality of it all and how well each crease and curve flows seamlessly and perfectly into the next. There's a boldness to it all that's rather like a low-cut dress at a formal dinner; you know it's inappropriate, but you look and you look often.
I'll just come right out and say it: The 2015 Aston Martin V12 Vantage S has the best-looking ass in the industry. It's not Kardashian-sized, it's not loaded with bling like J-Lo at an award's ceremony, and it's not Mary-Kate and Ashley anorexic either (and btw, I've not fulfilled all cultural references for this article). Its rear is perfectly proportional in every sense with a severe yet oh-so-subtle decklid spoiler and integrated dual exhausts and rear diffuser.
When I was finally able to pull my gaze from the V12 Vantage S' stunning exterior and slip my eager fingers into the pop-out door handle to open the door, I was greeted with the smell of opulence, performance, and pure raw power (oh and leather, of course). From the Emotional Control Unit (the all-glass key fob you don't even have to depress, simply place in the "engine start" slot… which makes me feel tingly in all the right ways) to the carbon fibre and Kevlar racing seats (that also save 17kg of weight on the car), the cabin is a design orgy of finely crafted and stitched surfaces and X-rated materials like carbon fibre paddle shifters, a sport button, and chassis-tightening and traction deactivation buttons… Hold on, I need a moment.
Road Tests and Reviews

Consumers
2015 Aston Martin V12 Vantage S
2015 Aston Martin V12 Vantage S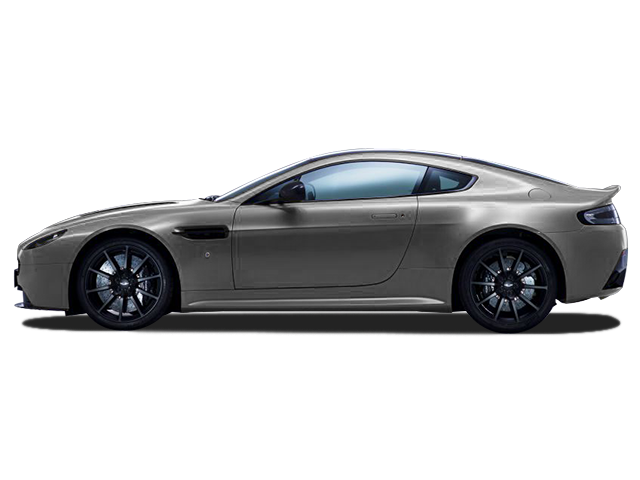 2015 Aston Martin V12 Vantage S
Lust, definitely lust
Placing the Emotional Control Unit in the engine start slot is just that emotional, and is nothing short of that first sexual experience with a new partner: unknown, exciting, thrilling, and a bit intimidating all at once, and you just can't get your clothes off quickly enough. The desire is palpable, and as the 6.0L V12 roars to life all the right bits come to life in the car, and in you as the driver.
There is no drive select, to get the V12 Vantage going you must use the paddle shifters and place the car in first gear.
For all my writing prowess (I'm a star in my own mind), properly describing the first hard acceleration I experienced behind the wheel of the 2015 Aston Martin V12 Vantage S is nearly impossible. Finding the write adjective, verb, sentence structure is just… well… it's just…
F*ck me, it sounds like the devil on a bender at a karaoke bar, and is as quick as you were to finish that first time with your new partner (come on, you know I'm right).
There's something visceral and real about the Aston Martin Vantage I didn't expect at all. I figured for all its posh heritage and upbringing that it would be all stiff-upper-lip and proper. Thankfully it's more tie-me-to-the-headboard in on-road charisma -- and that's more than OK with me. For each acceleration I experienced in the V12 Vantage S, the bondage ties were tightened, and my senses heightened.
With 565 horsepower and 457 lb-ft of torque, the 2015 Aston Martin Vantage S will hit the 100km/h mark in just 3.9 seconds from a standstill. And those are a glorious 3.9 seconds of pure unadulterated pleasure for all your senses. The 7-speed rear mid-mounted Sportshift III transmission is flawless and thanks to its electronic shift-by-wire control system, it responds and reacts as a proper manual 'box would -- without the third pedal.
While I did drive the V8 Vantage as well with the manual transmission (and was also quite impressed with the vehicle's raw appeal), the V12 Vantage S is not lacking for missing the clutch. Truly.
For all its massive amounts of push and pull, the need to slow down is necessary sometimes, which is why the Aston Martin Vantage is equipped with front and rear ventilated carbon ceramic disc brakes. They bring the excitement to a halt shockingly fast, which is what you need in a vehicle that ramps things up so very quickly -- like its own personal safe word.
Steering is almost telepathic, and while this is not the lightest sportscar out there, it felt nimble and much smaller than it actually was. And the steering wheel is blissfully bare of all buttons, knobs or scroll-y things. It's built with a purpose: to drive the vehicle it's attached to. Perfection.
Sex sells
But how much are you willing to spend on it? For some, it's well worth the $148,400 base price for the 2015 Aston Martin V12 Vantage S coupe with Sportshift. And you really are paying for a rather sensual experience every time you sit behind the wheel.
The V12 Vantage is so far removed from a typical British gentleman it's almost laughable, but then you'll be too busy catching your breath at the sheer excitement of driving to laugh -- trust me.
A special thanks to Decarie Motors for organizing this track day event, and for providing the Aston Martin vehicles we had the supreme pleasure of driving.