The Hyundai Santa Fe Sport 2.0t is a few years into its product cycle now, and no longer the freshest, newest crossover ute on the block.
Today, the cabin design is only average for the segment, with a layered look to the details and trimmings, some wood grain accenting for a touch of sophistication, clear and crisp instruments that appear high-tech and vivid, and a large central stack of controls, knobs, and a big touchscreen, top and centre. It's neat, tidy and pleasingly modern, though numerous competitors have now stepped ahead in terms of design and materials.
On board, look for plenty of storage space, including a centre console large enough to swallow a DSLR camera and lens. Multiple power outlets to keep your electron-chugging mobile devices juiced, and my tester included a list of high-end paraphernalia, including a potent Infinity audio system, navigation, voice control, automatic lights, and much more. The top-line unit even got a heated steering wheel, heated and chilled front seats, and heated seats in the rear, which will make you the hero of the office or hockey carpool on cold mornings.
Rear seats are grown-up ready, and easily switch from reclined to erect to folded virtually flat for maximum space and comfort. Rear seat passengers get first-class treatment thanks to the panoramic glass roof overhead, and even privacy shades like you'll find in a high-end BMW. Headroom is particularly generous -- even with the panoramic roof.

Looking rearward, a wide and long cargo hold with under-floor compartments will help families stay organized, while a cargo cover keeps items stored out of sight and away from prying eyes.
Ride quality is dialed in for a confidently sporty disposition: it's on the stiffer side of the equation for a sensation of nimble agility, though there' a layer of softness dialed in around the edges of the suspension, so ride quality is typically very complaint. In the Santa Fe Sport, the suspension doesn't feel soft and squishy like a warmed ciabatta loaf, and drivers after a floating-on-a-cloud ride won't find it here -- though it isn't spine-punchingly stiff, either. Steering is feather-light at low speeds, helping to make parking a cinch. Ditto for the backup camera.
However, it's in the driveline and support systems where Santa Fe Sport's strongest assets shine through in challenging winter conditions and otherwise. The 2.0L, direct-injected turbo engine is eager and potent from low revs, and can be operated under 2,000 rpm with thrust to spare and barely a peep from the engine bay. The low-end torque enables an effortlessness at light throttle, and when called upon the little beast of an engine rockets things along with intent, though the exhaust note is plain and boring.
A very competent AWD system handles efficient administration of the engine's power to the surface below. Even with extremely light throttle in deep snow, all four wheels are powered, as four-wheel traction auto-engages the instant the Santa Fe comes to rest. Translation? It always accelerates from a dead stop with all wheels involved. Forget so-called slip-and-grip AWD systems: the Santa Fe Sport requires extremely minimal wheel spin, if any at all, to auto-engage four-wheel traction. When deemed necessary, rear wheels receive plenty of additional power, quickly and heartily. Hyundai says a fast-acting electro-hydraulic clutch in the AWD system's rear coupler is to thank for the instant AWD system response.

From the driver's seat, expect to feel the system scrambling and clawing away at the surface beneath for grip, instead of waiting for rear-wheel traction to be engaged as you sit, spinning the fronts and digging yourself in. When required for added grip in extremely slippery situations or deep snow, the Santa Fe Sport even has a driver-selectable LOCK mode, which sets the AWD into a 50/50 split, provided speeds don't exceed approximately 40 km/h.
Both the ABS and Electronic Stability Control systems feel expertly tuned, too. Straight, predictable and consistent stopping power comes under hard braking on any slippery surface, where the Santa Fe will squirm only slightly as braking power is dished out on a wheel-by-wheel, inch-by-inch basis to keep the nose pointed straight. The ESC system prefers to allow slight overpowering of the wheels to fling snow from the tire treads as a means to movement, rather than shutting down the throttle and leaving you all but paralyzed.

All said, the Santa Fe Sport's support systems feel well calibrated to back confident drivers up in severe conditions.
Fuel mileage on my watch landed at 11.2L/100km, including plenty of highway driving at a good clip, and plenty of use in deep snow. A driver-selectable ECO mode helps drivers save more fuel, though I never turned it on, as it drastically slashes throttle response.
Other notes? The Driver Selectable Steering Mode (DSSM) system offers three steering modes (SPORT, NORMAL, COMFORT) which are toggled via a button on the steering wheel. A neat-o idea, but I found all modes other than 'SPORT' to be too light and quick at highway speeds where steering inputs could feel like they were startling the Santa Fe a little, causing it to lurch when an input was received.
I also appreciated the tall driving position, a fairly quiet highway ride, and a solid and robust feel to the suspension. Even driven over rough surfaces, the Santa Fe feels substantial -- not like it's going to disintegrate like dollar-store toilet paper.
Be sure to give this one a test-drive, alongside the Subaru Forester and Ford Escape if your priorities include a laundry-list of goodies, great winter driving confidence, a big-power turbo engine, and numerous thoughtful, easy-to-appreciate touches.
Road Tests and Reviews

Experts

Consumers
2016 Hyundai Santa Fe Sport
2016 Hyundai Santa Fe Sport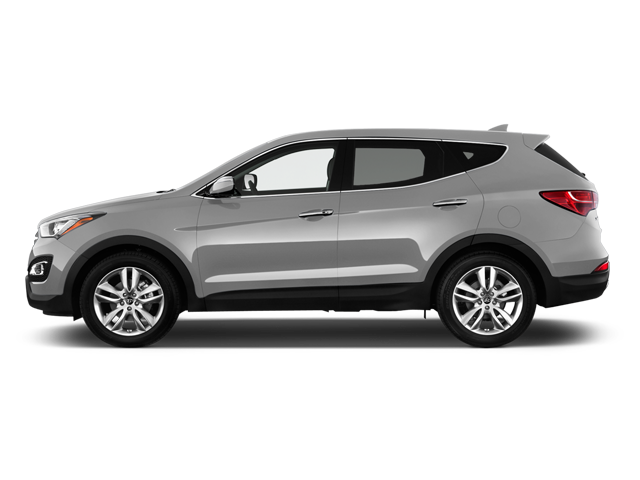 2016 Hyundai Santa Fe Sport