Los Angeles, CA — It could be a 2017… We're not entirely sure, yet. What I am certain of is that this has been one very weird first drive event. I did not drive a production car, I spent time behind the wheel of a pre-production test mule that still had work to do. I like the idea, but you'll have to excuse the photo gallery…
Now, about the Mazda CX-9. It was introduced for the 2007 MY. It stood out thanks to its rare-at-the-time, fluid-like design in the busy midsize CUV segment. Massive sales volume was never the intention with the product, however, it was well received in North America, its chosen target market. For the 2nd coming of the CX-9, Mazda has dramatically improved what was already a good vehicle. In fact, the 1st gen CX-9 won a comparison test we performed a few years ago.
I bet you never even considered the CX-9 when you were in the market for a three-row CUV back then. However, if you're back at it, I'd read what follows.
Big is beautiful
The new CX-9 now completes the KODO design and SKYACTIV circle that Mazda began four years ago. This simply means that the seven-seater crossover has been fast forwarded into the 21st Century.
The first element, the most striking, is design. The extruded prominent front fascia serves as a catalyst to direct the eye into what are far more complex styling cues than the first glimpse suggests. Mazda has done an impressive job at blending the elegant and the convoluted -- take the CX-3, without a doubt one of the best-looking vehicles under $50k. The CX-9 is a blown-up version.
Cabin class
Although I did not get to see the final cabin layout and design on my test drive, I did have the opportunity to scope it out once the CUV was unveiled at the auto show the next day. Much like the other two CXs, the 9 puts forth a simple and well thought out dashboard that is easy to access and make out. Where Mazda has truly improved is in the quality of materials and craftsmanship. One would not be faulted for thinking this was the cabin of luxury 'ute.
Kit levels are high, as expected, especially higher up the trim ladder. In the mix, one can get a widely revised HMI interface and Mazda connect to go along with their heads-up driving screen -- I'm still no fan of its application but it certainly is functional.
The CX-9's mildly increased dimensions, the wheelbase in particular, are very well exploited on board where all occupants will find an appreciable level of comfort. As always, the trunk is large with the 3rd row down but still sufficiently useable when in place.
SKYACTIV with a turbo!
The big news is; in true SKYACTIV fashion, Mazda's managed to drop 200-300lbs from the previous CUV. This has permitted the Hiroshima-based carmaker to throw in a large amount of sound-deadening material, effectively making the CX-9 luxury-ute quiet.
Part of the weight loss came from dropping the 3.7L V6 and replacing it with a turbocharged version of Mazda's well utilized SKYACTIV-G 2.5L 4-cylinder engine. The addition of a charger and an intercooler, the lowering of the compression (still quite high at 10.5 to 1) and very careful tuning has created a powertrain that was conceived for the daily urban grind. Risky in this segment, perhaps?
The engineers spent a butt-load of time studying the possibility of a SKYACTIV V6, but in the end it required far more parts, development and thus would be bulkier and heavier than a 4-cylinder. If you're worried about power, fear not. This engine develops gobs of low-end torque: 310 lb-ft at 2,000 rpm to be precise.
I did have one concern, though. Well, not really… Mazda's famous in my books for sharp throttle response, and turbo-boosted engines are know for their laggy pick-up. Not so with the new CX-9. Mazda devised a flow control valve of exhaust gasses that improves response and limits lag. The initial exhaust passage is restricted thus accelerating the speed at which the gasses flow -- simple and effective.
Horsepower output is rated at 250 horsepower at 5,000 rpm on 93-octane gasoline (227 horsepower on 87-octane gasoline). Let's not forget the 6-speed automatic transmission that sends power to the front or all four wheels. How does it all come together?
For the torque lover
The 2.5T is immensely torque rich down low, but runs out of breath somewhere above 4,250 rpm despite the oncoming cavalry. Acceleration is wonderfully linear thanks to the absence of perceptible lag. Honestly, this translates into ideal city driving performance and even some fun can be had should you chose to partake in some streetlight racing. As well, parking-lot dashes for spots will be won with all that instant low-end torque.
This also means good things in the way of brisk and confidence inspiring passing maneuvers. With the engine running around the 2k-rpm mark at "normal" highway speeds, top torque is already on tap. This limits the necessity for the transmission to downshift, allowing for less delay, less shift-shock, smoother acceleration, and because less force on the throttle will be used, fuel economy will be improved.
On the latter point, official numbers are not yet out, but Mazda expects a full 20% improvement in fuel economy over the previous 3.7L V6. With this belief in mind, Mazda anticipates the results to place the CX-9 as the best in its segment.
Big Mazda ride…
The tricky part of this review is where the ride is concerned. My test mule, as I stated, was only "almost" production spec so what I experienced might change slightly, if at all…
What I found was a mix of decent handling, some understeer (typical), with some issues such as difficulty in controlling road amplitude changes. The CX-9's dampers permitted bouncing (slight lack in rebound control) more than expected. Perhaps there's a correlation between unsprung weight and final tuning... I was explained that some work may be done to the rear suspension, however, what I experienced was near final. Electric power steering is slow, a departure from all other recent Mazda products, but precise enough.
One element I did not evaluate was Mazda's I-ACTIV AWD system. It relies on a series of 27 sensors that, as best as possible, render the system predictive. The setup is identical to the one in the CX-3 where they function in the same manner, but are not perfectly matching given size and torque variations.
Worth the wait
In conclusion, the new CX-9 is very good. It's quiet, roomy, well assembled and torque-y. All of these criteria wholly match the needs of the average North American family thus it's no surprise that 80% (50,000 units annually) of all sales will be completed here.
The new Mazda CX-9 might not the largest or fastest CUV, but it's quite possibly the most alluring. This emotional connection is what Mazda intends to use to attract new buyers. So far, I'd say it's working really well.
If you're shopping in this category, the Dodge Durango and Toyota Highlander are two of my favourites. The Chevy Traverse, Honda Pilot and Nissan Pathfinder are also worthy options.
The midsize CUV from Mazda is expected in showrooms next spring. Pricing will be announced closer to market introduction.
2016 Mazda CX-9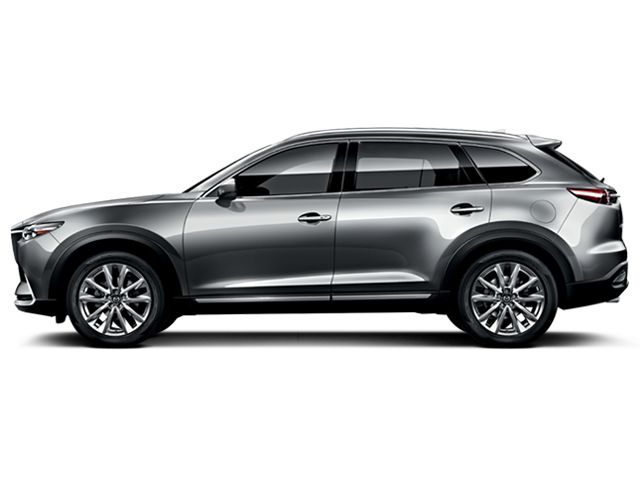 2016 Mazda CX-9