The 2018 Audi RS 5 puts the German brand's muscle coupe back in the spotlight after a short absence from the Canadian market - during which it underwent a series of significant changes that have altered both the character and the capabilities of this slickly-styled two-door.
At the heart of the car's makeover is a brand new drivetrain that stands in perfect sync with the current luxo-sport zeitgeist. Gone is the high-revving V8 engine of old and in its place is that paragon of modern performance engineering, the twin-turbo V6, an attitude adjustment made inevitable by the march of progress and the ever-tightening noose of global emissions and fuel efficiency standards.
Whether this is a blessing or a tragedy depends on your own personal worldview. After spending a solid week steering the all-new RS 5 all over the Adirondacks and northern Maine seacoast, however, I can certainly attest that for 99 percent of buyers there will be little to lament about the Audi's newfound direction.
All-around improvement
With the frenetic RS 3 now positioned directly below it, and the supercar-esque R8 taking care of the company's high-end clientele, the 2018 Audi RS 5 has been freed, somewhat, from the need to be all things to all people. Marketing aside, the reality of luxury sports coupes is that only a vanishingly small percentage of owners take them closer to a race track than a paddock parking pass, and the recent crop of M, AMG, and V-branded metal at the RS 5's price point have largely acknowledged this state of affairs.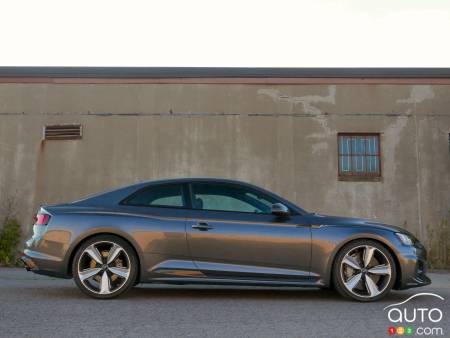 The end result of this revised approach is a fantastic street car and extremely comfortable highway warrior that conceals competition-capable hardware that could turn in more than a few hot laps for that cohort of buyers still intent on flexing the four rings at their local circuit.
The same couldn't be said for the previous generation Audi RS 5. Whereas drivers once had to wring the 4.2L V8's neck at 8,250 RPM in order to extract its 450 hp, the new 2.9L V6 is happy to turbo tip-in almost immediately with a hefty 443 lb-ft of torque available under 2,000 RPM, maxxing out at 443 horses at a more manageable 6,700 revs.
This is a huge upgrade over the departed car's 317 lb-ft of twist, and allows the new RS 5 to undercut its predecessor in the sprint from zero to 100 km/h by posting a launch control-assisted all-wheel drive time of 3.7 seconds. I personally found the car most impressive at speeds above 80 km/h, with fantastic acceleration always on tap and seemingly limited only by my willingness to test the tolerance of local law enforcement.
Also absent from the fray is the older car's always-on, always stiff-legged sport suspension system. Fantastic for lap times but tiresome over rough pavement, it's been replaced for 2018 with a fully adjustable setup that allows for variable damping as you cycle through the RS 5's various drive modes. When set to Dynamic, the car bumps and jostles its way over expansion joints but also noticeably tightens up body roll in the corners, while its Comfort or Auto settings prioritize soft and smoother parsing of whatever broken roads you might encounter.
If you really do want to make things a bit harder on yourself, then Audi lets you order the car with a set of carbon ceramic brakes. Mostly transparent during my time behind the wheel, on more than one occasion these exotic binders protested at being used before having been properly warmed up - or even mid-cruise control - by biting more abruptly than one would think premium decorum would dictate.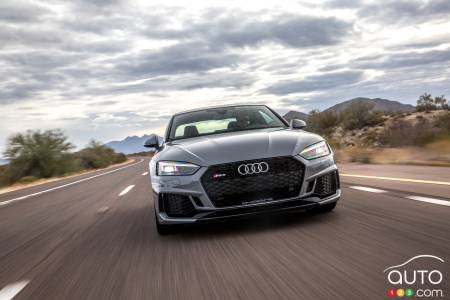 Room to relax
The 2018 Audi RS 5's newfound friendliness to the daily grind extends to its cabin, where ample room is provided for both forward occupants (robbed from the poor souls relegated to the rear quarters). Leather and carbon fibre are the dominant accents throughout the interior, but the real showpiece is the car's Virtual Cockpit LCD dashboard, which can spread out the navigation system's map across the gauge cluster directly in front of the driver. It's also capable of displaying a long list of other vehicle details, too, letting you split various readouts between it and the dash-mounted MMI screen (which is intuitive to use thanks to its simple rotary controller and handwriting recognition feature).
On longer trips, the RS 5's sport seats were fantastically supportive, lacking only active ventilation on my list of what I want on a road trip. Also useful - and this isn't a given for a coupe, no matter the size - is the vehicle's trunk, which swallowed a long list of car parts, vacation purchases and swollen luggage, all without having to invoke the fold-down seat-back.
More of what you really want
There's no question in my mind that the 2018 Audi RS 5 has evolved into a more complete car that should connect with a wider range of potential buyers. Smooth, comfortable and adaptable to commuter realities without harshing the mellow for those intent on the occasional track day, the RS 5 may not be as hardcore as rivals like the Cadillac ATS-V or the BMW M4, but that extra dose of refinement serves it well in pushing past rivals to join the Mercedes-AMG C63 as the most polished of its peers. Of course, for $82,500 (starting price; it was $115,585 as tested), you'd expect nothing less than Audi's best when stepping up from the more affordable S5 coupe to the RS 5 king.
Road Tests and Reviews

Experts

Consumers
2018 Audi RS 5