There are many very good cars available today. We are at a time in automotive history where competition is such that you can't cut corners, can't just keep doing the same old, same old without falling dangerously behind, and out of buyer's fields of vision and minds. This has resulted in many very good cars, but it's also evolved into a kind of parity where it's harder and harder to stand out as a great car – indeed, it's harder to earn those laurels these days.
They do exist however, these great cars, and that which you are about to read about is one of them.
It has the look
2018 marks a mid-cycle refresh for the Mustang with new grille shape and LED headlights being the main differentiators. The overall appearance is the same; long, proud hood, low fastback roofline and slightly upswept rear deck, made even more so in my tester thanks to its optional rear spoiler which comes as part of the $3,700 Performance Package. My car's be-striped yellow paint and black wheels, meanwhile, is an eye-catching old-school look. Very few cars out there can pull-off a look like that straight from the showroom; it is, and always has been, the beauty of the Mustang. And it is beautiful.
The interior is equally a compelling look at the new and the old; take the steering wheel, for example. It's a proper three-spoke affair with a bevelled rim that has '65 written all over. However, it's also loaded with buttons for your cruise, trip computer and vehicle settings, like so many other modern cars have. Personally, I'd scrap all of that – all of it – for just three spokes and hub, but even the Mustang has to get with the times. Plus, it's on the wheel that you'll find a button emblazoned with the classic Mustang logo; this gives you access to a menu set in addition to the usual trip computer – more on this in a moment. Other interior adds for '18 include satin finish replacing plasticized chrome, heated steering wheel – we Canadians thank you, Ford -- and a pulsating start/stop button.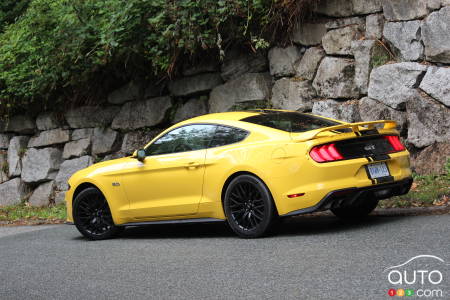 That Mustang button allows you to modify the all-new digital gauge cluster and access the variable exhaust modes (officially, the modes are called "quiet", "normal, "sport" and "track"; I prefer "loud", "louder", "loudest" and "banshee" because that's what they are). While some settings can be manipulated through the trip computer, there's also a set of toggle switches mounted below the infotainment display for your steering mode and overall drive mode. Naturally, I reached for those beauties on numerous occasions, although it's too bad that the exhaust doesn't get one of its own. I found myself changing the exhaust more than I did the steering, because it's so freaking awesome to be able to do so. Perfectly tuned, loud enough in even its quietest setting so that it's heard from inside and properly chest thumping in its louder setting, it's a big-budget Hollywood soundtrack that has always been the hallmark of Mustangs and of muscle cars in general.
It has the V8
That, of course, is also the hallmark of a proper muscle or pony car; you can get a turbo-four, too, but the GT comes with a 5.0L Coyote V8 as your only choice. It makes 460 hp and 420 lb-ft of torque, enough to reach 100 km/h from stop in under four seconds. That's massively fast – like, drag-strip fast - and the fact that it's doable on a car that starts at a hair under 36 grand (for the V8) is yet another feather in the 'Stang's cap. That can either be done while shifting the gears yourself – a six-speed manual is standard – or via a new 10-speed automatic gearbox. While I didn't sample the latter for this test, I've done so before and while it's not the way I'd have it – not by a long shot – it does a good job of fitting in with the quick acceleration muscle car owners love thanks to its closely-spaced ratios and paddle shifters. As far as the manual goes: the clutch take-up is now much easier to modulate, and while it's by no means an easy car to drive at slow speeds in town, it's a step up from what it once was.
It also feels a whole heck of a lot faster, too. We talked about the 0-100 km/h sprint, but such is the nature of a deep-chested, naturally-aspirated V8 that you get a whole boot of power whenever you want it, in most any gear. It's a truly monstrous powertrain that is always reminding you why you bought the V8, and how could you ever live with the EcoBoost?
It actually has the handling
We all know about the switch the car underwent in 2015 when it lost its live rear axle in favour of a less track-focused and more modern independent rear set-up; not really news if you've been following this latest Mustang since its birth.
What '18 has brought to the GT is a set of optional ($2,000) magnetic dampers that first got their start in the Shelby GT350. Now that the GT gets them, it actually has the handling to make good on the promises made by that all-star powertrain.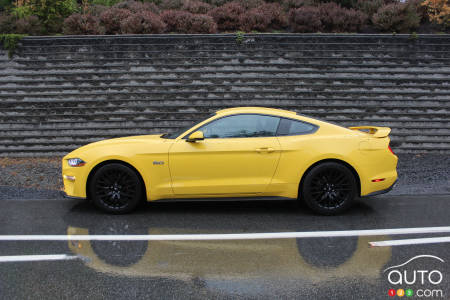 Curves are taken with a level of stability hitherto unseen in the Mustang, which serves the dual purpose of making the car feel a little lighter, and providing heaps of confidence to the driver. You may get a little of the chassis flex that Mustangs have kind of always been known for, but unless you're really giving it the whip, it's not an issue. Then, when it comes time to slow things down, the dampers self-adjust and the added comfort makes it that much more suitable as the roads get more dimpled and broken. "GT" has historically stood for "grand touring", and with the addition of those dampers, this latest Mustang makes good on that promise.
It has the tech
OK, well, this isn't really something that we think about when we consider the traditional muscle car, but this being 2018, you just aren't going to release a car – of any stripe – without modern infotainment and driver aids. Heck, even the McLaren 570S can be had with Bluetooth streaming audio.
SYNC3 has quickly risen to the top of the heap when it comes to infotainment platforms thanks to its modern graphics, 8-inch display (base Ecoboost models still get a 4.2" set-up, however) and easy-to-use interface. You can also add Apple Carplay or Android Auto, but I actually found myself gravitating more to the native system more than I typically do. If you need your tunes to compete with your exhaust note, meanwhile, a Shaker audio system with subwoofer can be added, though my car wasn't so equipped.
Since we're on the topic of display screens: for '18, Ford has completely redesigned the gauge cluster, turning it into a digital display that can be modified depending on your mood. Personally, I'm a fan of the option to have your tach for a band 'round the top of the display, as it's just so easy to read and really makes an event out of each shift. It's pretty cool, and while some may wish for more classic analogue dials for their muscle car, the graphics used for the dials here are at least given some retro fonts to help drive home the image.
It has the commitment
After all this, though, that's the ticket to the Mustang's greatness, really – commitment, and honesty. The Mustang stands as one of the few cars out there today that manages to be pretty singularly-focused without being completely pigeonholed – in this case, the keys are retro looks, gutsy V8, rear-wheel drive and a manual transmission. The only nods it gives to the mainstream, really, is the infotainment and the way it's done away with the crappy seats, unpredictable chassis and truck-like ride quality of an actual '60s or '70s muscle car, and that's refreshing. Indeed, with Ford's recent announcement that they're killing off pretty much all their cars in favour of more crossover-SUV-family hauler thingies that are the complete antithesis of the Mustang, it's going to have an even bigger job to do. If the model keeps traveling on this arc, however, it will be just fine.
Road Tests and Reviews

Experts

Consumers
2018 Ford Mustang GT