The wee Chevrolet Spark, which we were first introduced to in 2016, gets a mild refresh for the 2019 model-year. The changes are mainly esthetic in nature, but there are also new safety features and improvements in terms of connectivity. Elegant and nimble, the Chevy Spark is available in four different trims, and it still represents the American automaker's most affordable passenger car.
Exterior tweaks
The 2019 Spark comes in an LS base version as well as two intermediate configurations, the 1LT and the 2LT.
The new edition is actually slightly longer in its wheelbase and slightly lower to the ground (40 mm less height), giving it a slightly sleeker, more-svelte appearance.
The changes in comparison with the outgoing model don't end there. Chevrolet has refreshed the Spark with a new front grille and cowls and redesigned front headlights. To enjoy a Spark with a more dynamic look, buyers can opt for the 1LT or 2LT; the two versions have projector headlights and LED daytime running lights. Also available are several chrome accents for the front end, designed to give the 2019 edition a more sparkling personality.
Want more pizzazz? New exterior colours have been added to the product offering, which can only help liven up a frame whose overall shape is a little short of exciting.
The base version rides on 15-inch steel wheels, with upper trims getting 15-inch alloy wheels. Buyers can spruce up those tiny wheels with several accessories, however.
Safety and new technologies
Inside, the Spark is, quite simply, simple. Basic even. But the space it does provide is intelligently laid out, which the result that it feels roomier than it has a right to be when you look at it from the outside. Reality does set in more in the back row, which is pretty cramped.
This is a basic four-person car with no whiff of luxury about it, but it offers the necessities, of that you can be sure – as long as what you consider necessary is not unreasonable! As of the 2LT version, you do get heated leatherette seats and a leather-wrapped steering wheel with silver accents.
Don't think you can lug around too many kitchen sinks, however. The Spark has only 314 litres of cargo space, which grows to 770 litres with the seats down. Basically, you can transport three passengers, or a modicum of stuff, but not both at the same time.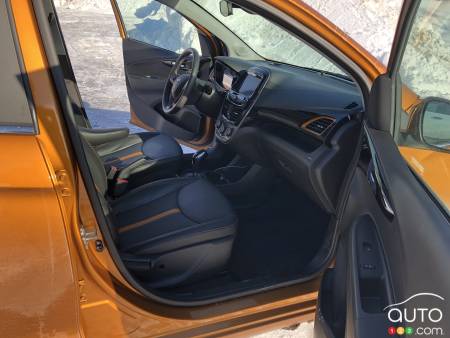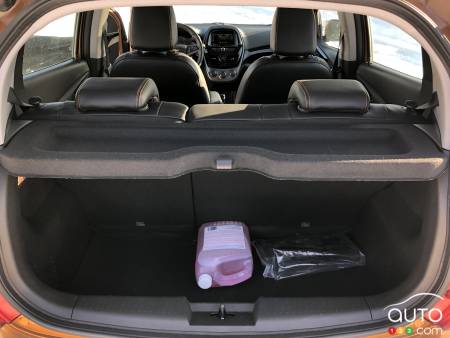 Tech
The Spark is, as mentioned, upgraded for 2019 in terms of safety and connectivity features in comparison with before, starting with the updated Chevrolet Infotainment 3 system. All versions can be had with a 7-inch touchscreen that accesses the MyLink multimedia system, including Apple CarPlay and Android Auto, and there are two lit-up USB ports as well as integrated WiFi.
Options include a 6-speaker audio system along with SiriusXM satellite radio and, in the 2LT, push-button start.
Safety-wise, the little Spark comes with 10 airbags, anti-block brakes, stability control and, of course, a backup camera. The 2LT incorporates forward collision alert and lane departure alert, emergency braking and automatic low-speed braking. That last system makes this the first mini-car able to stop automatically if an imminent collision is detected, and all of those would seem to me to be the minimal amount of extra protection you would want in a small, potentially vulnerable car. Which makes it worth giving serious consideration to choosing the upper trims of the model.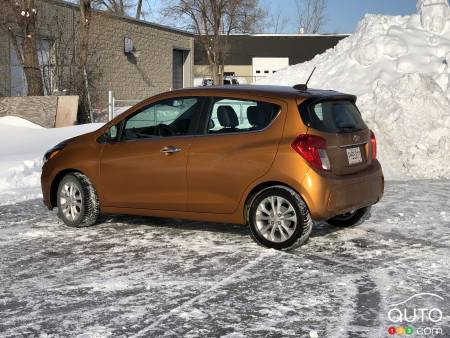 The mechanics
The 2019 Spark is powered by a 1.4L I4 engine delivering 98 hp and 94 lb-ft of torque, with the standard transmission being a 5-speed manual. The optional unit is a CVT, and quite likely this will be the most popular choice by buyers.
When equipped with the manual gearbox, given in-city consumption is 7.9L/100 km, while on the highway you should get close to the official figure of 6.2L/100 km.
These numbers aren't really earth-shattering for a car in this size category; take a look around the market and you'll easily find several options in the sub-compact categories that do better.
On the road, the car offers a pleasant enough driving experience, though I wouldn't recommend you do any extended driving on rough roads. From a car that has fewer than 100 horses under the hood, you can't expect miracles, and so the acceleration is rather anemic, particularly when you load the car down with passengers or cargo.
Sound insulation is only fair to middling, with outside sounds and engine noise filtering in, but you can mask those somewhat with the valiant 6-speaker audio system.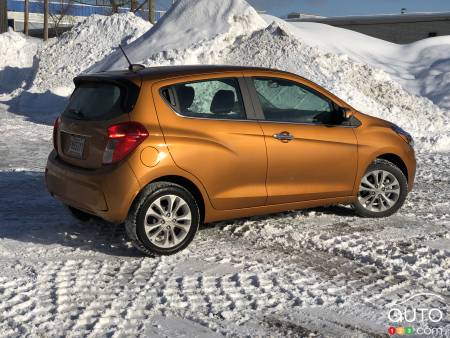 The pricing
Here of course is the crux of the matter for shoppers looking at a small car like this. The (very) basic entry-level Spark starts at $11,895, and it climbs to the 2LT at a bit over $20,000.
Clearly the Spark is not something you'll but if you're going to take it on the highway with regularity, but it makes more sense in the urban environment, where it's a veritable fish in water. Its small dimensions allow you to scoot around easily in traffic and narrow streets, and you'll manage to squeeze into the kind of tight little parking spots bigger vehicles can only stare at with longing.
For what it is, the 2019 Chevrolet Spark is a solid product. It's one of the more practical small vehicles for use in cities. The three trims and available options make it a versatile choice for consumers who want certain things. And if you hate wasting time looking for a parking spot, this is an ideal choice – as long as you're part of a one- or two-person family unit.
We like
- The pricing, of course
- Interior is more spacious than you'd guessed from looking at it
- The higher trims can be had some pretty important safety features
- Good infotainment system, down to the included Apple CarPlay and Android Auto
- Pleasant driving
We like less
- The base model could be a little less basic
- A bit slow, especially weighted down
- No way to squeeze in a fifth adult
- Measly cargo capacity
- Ticking off options shoots up the price

Consult our listing of pre-owned Chevrolet Spark vehicles available in your region of Canada