In the immensely popular compact SUV segment, the Jeep Cherokee stands apart from the plentiful competition via its off-road capabilities – especially when it comes to the Trailhawk versions. What's more, the Cherokee is the brand's top-selling model in Canada and has been for a few years now. Canadian motorists really like the SUV.
Specifications for the 2019 Jeep Cherokee Trailhawk
Exterior improvements
Jeep gave its current fifth-gen Cherokee a number of improvements this year, which is a good thing because the look of the outgoing version was aging and need of a facelift (though again, its sales have continued to be robust).
The visual updates center on the grille, now more squarish and more rugged in appearance. In fact the Cherokee is looking more and more like the Grand Cherokee, which is not at all a bad thing. The reworked front end gives it a more elegant look and it all comes across as more of high-end product. In the back the rear lights have also been lightly redesigned.
The trunk is bigger by 7 cm in comparison with before. I can confirm it easily swallows up a bag of golf clubs, without having to place it across. This is a notable improvement over the old Cherokee, which had lost a bit too much cargo space in back for my liking.
Beyond the visuals, the architecture of the vehicle stays more or less the same. The Cherokee's platform does get some improvements that are noteworthy and welcome. Most notably, Jeep has managed to trim some 70 kg from the SUV by refining some components, improving fuel economy as a result.
Interior and technologies
Inside, the Trailhawk version I drove served me very competently, without delivering an environment that's particularly exceptional. Here also Jeep has brought some improvements over the outgoing edition, replacing the old 5-inch touchscreen by a new 7-inch screen, offered standard on all Cherokee trims save for the base model. Available as an option is an 8.4-inch screen.
The Uconnect infotainment system is highly user-friendly and practical. I say that even though I didn't like that the climate controls are integrated in the screen's menu. I prefer to be able to access those without having to be distracted by fumbling through on-screen menus. Some things just work better via physical buttons. Otherwise, Apple CarPlay and Android Auto are integrated.
This being a proper SUV, seating position is very high, and the sense of security is heightened by the great visibility in all directions. Commands (other than those A/C ones) are easily within reach.
And space is generous, to say the least. To give you an example, I planned during my weeklong test drive a visit to family a couple of hours drive away from home. The travel party included four medium-sized adults along with my two-year-old son in his car seat. Add to that a small suitcase per person and a few assorted extra items. Everything fit well into the trunk, though with precious little extra space left over. Most importantly, passengers reported being comfortable throughout the ride, including in back, thanks to good legroom.
Overall, comfort-wise, I give the Cherokee a good though not exceptional grade; it does the job, is all.
In terms of safety, you'll find over 80 different active and passive systems and functions in the 2019 Cherokee, with some variation depending on the version chosen.
The powertrain
Dwarfing all the other changes brought to the Cherokee for 2019 is the one under the hood. Now available in the product offering is a new 2.0L 4-cylinder engine delivering 270 hp and 295 lb-ft of torque that delivers better fuel economy.
The catch is that this new mill is only offered as an option and will cost you more than if you go for the V6 (271 hp, 239 lb-ft of torque) which has been retained for this year and comes standard in the Trailhawk and Overland versions. I'm not only in concluding that the V6 remains the most appropriate option for the Cherokee. Otherwise, the base 2.4L engine is still available, making for a total of three possible powertrain configurations.
Here's the breakdown for the towing capacity with each of the engines:
With 2.4L base engine: 2,000 lb
With 2.0L engine: 4,000 lb
With 3.2L V6: 4,500 lb
All three units come wedded to a 9-speed automatic transmission, a unit that unfortunately I found to be slow in its reactions.
Stop/start technology is standard with all configurations and trims, further helping to reduce fuel consumption.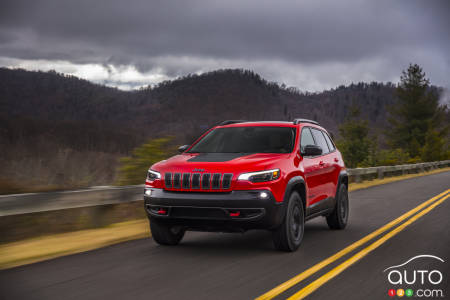 Versions
Sport (starts at $27,021):
- Uconnect 3 system with 5-inch touchscreen
- LED headlights and high beams
- ParkView backup camera
North (starts at $30,171) - adds:
- Uconnect 4 system with 7-inch touchscreen
- Apple CarPlay and Android Auto compatibility
- LED anti-fog lights
- 17-inch aluminum-alloy wheels
Altitude (starts at $30,977) – adds:
- Gloss-black 18-inch aluminum-alloy wheels
- Gloss-black roof rails
- Gloss-black grille surround and badging
- Gloss-black interior trim
Limited (starts at $31,359) – adds:
- Uconnect 4 system with 8.4-inch touchscreen
- Power liftgate
- Nappa-leather seating
- 18-inch polished aluminum wheels
Trailhawk (starts at $33,059) – adds:
- 3.2L Pentastar V6 with stop/start
- Uconnect 4 system with 8.4-inch touchscreen
- Jeep Active Drive Lock
- Selec-Terrain traction control system with Rock mode
High Altitude (starts at $34,751) – adds:
- Granite crystal exterior trim
- 19-inch granite crystal aluminum wheels
- Uconnect 4C NAV multimedia system
- Premium Alpine audio system
Trailhawk Elite (starts at $35,393) – adds:
- Hands-free power liftgate
- Nappa-leather front seating, heated and ventilated
- Remote starter
- 8-way power-adjustable front seats, including 4 for lumbar support
Overland (starts at $36,969) – adds:
- 19-inch polished aluminum wheels
- Hands-free power liftgate
- Uconnect 4C NAV multimedia system with 8.4-inch touchscreen
- Guardian, Traffic and Travel Link services from SiriusXM
Conclusion
This is the sixth year on the market for the fifth-gen Cherokee, and there's no indication its popularity is lagging at all. The Trailhawk's all-terrain capabilities are undeniable. That said, it's also evident that the majority of Cherokee owners will never put that version to its full use. It's worth seriously considering the more fuel-efficient powertrains available in the product offering. On the road, meanwhile, the Cherokee is dynamic and confidence-inspiring, perfect for those who want to feel immune from danger at the wheel.
On the other, if I'm being honest I have to say that this model, the brand's top-seller no less, left me cold initially. I didn't find its look particularly beguiling, off-road chops or no off-road chops. The interior finishing is acceptable but not really more than that. Fuel economy was not worth writing home about either.
The V6 Pentastar engine is an able workhorse, but the 9-speed automatic transmission it partners with drags it down a little, leaving too much of the mill's power potential untapped. As for the ride, it lacks refinement and could be more comfortable. It could also use a bit more cargo space for a mother of now-two young children.
In the other hand, if I'm going to start making more-regular runs to the cottage through rough-and-tumble, snow-and-ice-covered roads and trails, I'll take a serious look at the 2019 Cherokee Trailhawk, because it will reliably get me where I need to go.
Consult our listing of pre-owned Jeep Cherokee vehicles available in your region of Canada
The competition
Chevrolet Equinox
Ford Escape
GMC Terrain
Honda CR-V
Hyundai Tucson
Kia Sportage
Mazda CX-5
Mitsubishi Outlander
Nissan Rogue
Subaru Outback
Toyota RAV4
Volkswagen Tiguan