Auto123 reviews the BMW XM 2023.
BMW continues its move towards electrification with the arrival of the XM 2023, the first battery-powered M sports model. This plug-in hybrid is now on sale in Canada, and we put it through its paces for a week.
The XM 2023 incorporates elements from the XM concept unveiled in 2021, including the Iconic Glow illuminated grille, headlamps and silhouette, and vertical tailpipes. The distinctive aesthetics of the M Sport range are retained.
The BMW XM is an all-new, revolutionary model from BMW's M sports division. It is offered as a plug-in hybrid, with an M drive system that combines a V8 engine and a high-performance electric motor for power never before produced by BMW. This combination produces up to 740 hp and 738 lb-ft of torque on the Red Label version. The BMW XM embodies the entry and beginning of luxury sports cars, combining raw performance and sustainable mobility.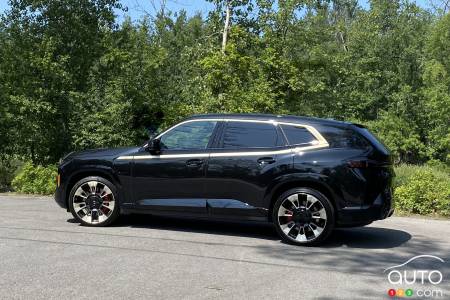 Highlights of this luxury BMW
The XM is BMW's first electrified high-performance V8 M-powered vehicle. Pricing is worthy of high performance, starting at $220,000 for the base version, and including dealer fees and luxury tax, you'll quickly top the $245,000 mark. If that's not enough, you can opt for the Label version, priced at $288,367.
The version we tested had a combined output of 653 hp and 590 lb-ft (800 Nm). The 0-100 km/h time is 4.3 seconds, and the top speed is limited to 250 km/h.
In solo mode, the electric motor is powered by a 25.7 kWh battery. A total range of 50 km according to BMW and, according to our figures, 59 km in summer, while reaching 140 km/h in 100% electric mode.
When the V8 is running alone, fuel consumption reaches 17 litres / 100 km, and can even exceed 22 litres / 100 km if the right foot is heavy. By mixing electric and gasoline driving, it's easy to avoid using a single drop of gasoline, as long as you stay under 50 km per day.
At this price, at least the list of options is reduced. All you have to do is choose one of the seven available colours. Six are free, and only the "Dravit Gray Metallic" colour requires an extra $1,000.
You'll also have to decide whether to keep the 22-inch wheels or upgrade to 23-inch wheels for an additional $2,000. The latter option was fitted to our test car and, unusually, driving with this type of tire proved surprisingly comfortable, even given the poor quality of our roads.
Driving the 2023 BMW XM
Where it hurts is in the weight department. At 2,750 kg, it's heavy. It may have that much horsepower, but that doesn't make it a ballerina. When driving on the electric motor alone, you feel the weight of the car. Fortunately, when you accelerate hard, the V8 comes to life and the cavalry comes to the rescue.
Driving this car is something special. In pure electric mode, it's smooth, supple and pleasant to drive, but when the V8 kicks in, the car becomes a real bad boy. It's powerful - very powerful, in fact - but as powerful as an X5 M that costs $100,000 less. This begs the question of the usefulness of this model in BMW's already extensive lineup.
We really appreciated being able to drive in all-electric mode when we were in town. Once on a deserted road, you press the M1 or M2 button, as in any BMW M worthy of the name, and the bad guy comes out to turn it into a competition SUV.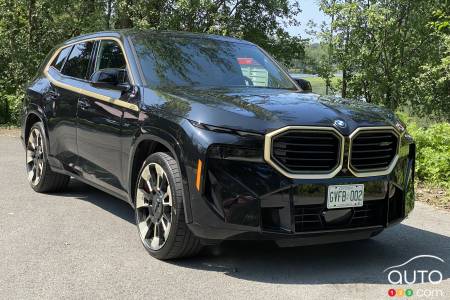 The XM's sporty performance
Under the hood of our tester, we were pleasantly surprised by the combined output of 653 horsepower and 590 lb-ft of torque. The 4.4-liter twin-turbo V-8 with mild hybrid technology delivers an impressive performance, producing 483 horsepower at 5,400 rpm and 479 lb-ft of torque from 1,600 rpm. The electric motor adds 197 hp and 207 lb-ft to the mix.
Unfortunately, the only fly in the ointment was the eight-speed automatic transmission, which gave us a few problems. Although transparent in electric mode, the transmission was prone to misfires under heavy loads, especially in Sport mode. Upshifts seemed to take a long time, disrupting the driving experience. During rapid deceleration, downshifts was also hesitant, which could be annoying during maneuvers that require immediate response. Despite the engine's impressive performance, this transmission issue detracted from the overall driving experience.
Overall, the vehicle offers an interesting combination of power and technology, but it would be beneficial to improve the responsiveness and fluidity of the transmission to take full advantage of this.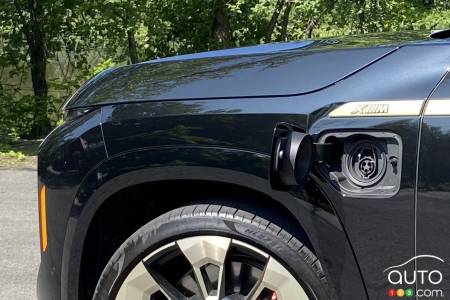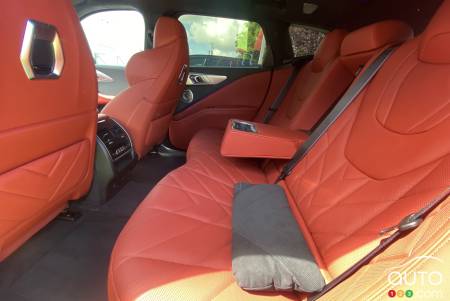 A well-appointed interior
The 2023 BMW XM we tested had an interesting interior. Our tester was finished in a beautiful Black Sapphire Metallic, combined with a Sakhir Orange Merino Leather interior for an additional $1,900.
The interior of the car is characterized by a driver-centric layout, typical of BMW M models, and a rear compartment that offers luxurious, comfortable and spacious space for passengers. Even the small back cushions were there.
The cabin has a very modern ambience, thanks to a meticulous finish. The cockpit is adorned with a decorative surface of carbon fibre with interwoven copper wire, creating an unmistakably sporty atmosphere.
The 527-to-1,820-litre trunk can accommodate all your luxurious luggage when the rear seats are lowered. What's more, BMW offers you a sumptuous, waterproof luggage case or charging cable bag worthy of the finest leather upholstery.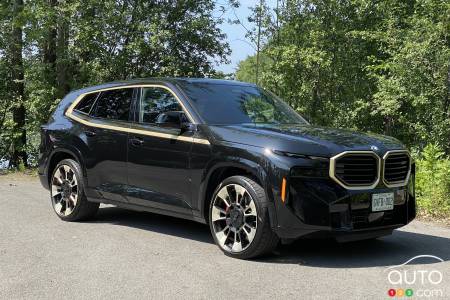 Exotic Exterior
The BMW Concept XM reveals an avant-garde, luxurious design that marks the brand's striking entry into the realm of exotic vehicles. The headlights, divided into two distinct modules, and the kidney-shaped grille create a striking appearance. At the rear, the horizontally stretched taillights and horizontally positioned hexagonal dual exhaust tailpipes betray BMW's determination to position this vehicle in its segment.
The final word
The BMW XM 2023 boldly embodies electrification at BMW with its first-ever battery-powered M Sport model. With exceptional features such as the combination of a V8 engine and an electric motor, it delivers outstanding power and impressive performance. It's avant-garde design, driver-orientation and spacious interior highlight a harmonious fusion of luxury and innovation. However, certain challenges remain, notably weight, slight transmission hesitation and a high price.
It compares favourably with the X5 M in terms of rawness, power and sportiness, but falls short of the X7 in terms of comfort. Both models are considerably less expensive than the XM, which begs the question of whether it's worth going for the latter, except for those seeking exclusivity.