• Auto123 reviews the 2023 BMW i7, the new electric version of the revised 7 Series.
After more than four decades of existence, BMW's 7 Series finally arrives in an all-electric version. The Bavarian brand's flagship sedan is now available in two configurations: a gas-powered V8 powertrain, and an all-electric variant delivering 536 hp in M60 format (the M70 electric version boasts a staggering 650 hp and a 0-100 km/h time of 3.7 seconds!).
The i7 is a large sedan with a length of 5,391 mm, width of 1,950 mm and height of 1,544 mm. Whereas in the past, short and elongated variants were offered, a single wheelbase of 3,215 mm is now available. Visually, there's no differentiation between the combustion and electric versions, apart from a tiny "i" on the grille, an "i7" on the trunk and, of course, the absence of exhaust pipes on the non-combustion engine version.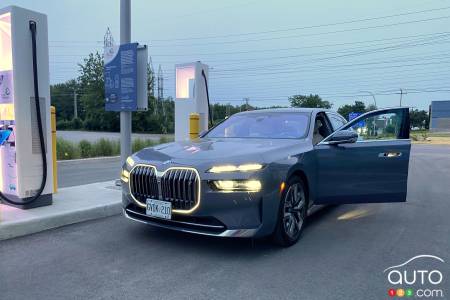 Key features of the 2023 BMW i7
The BMW i7 has two motors, located on each axle for all-wheel drive. A 190-kW front motor and a 230-kW rear motor combine to deliver a total output of 536 hp and 549 lb of torque. The i7 M60 with this powertrain accelerates from 0 to 100 km/h in 4.7 seconds, with a top speed limited to 240 km/h.
The underfloor lithium-ion battery has a capacity of 101.7 kWh and, according to BMW, provides a range of up to 512 km. In alternating current (AC) it can be charged to a maximum of 11 kW, and in direct current (DC) it accepts rapid charges of 195 kW.
How much does the 2023 BMW i7 cost? - 7/10
The i7 has a starting price of $147,000. BMW offers both combustion and electric versions at the same price. It's expensive, but let's just say that this price is more or less comparable to what the competition is offering on our market. It's a price you can expect to pay for a vehicle in a class of its own.
But that's not the end of it either. The price offered by BMW for the i7 is the base price. If you want additional options to enhance your comfort, you'll have to plow more money into your purchase. Our test model came with no less than $37,800 in additional options, for a grand total of $184,800.
Is this 2023 i7 a redesign of the new 7 Series model?
The 7 Series is a brand-new model for 2023. The total redesign and addition of the electric "i" derivative marks continuity for BMW in its transition to electrification.
On the outside, the 7 Series leaves no one indifferent. We've become somewhat accustomed to the huge grille now found on many BMW models. We do, however, have some reservations about the twin headlamps. We've seen them on the X7, and our feelings about them remain mixed. Indeed, the adaptive LED headlights are narrower than in the previous model and are divided into two parts, with a separate module for daytime running lights, position lights and turn signals.
As an option, you can have, as on our test model, the BMW Iconic Glow with backlit Swarovski crystals.
Other design details of this BMW i7 are the aerodynamic wheels on this version, which help achieve a coefficient of drag of 0.24 Cx. A very fluid rear end also catches the eye. In this case, you can see horizontal taillights that end in a point. The lower part of the bumper has blue accents to clearly indicate that this is an electric vehicle.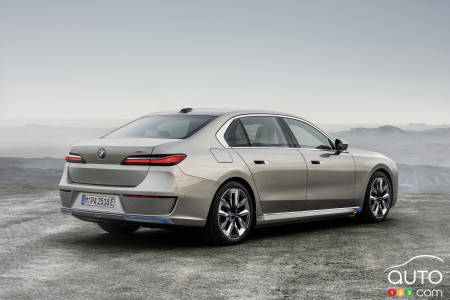 Who is this vehicle for?
You'll buy this vehicle if you're looking for an executive model at the pinnacle of luxury. Compared to its direct competitor, the Mercedes EQS, the i7 will give you a lot more if you travel in the back seat.
The BMW i7 versus the competition - 8.5/10
If, however, you're buying this vehicle to be the driver, then it would be important to take a close look at the EQS. The i7 is a mini-limousine and comfort, although not an after-thought for front occupants, is mainly concentrated in the rear.
Charging time of the 2023 BMW i7 - 8/10
Despite a very large battery with a useful 101.7 kWh, the BMW i7 does lag behind the Mercedes EQS and its 108.4 kWh. This translates into a range of 512 km for our 544-hp i7 xDrive60, versus 547 km for the 523-hp EQS 580 4Matic. The Mercedes benefits from teardrop aerodynamics (record Cx of 0.20) and 130 kg less weight. The i7 exceeds 2.7 tons...
At launch, BMW is concentrating on a twin-engine xDrive60 version with 544 hp, taken from its sporty little sister, the M50 i4. This configuration is also expected on the 660 hp i7 M70, but that variant is likely to be of limited interest.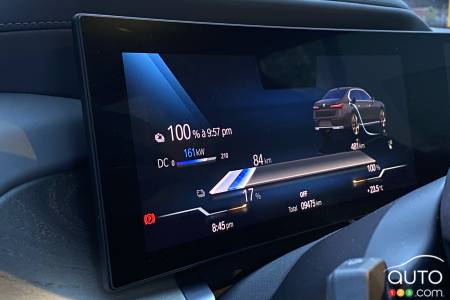 During our test drive in summer temperatures, the i7 xDrive 60 consumed 23.4 kWh / 100 km, according to the on-board computer, after 265 km of mainly urban driving.
We used the batteries until there was 17 percent charge left and 84 km of range. We headed for our favorite 350 KW station. Once plugged in, the BMW i7 immediately started pumping the juice at a speed of 162 KW. BMW advertises 195 KW of maximum charging power. In short, 162 KW isn't too bad either, even if the competition is doing better in this respect. We charged for 27 minutes, leaving the station at 71 percent and 354 km of range. We had deliberately turned it off, as charging speed decreases considerably above 70 percent at 96 kW.
There's good news for first-time BMW i7 owners, who won't have to pay a penny for charging in Canada. BMW Group Canada and Electrify Canada have announced an agreement to offer customers of the BMW i7 all-electric luxury sedan three years of free charging in the Electrify Canada network for first-time owners, from the date of purchase of the vehicle.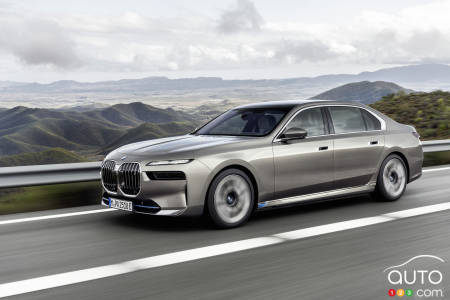 Driving the 2023 BMW i7 - 9.5/10
The 2023 BMW 7 Series brings major changes to its lineup. A V8 engine is still available, but so are two electrically powered vehicles. The M60 features two motors, one on each axle for all-wheel drive. A 190-kW front motor and a 230-kW rear motor, delivering 544 hp and 745 Nm of torque when combined. 0 to 100 km/h is achieved in 4.7 seconds, with a top speed of 240 km/h. A little later, we expect the i7 M70 to develop no less than 650 hp and deliver a range of 474 km.
When it comes to driving, the i7 might initially leave you a little dubious, but it doesn't take long to win you over. The sedan's steering is precise, the air suspension does a remarkable job and power output is breathtaking. We deliberately took some bad roads (not too hard to find in Quebec) and attacked them with purpose! We're pretty we could have had a glass filled to the brim in a cup holder with not a drop spilled. This vehicle offers an unrivalled level of comfort, superior to that of the Mercedes EQS.
As we've seen elsewhere, air suspensions are almost always excellent at what they do. But here, it's like you're floating on a cloud. What's more, despite the i7's 2.7 tons, when it comes time to brake hard, the vehicle stops as quickly as it starts.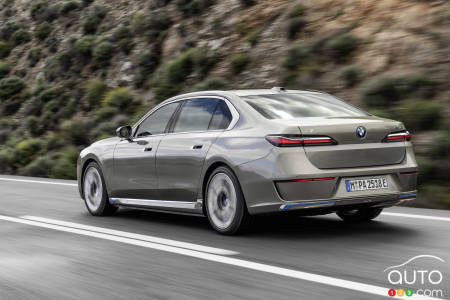 In town, once again despite its size, the vehicle moves smoothly and quietly. You're often encouraged to turn off the superb $5,900 Bowers & Wilkins sound system and listen only to the silence. We're in another world. To maximize energy regeneration, we put the gear selector in B, which pushes regeneration to the maximum and even dispenses with the need to use the brake pedal to come to a complete stop.
At the rear, you enter yet another level of paradise – or at least, luxurious comfort. Especially at night. You can literally isolate yourself from the outside world behind the thick side curtains and rear window panel. The interior is ultra-luxurious, with plenty of light throughout.
Each side passenger has their own touchpad, integrated into the doors, to control the climate control system, massage and seat. The right-side rear passenger can even stretch out their seat completely to watch a film on the huge optional 8K, 31.3-inch entertainment screen.
Competitors of the 2023 BMW i7
Mercedes-Benz EQS-Class
Lucid Air
Tesla Model S