• Auto123 reviews the 2023 Honda Civic Si.
The Honda Civic Si has to be one of the all-timers, not just among fast sedans or hot hatches, but in the car world in general. It mixes the best of what the popular Civic has to offer – good interior room, direct steering, good value – and piles on even more performance, even more steering feel and even more flash. All for around 30 grand, when the likes of the Volkswagen Golf GTI will cost you a lot more.
It didn't have that auspicious of a start, mind you. Back in the 1990s, North Americans watched in envy as other major world markets got the cult-like Civic Type R in all its lightweight, high-revving glory. We had to make do with the Si and while it was a fantastic car, it would often be compared to the Type R and that was a tough pill to swallow.
For the last generation of the Civic, we got the Type R but the Si stayed relatively put. The price was still a bargain - especially when considered against the Type R - and it could be had in both coupe and sedan forms.
For this generation, the coupe has been dropped completely and the Si can only be had as a sedan, losing some of its uniqueness in the process.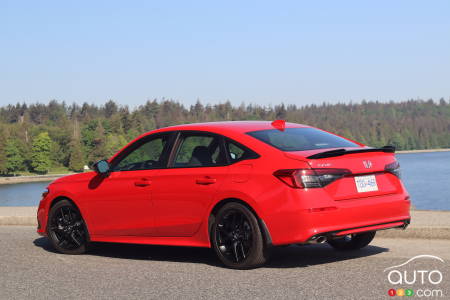 Design of the 2023 Honda Civic Si - 7/10
The Si separates itself from other Civics by adding matte-black 18-inch wheels, black window trim, enlarged exhaust tips and a rear spoiler. That's fine if not all that shouty, but the problem is it looks like the standard Civic otherwise. While handsome enough, the current model lacks a real defining quality that the previous version did – namely, its aggressive headlights and taillights. In profile, it's also unable to hide its tall roofline and coupled with wheels that are big for a compact but not that big, it's awkward.
The view from the rear three-quarter perspective is what saves the Civic Si from not getting a lower mark here. From this angle, it looks squatter, more purposeful and quite cool thanks to that spoiler and rear tailpipes.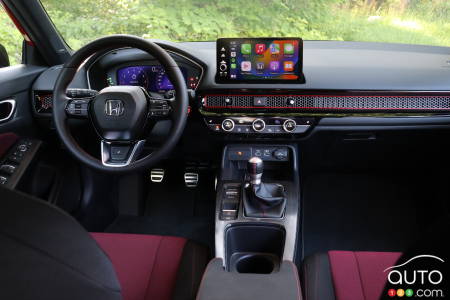 Interior of the 2023 Honda Civic Si - 8.5/10
That tall roofline does make for tons of headroom inside – 956 mm up front, 942 mm at the rear – and generous legroom both front and back as well. Overall passenger volume is rated at 2,735 litres and that's a very good thing in the compact world. Trunk volume, meanwhile, is rated 408 litres which isn't too shabby, either.
Even with the extra room elsewhere, Honda still delivers the fantastic driver's seating position that places you right at the wheel without forcing you to squeeze the air out of your lungs with your legs, while the shift lever and centre console are barely an outstretched digit away. In the Si, that seating position is further complimented by supportive front seats with higher side bolsters and red inserts – but only on the front seats. It may be a bit strange to not match that in back, but it's also easy to see how having that much red in there might be over-the-top.
Other neat interior bits include the honeycomb dash insert with red trim that not only looks cool but also disguises the HVAC vents, thick-rimmed leather steering wheel, aluminum pedals and stubby shift lever. (Note that the Civic Si can only be had with a manual. If you don't want to row the gears yourself, first of all why would you want one of these anyway and secondly, there's always the Touring model.)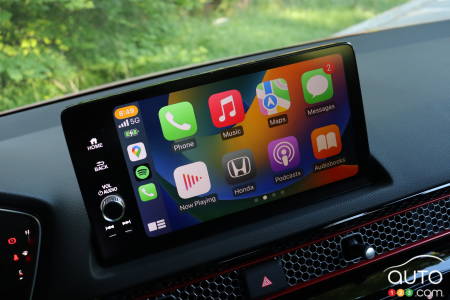 Tech in the 2023 Honda Civic Si – 8/10
Not only is the Si loaded for performance, it comes fully loaded with tech as well. That means a wide 9-inch infotainment display with wireless Apple CarPlay and Android Auto as opposed to the standard car's 7-inch display and wired apps, as well as standard 12-speaker Bose audio, WiFi hotspot, 10.2-inch digital gauge cluster and wireless charging. All the obligatory driver aids – blind spot system, rear cross-traffic alert, lane keep assist adaptive cruise with traffic sign recognition – are on hand as well.
I have few qualms with any of this, There's still a volume knob, Honda having learned its lesson all those year ago. There is that digital gauge cluster. I get that digital screens are often less expensive to produce and have fewer breakable parts, but in this application, some old-school analogue dials would fit well. There's no need for this latest Si to completely sever all connections it has with those wonderful analogue Sis of old, is there?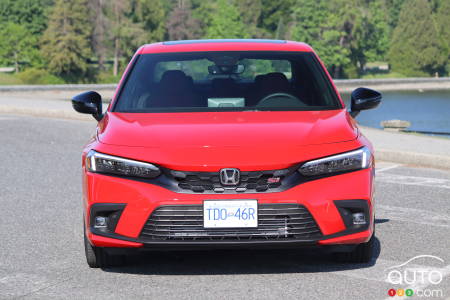 Driving the 2023 Honda Civic Si – 8.5/10
Power from the 1.5L turbocharged 4-cylinder is rated at 200 hp and 192 lb-ft of torque, which are fine figures but they used to be more even with the competition than they are now. Both the Volkswagen Jetta GLI and Hyundai Elantra N make more power for not much more money (less, in fact, in the case of the GLI), and we're not talking a few horses or a couple of lb-ft; we're talking significant jumps that are tough to ignore.
On the other hand, the Si does deliver its power smoothly and with little lag, so it feels more powerful than it is. Peak power is made at 6,000 RPM but peak torque comes in at a lowly 1,800 and will continue to push through 5,000, which is a flat torque curve the likes of the older naturally aspirated VTEC Si models could only dream of.
This behaviour adds an air of luxury that plays well with the interior. It means you don't have to row the gears or wring its neck quite as much as you once did to get the most out of it when on an aggressive drive. Some will miss that, but overall, this is a sporty sedan with a more relaxed powertrain that makes for a more comfortable experience.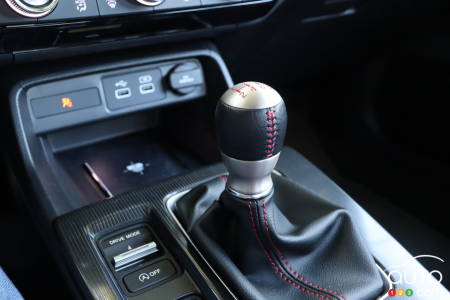 Except for one glaring error: its penchant for rev hang between shifts. Whether in Normal or Sport mode, I just couldn't get the shift action done as smoothly or as quietly as I'd like. I do appreciate the anti roll-back and rev-match feature, but I wish the upshift action was better.
This being a Civic Si, the car has to be able to handle itself as well. In that light, the feel through the thick-rimmed steering wheel is very good, providing the detail the Civic Si has always provided. For all its luxury, more relaxed powertrain (and higher curb weight), the steering feel is right on.
The ride backs that up with great damper tuning that won't rattle your feelings as much as it once did, but it keeps the body in-check enough through repeated turns and is nowhere near as brittle feeling as it was in the past. Add a helical front limited slip differential that allows for an elastic band-like response when coming out of turns, and there's plenty here to keep drivers on their toes.
The turn-in response, however, is not as immediate as it once was (or currently is with the Elantra N), so it doesn't feel as live-wired. Many will appreciate that it's less nervous, but some enthusiasts will miss the shrunken off-centre dead zones of old.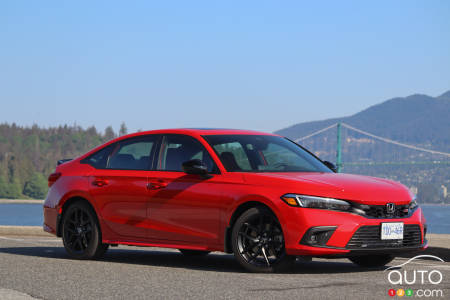 Some of your questions about the 2023 Honda Civic Si
Can the auto rev-match on downshifts be deactivated?
Yes. It takes some time navigating through the menus, but you can deactivate rev match in either of the drive modes.
What type of tires does the 2023 Civic Si have?
The Civic Si comes equipped with Goodyear Eagle Sport tires as standard.
Specifications sheet of Honda Civic SI Sedan 2023 Manual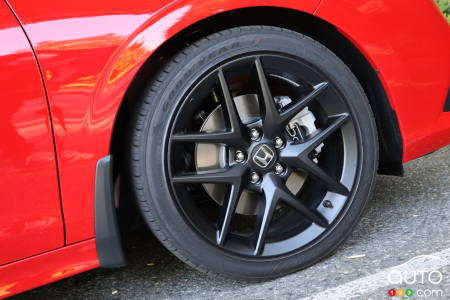 The final word
The 2023 Honda Civic Si is the most well-equipped and spacious Si version to date, and in the car world that's a very good thing. It also offers a strong power curve so despite offering less horsepower than the previous model, there's plenty here to give.
And yet, I have trouble loving it. Yes, it's spacious and well-equipped, but it's also the heaviest Si, and it could do with more power. On paper, it's a better car in every way, but it's the foibles and whizz-BANG delivery of the old VTEC-equipped model that was one of its signatures. There was a time where you could take a Mazda MX-5 and think to yourself "this is a great car, but I could really use more practicality to go with my driving fun", and you know what? The Civic Si could deliver that, for around the same money. Now, the two cars are more divergent than ever and any time I thought that during my drive, I had to give my head a shake. There's no doubt this Si is the most sorted version ever and will appeal to many. But it's not the best ever and is moving away from the centre of the driving enthusiast realm. Which is a shame.

Strong points
Spacious interior
Well built inside
Great steering feel
Generous power curve
Weak points
Feels heavy
Less horsepower than last model
Exterior styling has been softened
Rev hang on upshift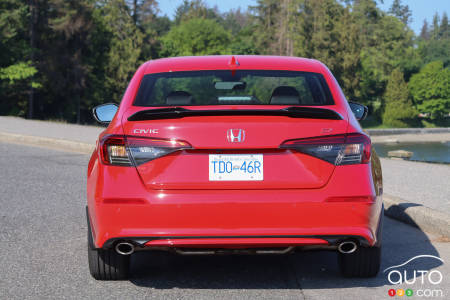 Competitors of the 2023 Honda Civic Si