Hyundai Canada entrusted Auto123 with a 2023 Palisade Ultimate Calligraphy so that we could inspect it from every angle and report back to you. This is the third chapter our long-term review.
See also: 2023 Hyundai Palisade Long-Term Review, Part 1: The Origins of the Big Hyundai
See also: 2023 Hyundai Palisade Long-Term Review, Part 2: An Improved 2.0 Version
For the third installment of our close look at the 2023 Hyundai Palisade, we start with a simple question: what versions are available?
The truth is, once you've settled on the Palisade as your choice, shopping becomes much simpler. Because the next step is to choose from just three versions, not six or eight. You won't have to fill out Excel spreadsheets with all sorts of hypothetical configurations, as you might when juggling the bewildering number of combinations that await you when shopping for a pickup truck, for example.
Well OK, you do first have to decide on the Palisade. Which isn't a foregone conclusion, given that there are many good three-row SUVs on the market, with direct competition found even within the immediate family. The Hyundai Group's Kia brand offers the Telluride, a very close cousin of the Palisade. And just as acclaimed by critics and consumers alike.
But we'll have another opportunity to talk about the competition. For now, let's take it for granted that you want a Palisade and that's that.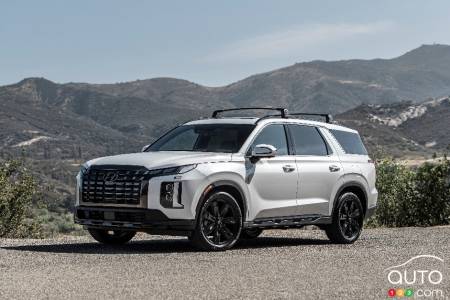 More standard stuff
Visit one of the 224 Hyundai dealerships in Canada and you will then be required to consider the relative merits of three variants of this SUV, the largest Hyundai in the showroom: Preferred, Urban and Ultimate Calligraphy.
Before you ask, I'll beat you to it: Americans have five trims to mull over: SE, SEL, XRT, Limited and Calligraphy.
Different consumers, different priorities for the product range manager who, internally, has to decide which versions and which equipment will appeal to which demographic.
South of the border, all-wheel drive remains but an option for the Palisade, even for the top-of-the-range Calligraphy. Chances are, a buyer ticking that option lives in a state where snow is not uncommon. It could also mean that they want to tow stuff. A Palisade without Hyundai's HTRAC AWD system can only tow 748 kg (1650 lb). But when fitted with AWD and the appropriate towing equipment, it can manage a load of 2268 kg (5000 lb).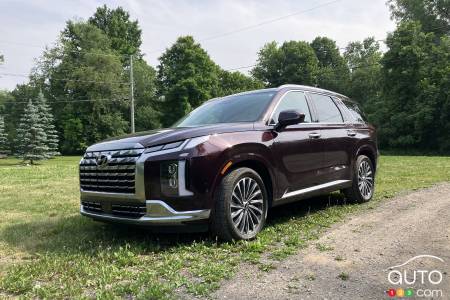 In Canada, no need to think about it: all Palisades come with all-wheel drive. This is the first important feature common to all three models. But there are many others.
In addition to the HTRAC, there's the 12.3-inch touchscreen with navigation system. It's a big screen. With other manufacturers, the size of the screen is proportional to the pesos you pay for it (in fact, this was also the case with the Palisade until 2022), and you have to stretch out extra pesos for navigation when it's available.
What Hyundai calls SmartSense is the shield of driving aids there for the safety and convenience of drivers and passengers. All big manufacturers offer similar systems: Toyota's SafetySense, GM's Super Cruise, BMW's ConnectedDrive, etc.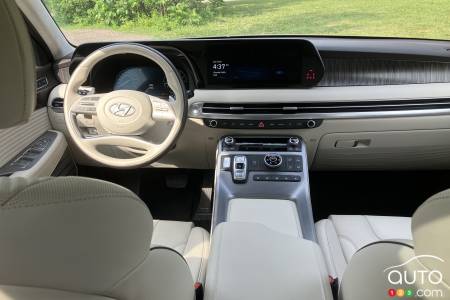 The BlueLink connectivity system enables remote communication with the vehicle, so you can lock it, adjust its temperature or check its general state of health from a distance. There's nothing new under the sun here - this technology is now widespread throughout the industry - but it's worth noting that remote assistance now operates from your connected watch.
If you don't want to unlock the Palisade using your phone or watch, the proximity-sensor key will do the job for you. Just leave it in your pocket or briefcase, along with your other smart toys, approach the vehicle and you're ready to go.
The automated tailgate also wields some of that hands-free magic. If you approach with your arms full of packages, wait a maximum of three seconds, and lo and behold, the tailgate lifts up by itself. This sleight of hand is by no means unique to Hyundai, but that doesn't make it less of a pleasant convenience to have.
In the same spirit, we have push-button start. Still no need for a key. Well, you do need one, but it can stay in your pocket/purse. Just press the button on the dashboard and the Palisade's V6 comes to life.
A tactic that pays off
That all three versions of the Palisade 2023 are equipped in the same way is not surprising. It reflects the strategy that South Korea's Hyundai has always deployed in Canada: give the customer their money's worth.
When Toyota introduced Lexus in 1989, it did so by mimicking the contents of a Mercedes-Benz, but at a more attractive price. Hyundai did it more recently with the launch of its Genesis division, and it continues to do so with its own vehicles.
Hyundai has come a long way since the 1975 Pony. Who could have imagined back then that, almost half a century later, it would be lining up an SUV capable of carrying eight adults luxuriating on comfy leather seats? That said, there are still skeptics. For all its efforts, Hyundai can't claim that its reputation equals that of Mercedes or BMW. At least, not yet. A manufacturer's image is always dependent on one implacable factor: time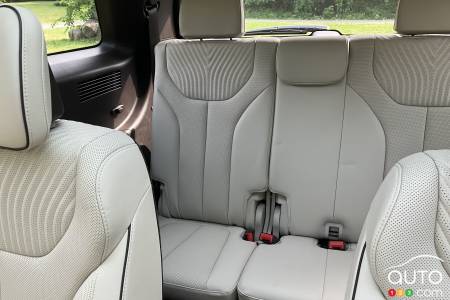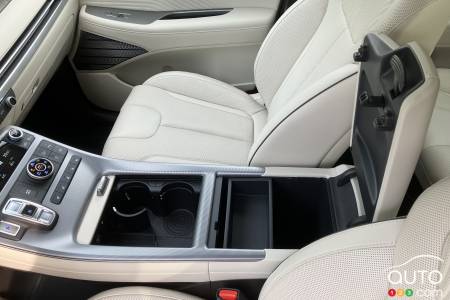 When a manufacturer delivers high-quality products decades after decades, when its birth is intertwined with the very origins of the automobile, its success can shine with a patina that no money can buy. The day when future generations of automotive consumers no longer have the collective experience and memory to really distinguish between Hyundai and Mercedes and what they represent, is the day the Korean automaker will be able to fight on equal terms.
In the meantime, Hyundai continues to impress the public with its undeniable value for money. The brand might not be able to bank on a level of prestige, but current Hyundai dealerships feature some very well-crafted vehicles.
And all of that is to explain how and why a Palisade Preferred comes standard with so much of the equipment and features mentioned above.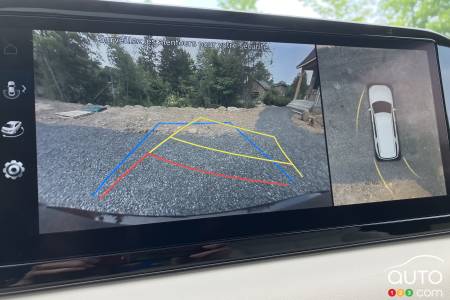 Onwards and upwards
The Urban version takes the base model and enriches it with more accessories, including a host of cameras to show what's going on around the vehicle. That system includes a monitor that retransmits images of a potential threat that would otherwise be as detectable as a stealth aircraft, because it's in your blind spot at that moment. These images are projected behind the steering wheel in an all-digital instrument panel the same size as the 12.3-inch central screen, another feature of the Urban model (it's smaller in the Preferred).
The Ultimate Calligraphy trim, because it's 'Ultimate', has all the equipment of the two previous versions and adds more goodies, for instance Nappa leather seats, a head-up display, a gizmo that remotely steers the Palisade forwards or backwards, an Ergo Motion driver's seat (more on that in a bit) and a huge two-panel glass roof.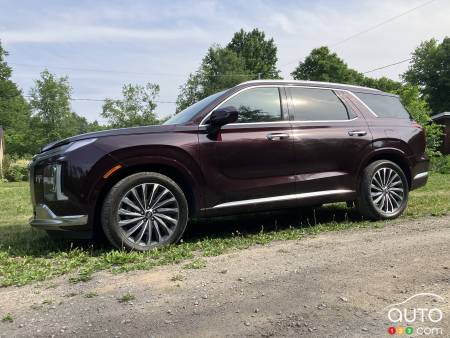 Design-wise, the differences between trims are relatively minor, except that the Urban goes all Dark Knight with a blacked-out grille, fairings, roof rails and rims.
And speaking of rims, the entire lot of 2023 Palisades trims rides on 20-inch wheels, with looks that vary according to trim, of course.
Specifications sheet of 2023 Hyundai Palisade Preferred 8 passenger AWD
Specifications sheet of 2023 Hyundai Palisade Ultimate Calligraphy 7 passenger AWD
Specifications sheet of 2023 Hyundai Palisade Ultimate Calligraphy 7 passenger AWD w/beige
Specifications sheet of 2023 Hyundai Palisade Urban 8 passenger AWD
Specifications sheet of 2023 Hyundai Palisade Urban 7 passenger AWD