Hyundai Canada entrusted Auto123 with a 2023 Palisade Ultimate Calligraphy so that we could inspect it from every angle and report back to you. This is the fourth chapter of our long-term review.
See also: 2023 Hyundai Palisade Long-Term Review, Part 1: The Origins of the Big Hyundai
See also: 2023 Hyundai Palisade Long-Term Review, Part 2: An Improved 2.0 Version
See also: 2023 Hyundai Palisade Long-Term Review, Part 3: Which Version to Choose?
This time, we (finally) lift the hood of the Palisade and examine its innards to learn about the mechanical components on which this 2,000-kg vehicle depends.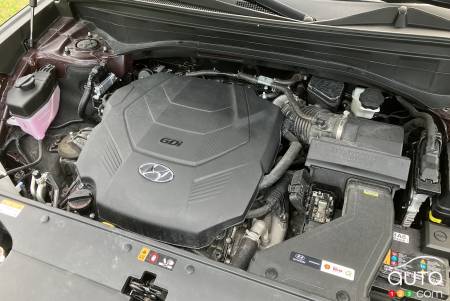 What powertrain is in the 2023 Hyundai Palisade?
We saw last time that the manufacturer has limited the number of versions Canadian buyers of the Palisade can choose from, to three. As far as a powertrain goes, the choice is even simpler: there's just one!
That would be a good old 3.8L V6 gasoline engine. No turbo, no light electrification. This is the engine you whether you opt for the Preferred, Urban or Ultimate Calligraphy model.
This engine is the only representative of its type within the Hyundai lineup. No other vehicle in the family uses it. Not even at Genesis, the South Korean manufacturer's luxury division; there, all G sedans and GV SUVs employ a V6, but turbocharged and with a smaller displacement.
In fact, the only other vehicle produced by any Hyundai Group brand that uses this 3.8L V6 is the Kia Telluride, the Palisade's twin (more on that later).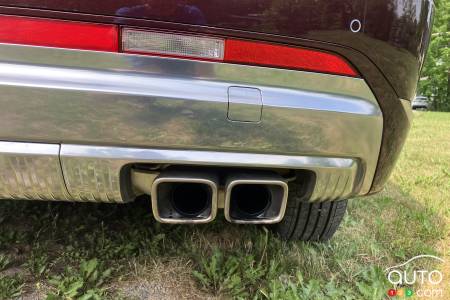 In both models, it develops 291 hp at 6,000 RPM and 262 lb-ft of torque at 5,200 RPM. When you push it hard, you notice two things. Firstly, its song is stimulating. It's a beautiful, rich, full, throaty sound. Secondly, it induces 0-100 km/h accelerations of the order of 7.8 seconds, which is not bad considering the weight to be moved.
All three variants of the Palisade use an 8-speed automatic transmission to support this power.
In terms of fuel consumption, the manufacturer claims an average of 9.5L/100 km (highway) and 12.6L/100 km (city). I beat those numbers, but to be fair, I did make sure to program the Eco driving mode.
The Palisade offers four such drive modes: Eco, Comfort, Sport and Smart. Their icons are clearly identified on the large knob on the centre console. Depending on your choice, the sensitivity of the accelerator pedal, the reaction time of the transmission and even the strength of the climate control system will vary. In Smart mode, you let the vehicle decide. It analyzes your driving style over time and chooses the mode that best suits your habits and expectations.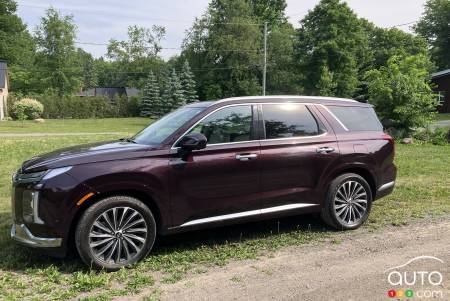 For me, it wasn't complicated: I wanted to visit service stations as little as possible.
By choosing Eco, I succeeded. On several occasions, I saw the trip consumption display average slip below 9L/100 km. On one occasion, the score even dropped below 8L, at a point when I was patrolling secondary roads at reasonable speeds. The rest of the time, I was always able to maintain an average below 10L, without exception.
In town, the Palisade does its bit by switching off the V6 when you stop at a red light. The whip comes out as soon as you take your foot off the brake. The operation, however, involves mechanical gurgles that could be more discreet.
The really good news, however, is that this engine accepts regular-octane gasoline without complaint. If you had to fill your 71-litre tank completely empty - a situation to be avoided because it means you might have run out of gas - the bill at the pump would be in the region of $114 (let's say at $1.50 a litre).
In fact, since I've been driving this Ultimate Calligraphy, I've spent an average of $80 at each fill-up.
The Palisade's transmission can be controlled manually using the paddles behind the steering wheel. If you really want to. If you feel like driving sporty. When that whim passes you by, you can switch back to automatic mode.
Specifications sheet of 2023 Hyundai Palisade 2023 Preferred 8 passenger AWD
Specifications sheet of 2023 Hyundai Palisade Ultimate Calligraphy 7 passenger AWD
Specifications sheet of 2023 Hyundai Palisade Ultimate Calligraphy 7 passenger AWD w/Beige
Specifications sheet of 2023 Hyundai Palisade Urban 8 passenger AWD
Specifications sheet of 2023 Hyundai Palisade Urban 7 passenger AWD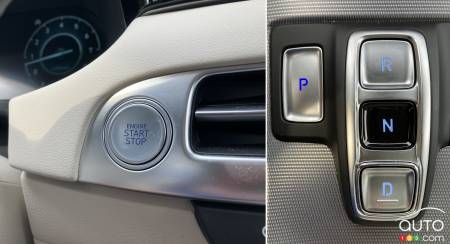 You do that using the buttons on the centre console. I have mixed feelings about those. Ergonomically, it's fine and good. It clears the cabin, and pressing a button to move forward or backward is childishly simple. When the gearbox is working under normal conditions, there's nothing to complain about either.
But I noticed that it sometimes became hesitant when, for example, I was moving back and forth to get out of a tight space. The transmission then doesn't obey instantly, as if the order given to the clutch takes time to find the right gear. I'm talking about fractions of a second, of course, but it's enough to irritate, to break the fluidity of the rhythm.
Next chapter: the Palisade's all-wheel drive and suspension.