• Auto123 reviews the 2023 Jeep Grand Cherokee 4xe Trailhawk
• This is the plug-in Grand Cherokee.
It hasn't taken Jeep long to capitalize on the success of the Wrangler 4xe plug-in hybrid vehicle (PHEV) – itself having the success of the Europe-only Compass and Renegade 4xe models to thank. Here is the Jeep Grand Cherokee 4xe.
In this particular case, we go deeper into Wrangler world because our tester is also the Trailhawk version. It's thus Trail Rated thanks to stuff like off-road tires, raised air-lift suspension and a disconnecting sway bar. There's also a base 4xe model; both versions start at around $78,000, with the Trailhawk's off-road accessories adding about a grand to the overall cost.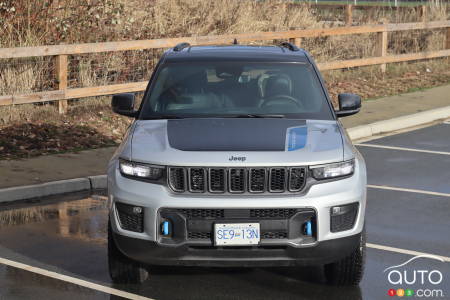 Outside
You can tell it's the 4xe model because of the charge port atop the left front fender and a few neat details, like the winch mounts, tow hooks, badging and of course the big graphics package on my tester's hood. And how can we not mention the blue sticker on the wheels? All feature blue highlights, including the Trailhawk badge on the tailgate, always bright red until now. Inside, we also find blue contrast colour stitching on the seats and dash as well as a number of functional adds we'll get to in a minute.
Overall, the Grand Cherokee continues to look good (the 2022 model is pictured but there are no changes for 2023). The seven-slat grille and smoked head- and taillamps do a great job adding class to the package.
Only the wheels and tires cause some stylistic consternation, in my view. The two-tone five-spoke wheel design is fine, but the wheel just looks too small at 18 inches, especially with the big ride height leaving such a gap between wheel and fender. They aren't snow tires either, just standard tires.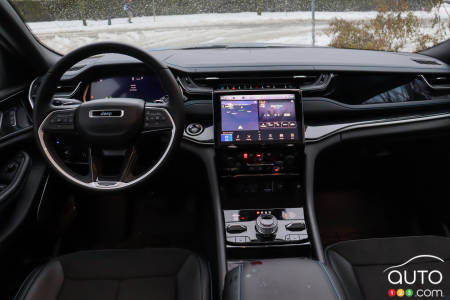 Inside
In addition to all the blue stuff, you get everything you know and love about the Grand Cherokee. This trim gets fantastic leather seating that comes both heated and cooled up font. Plus there's a heated steering wheel, dual-zone climate control, 8.4-inch UConnect display with wireless CarPlay and Android Auto and a good amount of space in both the first and second rows.
There is no third row, as the 4xe powertrain is only available with the standard two-row Grand Cherokee for the time being. Is a three-row Grand Cherokee L 4xe on the way? Only Jeep knows, and it isn't saying, yet.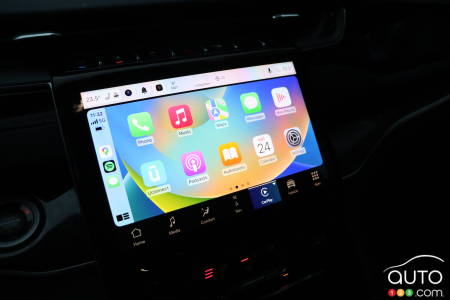 Even with the competition making recent advancements in their infotainment tech, Stellantis/Jeep's Uconnect system remains one of the best in the biz. The touchscreen is responsive with big, bold buttons that are easy to read and reach and a graphic set that is nicely modern.
Add the ability to "pin" your favourite apps as shortcuts to the base of the screen, and you have a clear, intuitive and easy-to-navigate affair that is a pleasure to use. The parking camera could be a little sharper (though there are a number of views to choose from), but it gets the job done.
That display is matched by a 10.4-inch digital gauge cluster which can be tweaked to display either a traditional speedo/tack set-up, or any number of widgets including your navi map or infotainment info.
In addition to the backup cam, my tester also had a digital rear-view mirror and a lo-res display there is tougher to forgive. Happily, the image provided by the roof-mounted mirror camera proved to be very good (once I wiped it off after a snowstorm; there is no self-cleaning feature, which is too bad). I used it in almost all applications, including low light brought on my bad weather. It's less useful at night, so I revert back to a standard mirror by flipping what would normally be a dimmer switch.
The climate control settings, meanwhile, can be adjusted via hard buttons as opposed to through the touchscreen display, as has been the case with past Stellantis products. Bottom line is the Grand Cherokee's ease-of-use is top grade.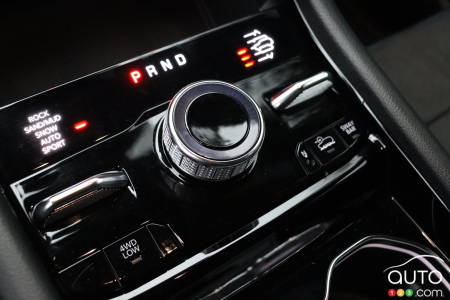 In addition to the climate system and some audio controls, the 4WD system controls are also physical. The rock, sand and mud, snow, auto and sport modes and ride height controls are activated via toggle switches, while 4WD low, sway bar disconnect and crawl control are all accessed via a single button press.
The 8-speed automatic transmission, meanwhile, is controlled via a wheel which I don't like as much, as I prefer either a column or console-mounted lever, like the Grand Cherokee used to have.
Still, these commands are performed seamlessly. You don't have any annoying "switching to four-wheel drive" messages like you get in a Ford Expedition, for example. Flip the switch to change the mode, and everything happens smoothly.
The Quadra-Lift air suspension system, meanwhile, works in off-road environments but also when on the road. It will lower itself down to help reduce drag when at speed on the highway, and can make entrance and exit easier when parked.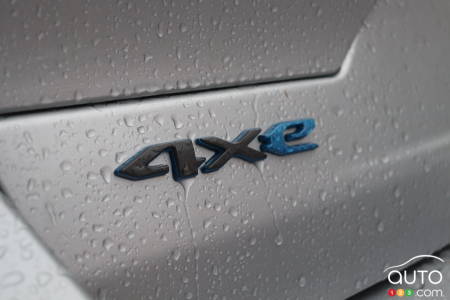 4xe
Of course, there are three entirely different drivetrain modes that only a mode designated "4xe" gets: Hybrid, e-Save and Electric. You switch between them via a button bank mounted by the driver's left knee and they have a real effect.
Hybrid mode is your "normal", and in it the system decides when to employ the electric motor and 17.3-kWh battery, when to use the 2.0L turbo four gas engine or when to mix the two together. Electric mode is just as it sounds: hit that button, and you're running full EV as long as you have charge, all the way up to a claimed 42 km. E-Save, meanwhile, ensures that the battery charge remains constant and will only allow use of the EV motor if it won't eat into your charge.
Independent of all that, there's the regenerative braking, for which you press the button marked with a blue battery atop the infotainment display. That activates max regen mode so that when you release the throttle, you will feel it.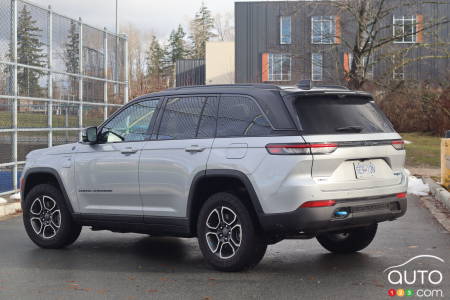 While Jeep does claim 42 km, I only managed to do about 30 in full EV during my test. This was during a cold snap with climate controls on pretty heavily, probably a big contributing factor. Indeed, 30 km is still a healthy number and if you're able to charge at night, it does make your morning commute that much more efficient.
Charging can be done by either a Level I or II charger, with the former taking about 17 hours to go to full. That's not really an issue as few will ever take it all the way to zero, but for the purposes of this test, that's what I did. A handy light assembly at the base of the windshield allows you to see your charge level. It's so bright that I was able to easily make it out from my second-storey bedroom window so if you don't have a garage, there's no need to walk outside to check on it.
Judicious use of the e modes will allow you to get the most out of the powertrain. On the highway the gas engine is at its most efficient, but in rush hour city traffic it's the electric motor. You can hit the e-Save button and save the charge for when it's most efficient. At the end of a week, the 10.9L/100 km I registered is none too shabby.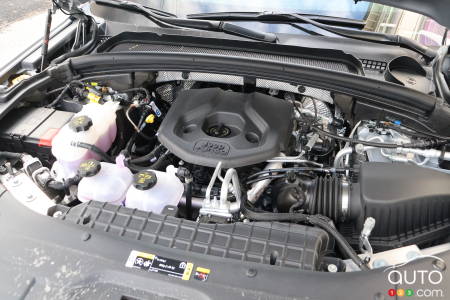 That engine
While I take little issue with the range – in more favourable conditions, I can imagine a 10 km jump – I have a harder time forgiving just how loud everything gets when that gas engine comes back on. It makes 270 hp and 295 lb-ft of torque, numbers that aren't exactly generous when you're in a vehicle that weighs about 2,150 kg. It's loud, and it really sounds like it's labouring.
Like it does for fuel efficiency, the 4xe's EV motor saves the day once again when it comes to drivability. It combines with the gas engine to deliver a total of 375 hp and 470 lb-ft and a much quieter, more relaxed drive. It also adds to off-road performance because the instant torque boost the EDV motor provides is great for climbing steep grades.
Which is good because for 2023 if you want the most powerful Grand Cherokee, you have to go 4xe. The 4xe powertrain has effectively taken the place of the Hemi V8, which is available only in ultra-low quantities for the Grand Cherokee in 2023 and will be done afterwards. That will be a shame for me and for many potential buyers, but with both the 4xe powertrain and the new Hurricane twin-turbo V6 on the way, the 8-cylinder is no more. Such is the way of the automotive world today.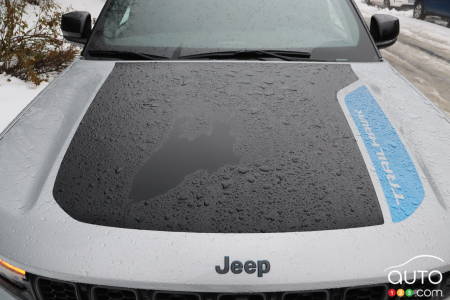 The final word
I like the Grand Cherokee 4xe – I just wanted to like it more. It really is too bad that all that interior goodness is spoilt a bit by that rough engine, and the styling is taken down a peg with the wheel selection. The Grand Cherokee 4xe is ultra-capable, though, and once you learn to live with those foibles, it is full value for what it's meant to be: a proper off-roader with a modern powertrain set to take the Grand into 2023 and beyond.
We like
Powertrain flexibility and efficiency
Off-road capabilities
We like less
Some styling bugaboos
Harsh gas-only operation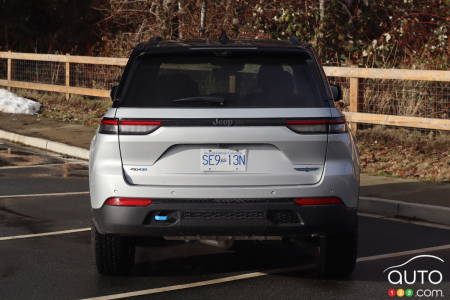 Road Tests and Reviews

Experts

Consumers