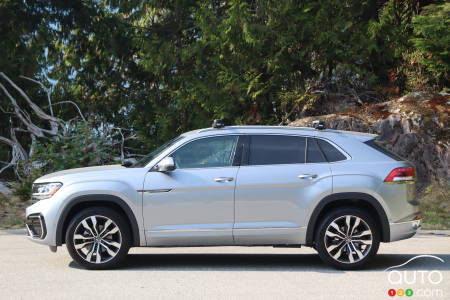 • Auto123 reviews the 2023 Volkswagen Atlas Cross Sport.
• The SUV delivers a nice level of uniqueness – even if it is slightly old school.
• To wit, the Atlas is still one of VW's biggest sellers.
In this day and age, it's hard not to have a soft spot for vehicles like the Atlas Cross Sport.
The two-row SUV isn't all that new, having arrived for the 2020 model-year. And even then, it was a new take on the three-row Atlas, a model that, aside from a facelift in 2020, was fairly unchanged since 2018.
So you can't love it for its "newness". But then why the soft spot? Well, how about this: there's something pleasantly old-school, in this day in age, about gutsy, naturally aspirated V6 power. I know that for me, this is second only to a big V8 when it comes to favourite engine types (and yes, that includes stuff like a Porsche's flat-6 turbo or a Lambo's V12) and it's cool you can still get it on the market today.
Some of the most famous all-time cars have been powered by big sixes (think a Jag Mark II or Mercedes W140 S 320) and in this application, it measures 3.6 litres and is good for 276 hp and 266 lb-ft of torque.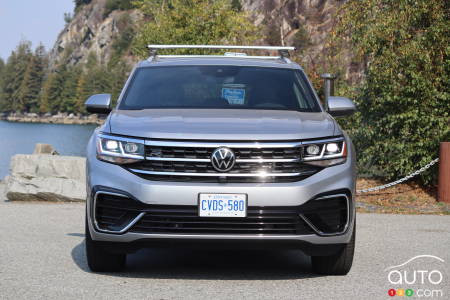 That power gets transmitted to all four wheels via an 8-speed automatic transmission with Tiptronic auto mode… but no paddles. That's a shame; seems a slant-backed SUV with "Sport" in its name would have a pair of those.
Know that in this VW the engine sits low in the engine bay, which translates into a lower centre of gravity, always good. But it also leaves me thinking that they could have gone even bigger when it comes to the powerplant. There's room for a V8 in here! With a supercharger atop it! Alas, the only thing you can do with the Sport Cross is go smaller, to a 2.0L turbo four. Which, by the way, makes 41 less hp than the V6, but only 8 lb-ft less in terms of torque.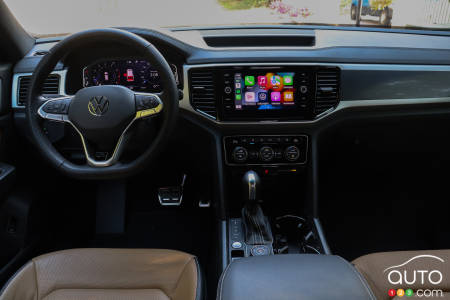 Inside
Of course once you step inside this Atlas – especially in the top Execline trim seen here – any ideas of "Sport" kind of take a back seat to well, not "luxury", exactly, but "near-luxury". Two-tone heated and cooled leather seats, digital gauge cluster, aluminum pedals, 8-inch touchscreen display with wireless Apple CarPlay – you've got it all here, and it's very good.
The reason it doesn't quite get to luxury status is because it just feels aged. What's endearing when it comes to the powertrain feels off-putting in the interior. I feel like I've be sitting in these seats for over a decade and they're too flat, the climate controls remind me of those seen on my dad's Passat circa 2003, and the native infotainment interface is still using fonts that are too small, too tame-looking – too Windows 98.
There is a digital gauge cluster, though, which adds at least some modernity.
One tried-and-true VW feature that I am happy to find here is the 12-speaker Fender audio system. The automaker is transitioning its cars to a Harman/Kardon set-up and I've experienced that and it's fine, but the Fender system is just so crisp, clear and bass-y that it really is a shame to see it go.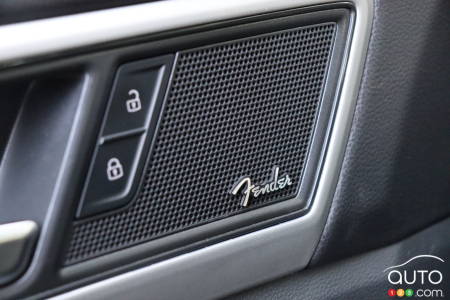 Space-wise, though, I have no issues. The seats may not be as supportive as could be, but the driving position is good, the view out is right-on and the back-seat passengers get about the same headroom as they do in the standard Atlas – which is a lot. Also, since there's no third row to worry about, you don't lose so much storage space to the more aggressive roofline and shorter overall length.
The full-length moonroof, meanwhile, adds a nice touch of airiness that you wouldn't expect when looking at the slightly more-aggressive-than-normal styling.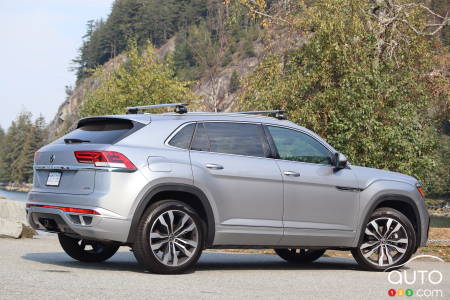 Outside
By the way: unlike some other manufacturers have done, VW is not calling this a "four-door-coupe". It's an SUV, through and through, and that's fine by me because I still don't really buy into the four-door-coupe body style designation.
Speaking of that roofline, it is just one of the differences you'll see between this model and the standard Atlas. You have different taillight lenses, different exhaust outlet shapes, the front glass has a steeper rake, the three-bar grille is more prominent and LED headlights come as standard and they are able to "look" around corners through bulb rotation.
It's a finely handsome vehicle and looking at it, you can see why, all these years on, the Atlas is still one of VW's biggest sellers.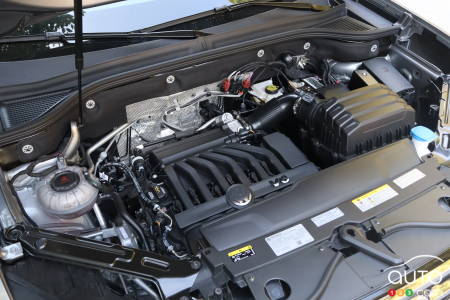 The powertrain
The Atlas Cross Sport might look big, chunky and heavy (the wheels measure 21 inches, for goodness sakes), but that engine is big and chunky as well and it gets you off the line in a hurry. Being naturally aspirated, the engine delivers power immediately and even tough the Atlas doesn't get VW's popular DSG dual-clutch auto transmission, shift times are quick - and, paddles or no, it is fun to snap through with the gear lever nevertheless. I used manual mode way less than I would have had I had paddle shifters, but for most folks, this is probably not that high on their want list.
In addition to the normal, eco and custom drive modes there is a sport mode and it's quite effective. In that mode, power delivery is increased even further, shifts are snappier and the revs are held onto for that much longer for some nice and zippy progress. At 2,000-plus kg the Cross Sport is no lightweight so I wouldn't call it fast, necessarily – zippy is more like it.
What they will want, of course, is a comfortable ride - and, for the most part, they'll get it. It's quiet inside thanks to the SUV more slippery shape and unstressed engine, the dampers are well-tuned and as mentioned the interior space is generous.
Unfortunately, you can only defeat physics so far and with rolling stock that big, bigger bumps do send a shudder through the chassis. Other trims do get smaller wheels but if you're going all the way to Execline, you'll have to have a chat with your dealer if you want something smaller than the 21-inches included standard here.
The final word
All that aside, the Atlas Sport Cross remains a pretty good buy. It starts at just over 42 grand and even when fully equipped, it still below the 60 grand mark before taxes. There's a lot of content here, it's handsomely styled and I just keep coming back to how good that engine is. Add the fact that you have to really stretch the facts to identify vehicles that compete with the Sport Cross - the Honda Passport and Nissan Murano come to mind, but both are smaller than this - and you have quite a unique vehicle here – even if it is slightly old school.
We like
Smooth V6 power
Burly-yet-handsome looks
Spacious interior

We like less
Interior gets a few old-school bits
The heavy weight makes itself felt

The competition

Chevrolet Blazer
Ford Edge
Honda Passport
Nissan Murano