• Auto123 compares the 2024 Mazda CX-90 and 2023 Nissan Pathfinder
See also: Comparison: 2024 Mazda CX-90 vs 2023 Subaru Ascent
Manufacturers sprinkle the term 'all-new' about like confetti when introducing any remotely new model they bring to market. In the case of the CX-90, the description actually fits. The SUV is based on a new platform, features a new in-line 6-cylinder engine with mild hybridization and inaugurates the brand's first plug-in hybrid model in North America.
After eight years without change, the Nissan Pathfinder got a full overhaul in 2022 to consolidate its position among mid-size SUVs. It received more rugged styling on a platform that combines good handling with excellent towing capacity. For 2023, Nissan has added the Rock Creek adventure model to the Pathfinder range.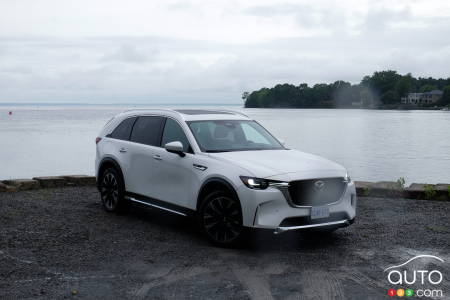 Exterior of the 2024 Mazda CX-90 - 8.5/10
Mazda's styling language is seductive. Visually, this is the most successful mid-size model of the moment. There's just the right amount of chrome, flowing lines and balanced proportions. The large 21-inch wheels on our test model are very attractive.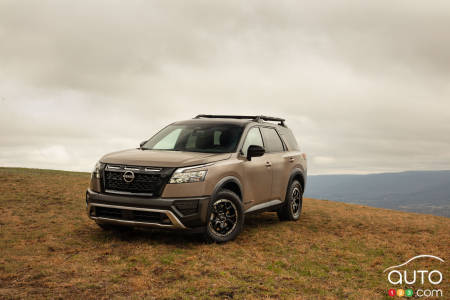 Exterior of the 2023 Nissan Pathfinder - 8.5/10
Nissan should also be congratulated for its work completely revamping the Pathfinder's styling. Essentially, the designers combined adventure and style in a more upscale model. There's also the new Rock Creek version, which offers 'off-road', rugged styling, more aggressive wheels and tires and the tubular roof bar system. Ground clearance has also been increased.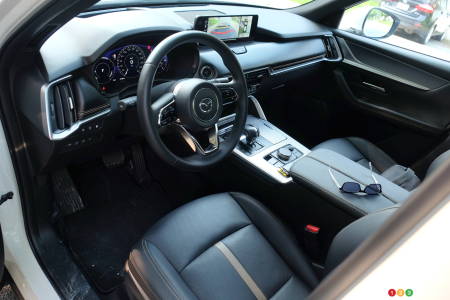 Interior of the 2024 Mazda CX-90 - 8/10
Like all CX models, this Mazda plays the luxury card. The Signature model, with its hand-crafted finish inspired by a Japanese binding technique, and a fine line of suspended stitches running across the dashboard, is a real eye-catcher. The quality of materials is consistently excellent. The light-coloured finish may not be ideal for keeping the interior clean for very long, however.
The CX-90 is no slouch in terms of practicality either, with good storage space in the door bins and second-row centre console. The CX-90 also boasts one of the quietest cabins in the segment. It can accommodate six, seven or eight passengers, depending on configuration and version. Second-row seats can slide and recline, offering up to one meter of legroom.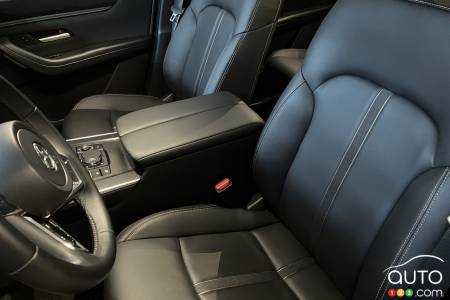 The third row offers 77 cm of space. That's less than in the Kia Telluride or Hyundai Palisade, but it's enough to accommodate two adults. Access to the third row isn't too complicated either.
One of the highlights of the interior environment is the distinctive dashboard fabric, bound with hanging stitches, which are specifically inspired by hand-binding and a complex Japanese weaving technique known as Kumihimo. The seats of top-of-the-range versions are also wrapped in supple Nappa leather. Base versions may be more stripped-down, but they don't compromise on elegance.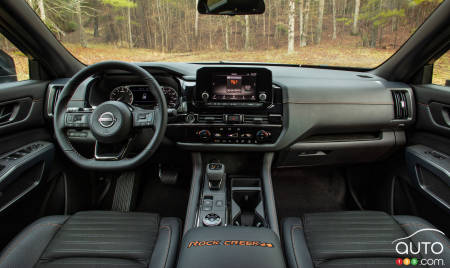 Interior of the 2023 Nissan Pathfinder - 7.5/10
In the first two rows, passenger space and comfort are beyond reproach. Beyond that, Nissan reworked the Pathfinder's format as part of its 2022 overhaul to fit in a third row. However, the third row isn't exactly practical. It's small, difficult to access and not very comfortable to sit in. The third row is really for kids or for no-other-choice lifts.
Mention should also be made of the finish, which looks better on top-of-the-range models. But Nissan is no match for Mazda in this respect. For the equivalent version, Nissan also offers slightly less equipment. Mid-range versions lack heated rear seats, a power passenger seat, a navigation system and wireless charging for smartphones, for example.
The Pathfinder is more practical than comfortable. For example, it features flat interior walls (a 4-foot-wide sheet of plywood slides between the wheel wells). We're also pleased to note a larger storage box under the load area floor, and an increased number of cubbyholes and cup holders in the cabin. There are now 16. Nothing innovative about that, mind you. Practicality takes precedence over elegance.
Safety and technology in the 2024 Mazda CX-90 - 7.5/10
There are positives and negatives with the Mazda CX 90. You do get a head-up display, heated and ventilated seats in the first two rows, a high-resolution 360-degree camera and the majority of driving aids.
On the other hand. Even though the infotainment system screen is larger, Mazda hasn't changed the unnecessarily complicated way of operating it, and the screen still isn't touch-sensitive. In this regard Mazda remains stuck in 2015. You're still obliged to use the cursed thumbwheel and go through too many sub-menus to make use enjoyable.
On a more positive note, the comfort of the seats and the silence on board are impressive.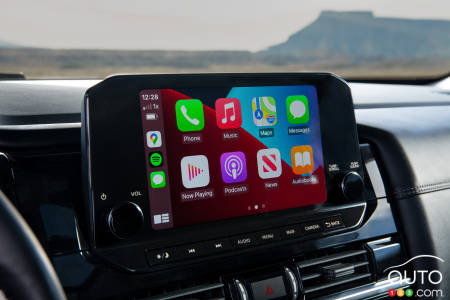 Safety and technology in the 2023 Nissan Pathfinder - 8.5/10
With the Nissan, you'll have to go for a Platinum version to get a finish comparable to mid-range trims elsewhere. The models below it are among the least equipped in the segment, and the finish is still dominated by rather hard plastic.
There's one aspect in which Nissan leads the way: technology. Our test vehicle was equipped with the Nissan ProPilot Assist driver assistance system. This includes Adaptive Cruise Control and Lane Departure Control. Adaptive cruise control is linked to navigation, so it can slow down before a turn. Sounds interesting, but we found it more of an annoyance than anything else. The lane centering system works well most of the time.
It should be noted, however, that active safety features are rather intrusive as a whole with Nissan.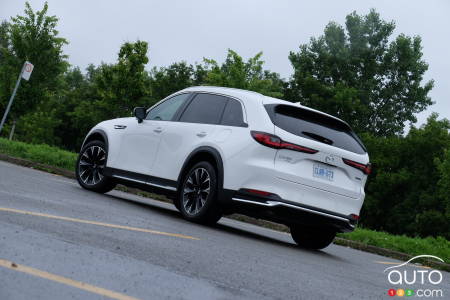 Driving the 2024 Mazda CX-90 - 8/10
Mazda has focused on optimizing overall body rigidity with a platform originally designed for rear-wheel-drive models. Mazda is jealous of its reputation as the Japanese automaker making the most fun-to-drive vehicles. The ride is engaging, and Mazda has even imported an innovation first introduced on the MX-5 called kinematic control, which applies subtle braking to the inside rear wheel when cornering at a more enthusiastic pace, reducing body roll. All models feature an 8-speed auto transmission.
All-wheel drive (AWD) is standard on all models, so you can be sure of staying in control, and top-of-the-range models ride on high-performance 21-inch Falken tires that are sticky (but too hard).
Power-wise
A new 3.3L e-Skyactiv Turbo in-line 6-cylinder engine produces 280 hp in base versions; that rises to 340 hp and 369 lb-ft of torque (using premium unleaded fuel) in GT and Signature models. This engine is also equipped with M-Hybrid Boost, a lightweight hybrid system with a 48-volt battery.
The PHEV model gets a 2.5L 4-cylinder engine, with a 17.8-kWh battery. The unit develops 323 hp and 369 lb-ft of torque (also using hi-octane gasoline). Mazda claims a range of 42 km in electric mode.
You'll be able to tow 5,000 lb with the in-line 6 and 3,500 lb in the PHEV model. We were able to stay between 8.2L and 8.5L/100 km with the in-line 6, and under 8.0L/100 km with the PHEV.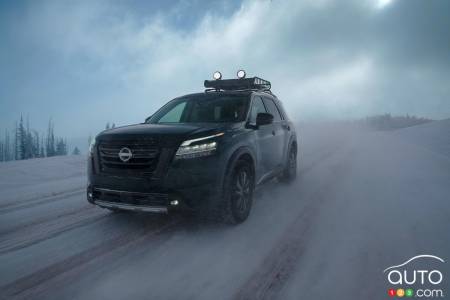 Driving the 2023 Nissan Pathfinder - 7/10
The Pathfinder's naturally aspirated 3.5L V6 picks up where it left off with 284 hp and 259 lb-ft of torque. However, Nissan has finally got rid of its CVT and replaced it with a 9-speed automatic transmission. This change alone makes a world of difference. Nissan has reworked the suspension and steering for a more modern driving experience.
Like the CX 90, the Pathfinder is available in four-wheel drive only, and Nissan has also integrated a range of driving modes: Standard, Sport, Eco, Snow, Sand, Mud/Rut and Tow. The towing capacity of the old Pathfinder (6000 lb) is unchanged, with the entry-level model still limited to 3500 lb.
The driving experience, however, is uninspired. You can feel the model's two-ton weight on the road, and you won't experience any real pleasure behind the wheel. It's better than before, yes, but it's not on a par with the CX-90. Fuel consumption is around 12.0L/100 km combined on average.

Photo: D.Boshouwers/V.Aubé
The final word
First impressions of the CX-90 are that Mazda is on the right path. All the right ingredients are in place for success. Prices range from around $46,000 for a basic MHEV version to $64,500 for a fully equipped PHEV. Note that the latter is eligible for government subsidies, depending on version. We liked the Signature MHEV model.
For the Pathfinder, prices range from $46,000 to $57,000. That's also a big step up for this veteran of the segment, but Mazda wins this duel hands down in terms of overall enjoyment, performance, fuel economy and the use of a third bench seat.
Our verdicts
Which is more fun to drive? Mazda CX-90
Which offers the most cargo space? Nissan Pathfinder
Which offers the roomiest 3rd row? Mazda CX-90
Which offers the most storage space? Nissan Pathfinder
Which offers the most luxurious interior? Mazda CX-90
Which offers the best fuel economy? Mazda CX-90
Competitors of the 2024 Mazda CX-90 and 2023 Nissan Pathfinder:
Honda Pilot
Hyundai Palisade
Kia Telluride
Subaru Ascent
Toyota Highlander
Specifications sheet of 2024 Mazda CX-90 MHEV GS
Specifications sheet of 2024 Mazda CX-90 MHEV GS-L
Specifications sheet of 2024 Mazda CX-90 MHEV GT
Specifications sheet of 2024 Mazda CX-90 MHEV GT-P
Specifications sheet of 2024 Mazda CX-90 MHEV Signature

Photo: D.Boshouwers/Nissan