• Auto123 reviews the 2023 Nissan Pathfinder Rock Creek.
The Pathfinder's most recent redesign in 2022 saw the midsize SUV ship righted, this after it suffered with its previous generation from an approach that was half-minivan, half-SUV, you might say. To further consolidate its gains for 2023, Nissan added a new Rock Creek trim level to the new Pathfinder range.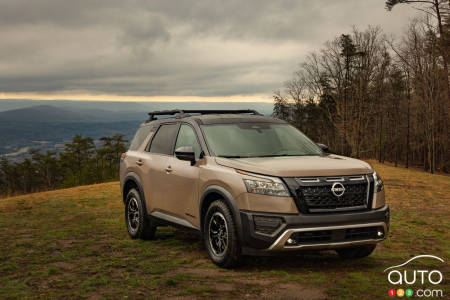 Design of the 2023 Nissan Pathfinder Rock Creek
Visually, the Rock Creek version practically compels you to head off into the woods for the weekend. In addition to the standard all-wheel drive, this variant adds a more robust suspension and a slight (0.6-inch) rise in height compared to other Pathfinders equipped with AWD. It is also equipped with distinctive 18-inch wheels, all-terrain tires and a powertrain that delivers 295 hp (instead of 284) when running on high-octane fuel.
On the roof, the SUV has a luggage rack that can support up to 100 kg. Rock Creek models also benefit from panoramic all-terrain cameras and a tubular roof rack. It is available in three single-tone exterior colours and a two-tone exterior combination that adds to the adventurous style.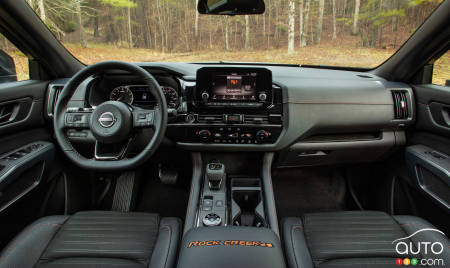 Interior of the 2023 Nissan Pathfinder
There's also a sense of ruggedness aboard the Pathfinder. Its format has grown, offering ample space for adults in all three rows of seats, although the rear seat can be a little difficult to access. You can choose between a seven- or eight-seat configuration. There's a centre console between the second-row seats that's easy enough to remove.
Visibility is excellent, with large mirrors. The driving position also helps, with numerous adjustments possible and all controls within easy reach. The controls themselves are equally straightforward. We also welcome the easy-to-use knobs and buttons.
The greater focus on adventure does mean a few compromises in terms of comfort. The seats are as firm as the ride. We found the front seats a little flat, so comfort can diminish after long hours behind the wheel.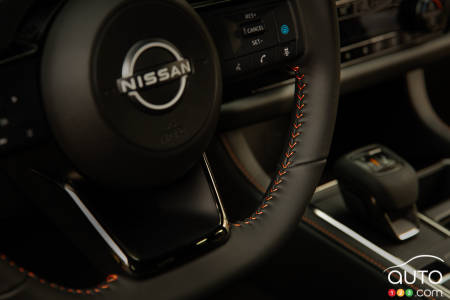 Technology and safety in the 2023 Nissan Pathfinder
Nissan's Pathfinder has a lot in common with many other vehicles in the segment. Our vehicle was equipped with Nissan's ProPilot Assist driver assistance system. This includes adaptive cruise control and lane centering. Adaptive cruise control is linked to navigation, so it can slow down before a bend.
Our main criticism of the technology is its intrusiveness. Throughout our week-long test drive, we felt as if a schoolteacher was always looking over our shoulder, ready to scold. For every little infringement of the Highway Code, there's a system that beeps or vibrates, or some other eardrum-irritating alarm. It's extremely exhausting. We're all for safety, but Nissan's system is overbearing.
There's also work to be done when it comes to the voice commands; be ready to pronounce your words of instruction slowly and accurately for it to work.
Our vehicle was also equipped with Android Auto and Apple CarPlay wireless integration, although we encountered some problems with the latter. A wireless charging mat is handy, but the Pathfinder could do with a few more USB charging ports to avoid having to share charging time between devices.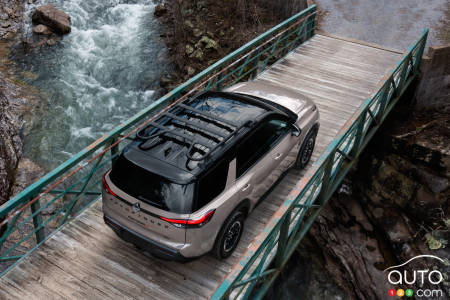 2023 Nissan Pathfinder versions and configurations
There are no fewer than six Pathfinder versions. The Rock Creek sits in in the mid-range of the lineup. There's the entry-level S model, followed by the SV model, which adds a few driving aids. Then there's the Rock Creek model which, beyond its off-road styling, adds a touch of ruggedness.
Above it comes the SL version, which brings traffic sign recognition, leather upholstery, upgraded driver's seat, power passenger seat adjustments, heated rear seats, wireless phone charging, navigation and a 9.0-inch touchscreen.
The Platinum model ticks just about every box with quilted leather seats, ambient lighting, power steering wheel adjustments, power-folding side mirrors, digital gauges, ventilated front seats, bronze metal interior trim and front centre seat-mounted airbag and more.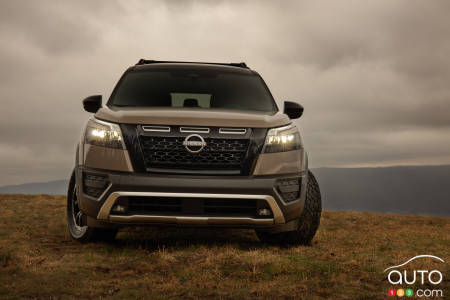 Powertrain of the 2023 Nissan Pathfinder Rock Creek
The Rock Creek version starts with the same mechanical configuration as the other models in the range, based around a naturally aspirated 3.5L V6. This version develops 295 hp and 270 lb-ft of torque, which represents an extra 11 hp and 11 lb-ft of torque over the base Pathfinder, and is the same power output found in the Infiniti QX60, cousin to the Pathfinder.
This is more than enough power to propel the Pathfinder, and the 9-speed automatic transmission is a clear improvement over the annoying CVT of the previous model.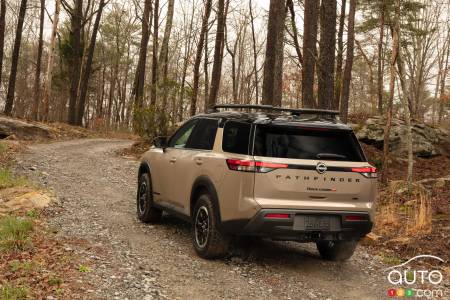 Driving the 2023 Nissan Pathfinder
You won't fall head over heels for the Pathfinder when at the wheel. For a start, there's a certain feeling of heaviness. V6 performance is on a par with other models in this segment. The transmission can be reluctant to downshift on uphill gradients, but most of the time it shifts smoothly and unobtrusively. Braking performance is also average. When cornering, the Pathfinder is calm and stable.
With the towing package, you'll be able to tow loads of 6,000 lb; otherwise, we're talking 3,500.
Our test week ended with an average fuel consumption of 12L/100 km, which is also fairly representative of models in this segment.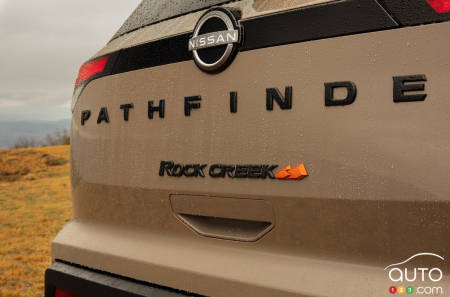 Pricing of the 2023 Nissan Pathfinder Rock Creek
The base price for a Rock Creek model is $51,998. Our two-tone, three-coat paint adds $300 to the bill. Adding the $1,920 for shipping and preparation, we're at $54,218. Once again, that's the price to pay for this kind of vehicle in this segment.
The final word
Nissan is to be congratulated for bringing the Pathfinder back on track. The last generation was looking for itself, sitting halfway between a minivan alternative and a soulless SUV. This latest model has rediscovered its taste for adventure, and now people know what they're buying. Its styling was kind of strange, but is now more attractive. There's even a hint of Land Rover there.
The SUV is reasonably spacious and pleasant to drive. Nissan has equipped it with numerous on-board technologies and driving aids. All in all, a fine result.
This Pathfinder is aimed first and foremost at those who want to enjoy a comfortable, relatively spacious SUV with styling that will be the envy of your neighbors. It's not for those looking for a driving experience.
Strong points
Distinctive styling
Good comfort
Good 4WD system
Weak points
VERY intrusive driving aids
Heavy steering
Voice control system needs improvement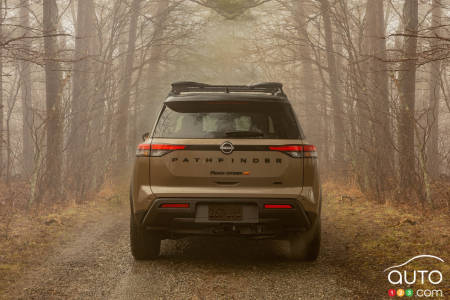 Competitors of the 2023 Nissan Pathfinder
Chevrolet Traverse
Ford Explorer
Jeep Grand Cherokee L
Kia Sorento
Subaru Ascent
Toyota Highlander
Road Tests and Reviews

Experts

Consumers