• Auto123 put Hankook's new Kinergy 4S2 tire to the test.
Like it or not, here it comes: Most Canadian motorists are already having to start thinking about the coming winter season, and in many cases that means choosing a new tire to tackle the cold season. The situation is even more pressing in certain regions - such as Quebec and British Columbia - where drivers are required by law to fit winter tires on all wheels of their car or truck (in Quebec, from December 1 to the following April 15. Other provinces don't require winter-certified tires, but they do strongly recommend their use - as do most automotive specialists, we should add.
For some motorists, however, here's a common question. If they don't drive a lot of kilometres each year, but their vehicle's tires are finally starting to wear out, should they buy only new winter tires that they can continue to use in summer? Or would they be better off with two sets of tires, which would require them to have them changed twice a year (with the expense that comes with that)?
A new, mostly urban trend
A few years ago, a Finnish tire manufacturer began offering a winter tire with features that would allow it to be driven ALSO in summer, without any disadvantages.
In the past, experts advised against keeping winter tires on in summer, lest they overheat and burst (which, to my knowledge, has never been proven except for under-inflated tires). Or that they would wear out prematurely.
These drawbacks have since been resolved or disproved, and several renowned tire manufacturers have followed the Finnish manufacturer's example. Today, most offer a completely new tire specifically designed for year-round use, avoiding the need for those annoying and costly tire changes.
Incidentally, these tires all feature the international symbol of the mountain silhouette with a snowflake at its centre. In Canada, this type of tire is known as a "homologated", or snow-rated tire.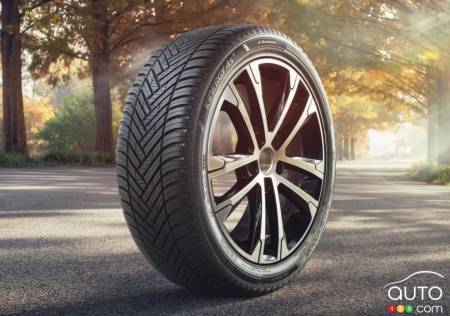 Hankook jumps into the fray
It took a bit of time for South Korean manufacturer Hankook to produce such a tire - after all, making such a decision represents both time and investment. But here it is: the latest Kinergy 4S2 750, Hankook's winter-certified tire. It launched in Canada in January 2021.
Hankook is regarded as a premium tire brand. What's more, the name Hankook means ... Korea. So it's easy to understand why the manufacturer is so proud of this brand identification, offering a product you can trust. Founded in 1941 in South Korea, Hankook is one of the largest companies in that country, producing over 50 million tires a year.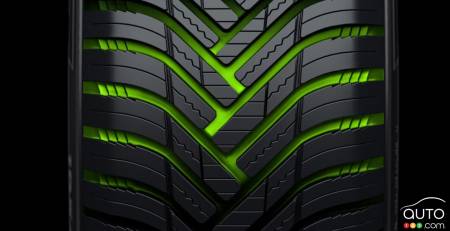 What sets the Hankook Kinergy 4S2 tire apart?
The Kinergy 4S2 (750) was created to offer maximum performance 365 days a year. A car equipped with these tires doesn't need to switch to winter tires when the cold season arrives. The sidewalls feature a mountain silhouette with a snowflake in the center.
The 4S2 features a new tread compound (called Aqua Pine) containing more silica for improved grip in cold temperatures. The steel belt has been reinforced and is now stronger for greater durability. It's also wider, for greater tread rigidity and improved roadholding. This tire uses Hankook's Equilibrium polymer carcass principle.
One of the most visible features of this Hankook product is the tread pattern. If we compare it with one of its competitors, the Michelin Cross-Climate 2, we can't help but note some similarity.
It should be noted that this tire has won awards of excellence from the European Auto Express group for its design (it also won in the All-Season Tires category and in the Best Products category).
According to Hankook, the oblique grooves help to evacuate water, dust and slush. The tread block structure is designed to aid braking, while the imposing ribs contribute to handling and stability.
The Hankook Kinergy 4S2 (750) is available in over thirty sizes for rims from 15 to 19 inches (it also exists in a more robust version for SUVs, the 4S2X). Prices vary from $140 to $250, depending on size and dealer discounts. Note, however, that it is not available with studs. The manufacturer guarantees wear at some 96,000 km.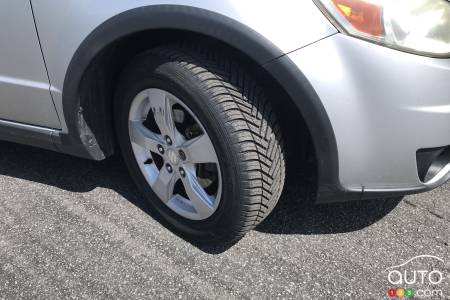 Testing the Hankook Kinergy 4S2
Hankook allowed us to put its new product to the test by fitting four 4S2s (750) (size: 205/60 R16) on a 2010 Suzuki SX4.
Why this Suzuki? Quite simply because it represents a typical example of the use such tires will be put to. This used SX4 is only driven around 5,000 or 6,000 km a year, mostly in an urban environment. The hatchback is powered by a 150-hp 4-cylinder engine combined with a continuously variable automatic transmission (CVT) and all-wheel drive. The car has been so well maintained that it looks almost like new.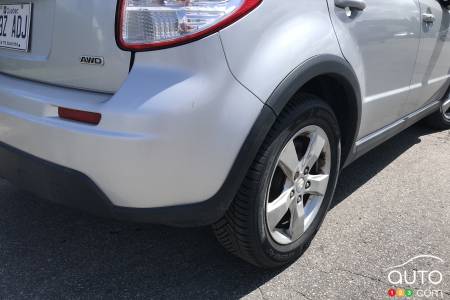 Our first impressions
Hankook gave us the opportunity to ride its 4S2s at the end of the summer, first to check their efficiency on dry pavement on hot days. Right from the start, we could confirm the latest Kinergy 4S2 runs quiet. It's worth noting here that the Suzuki SX4 is also considered a relatively quiet car in its class, clearing the way for us to give these Hankooks a good listen.
As for braking, everything's up to scratch on dry pavement (although, in the case of an older car, you have to consider the condition of the brakes before coming to a definite conclusion). However, on a winding road, these Hankooks responded very well to steering inputs.
Finally, at higher highway speeds, the 4S2 helps the car stay on course and remains quiet (again, taking into account the type of road surface). Incidentally, in this size, it boasts a V speed rating (maximum 240 km/h at sustained speed), confirming its status as a performance tire. Other models have an H speed rating (maximum 210 km/h).
In addition, substantial summer rains allowed us to observe that it evacuates water well enough (even in large puddles) to avoid the danger of aquaplaning.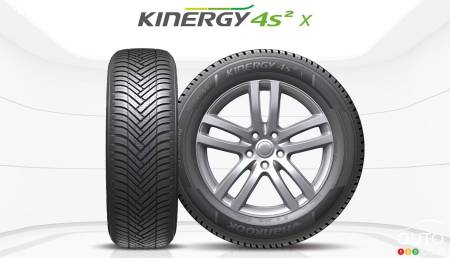 The real test
This was just our first contact with the Hankook Kinergy 4S2 (750). The "real" test will come in a few months' time, once the cold and snow arrive. We're not expecting extraordinary performance in deep snow, but given that most streets and boulevards are cleared by ploughs in the majority of municipalities, it's on roads covered with a moderate amount of snow that we'll be able to give it an accurate rating.
We'll also be keeping an eye on its braking and driving behaviour on icy roads, a constant concern for many motorists.
The final word
The Kinergy 4S2 tire, it must be said, is not intended for excursions into deep snow. Above all, it represents a good compromise for motorists who want efficiency and safety in both winter and summer, without having to undergo the annoying (and increasingly costly) operations of seasonal tire changes.
We'll be back later with a report on this tire in winter conditions. We'll also be talking about other tires we're currently evaluating, including the Michelin Cross-Climate 2 and the Nokian WR-G4 in a similar category.