For so many years it was a cliché to think of Buicks as offering a soporific driving experience, good mostly for the dads (or even grandads) of this world; now it has become equally clichéd to assume that the current generation of vehicles from the American manufacturer are 'not your Dad's Buicks'. Is that really so?
That the brand is enjoying massive success in the Chinese market is certainly noteworthy, but it says nothing about whether Buicks have gotten more exciting, too exciting, or not exciting enough. We put the 2018 Buick Regal Sportback to the test to see how one of today's models from the automaker stacks up in a tough segment marked by declining sales.
Hatchback? Sportback? Fastback? Four-door coupe? Five-door sedan?
Ah, the sedan. Much ink has been spilled, maybe some tears shed as well, about the difficulties experienced by the four-doors of this world, and the demise of some longstanding models. In this case, note first off the Sportback moniker; this refers, among other things, to the hatchback-style opening at the back of what is otherwise a standard-issue sedan. Only, manufacturers, perhaps having focus-grouped consumers or simply looked at sales figures, have decided they're allergic to the term 'hatchback'. Hence the advent of the Sportback, Fastback, Liftback, etc.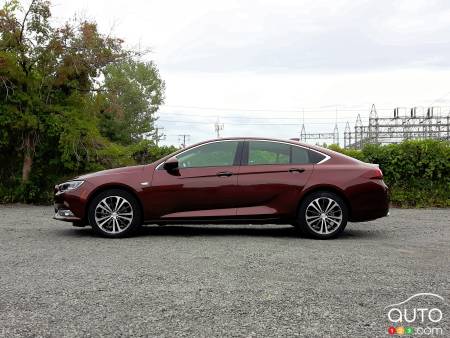 There's more to it than that, of course. The 2018 Regal Sportback features a sloping roofline that gives it a decidedly coupe-like appearance, and its height is about 2.5 cm less than the old Regal sedan, plus it weighs some 90 kg less. This improves aerodynamics and thus both performance and fuel economy, plus it provides the car with an eye-pleasing sporty appearance.
Here's what Global Buick and GMC Vice President Duncan Aldred had to say on the model's debut:
"The new Regal Sportback was developed with today's active, independent, premium car customer in mind. They have an SUV in the garage and are looking to complement it with a sport sedan, but have an appreciation for the usefulness of a versatile cargo space when an occasional need arises."

- Duncan Aldred
That's a pretty specific target demographic, so let's agree he was just trying to create a certain mental image, and assume that what Buick is after with this model is to attract consumers who still love sedans, who want a touch of premium luxury, but not at a German premium-luxury car price, and who like the practicality of a hatch opening without sacrificing on good looks and good performance. And if that's its mandate, well the 2018 Buick Regal Sportback fulfills it exceptionally well.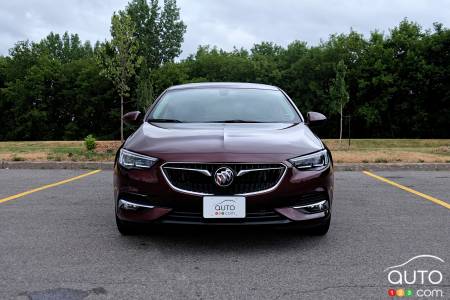 You want cargo space? You got it!
The large hatch opening (not power, unfortunately) allows for big, super-easy access to a really large trunk, which thus offers more than twice the amount of space that the old Regal sedan mustered (892 litres seats up, 1,713 litres with the standard 60-40 split rear seats folded down). There's also an option for adding a 40/20/40 split fold-down configuration.
In the process of transforming the car from sedan to fastback, Buick extended the total length of the car (by 6.75 cm) and the both the length and width of the wheelbase (by 6.6 cm and 9 cm, respectively). These changes give the car a sharper, sleeker look. New headlights (LED optional) and a distinct winged grille help reinforce the impression that this is no dullard. It's worth noting that the model, Buick-badged though it is, is actually based on the European-only Opel Insignia model.
Punching above its weight
Also, its chassis might be lighter than before but it's also stiffer, and overall performance benefits. Steering is tight and responsive and the car stays taut when cornering. I found it to be remarkably quick off the line as well. Initial acceleration impressed me the first time I tore away from a light, and it was still impressing me by the end of my week, with no turbo lag to speak of. The absence of a CVT probably helped as well; the AWD Essence version that I drove came with an 8-speed automatic that never faltered, that I could tell. Note that the lower FWD versions of the 2018 Regal Sportback come with a 9-speed automatic transmission.
The Sportback comes with a standard 2.0L 4-cylinder turbo engine that delivers 250 hp and 260 lb-ft of torque; the all-wheel drive iterations get more torque, 295 to be exact, and in those versions torque is applied instantly via a twin-clutch differential.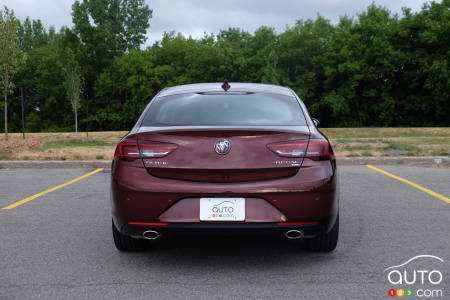 Honestly, this car drove like it should cost more, which is a pretty good compliment. The only thing it seemed to be lacking in comparison with some of its Germanic opponents was engine roar. The Regal Sportback runs with such quietude that there were times I could have sworn I was driving on electric power. Apparently Buick included a layer of foam on the inside of the supplied tires (Continental Procontact), and other elements such as the glass used and extra insulation at strategic spots make for a very quiet cabin ride. Which is great, but a little bit of anger from under the hood would not have been unwelcome.
Inside, the car that drives above its pay grade doesn't look or feel quite so premium. Presentation is good, the materials are decent and the finishing is solid, but none of it smacks of luxury. All Sportback models get a 7-inch touchscreen, Apple CarPlay and Android Auto compatibility, 4G LTE Wi-Fi, push-button start and five years of OnStar as standard equipment. Buyers can opt for a larger 8-inch screen with navigation.
The Essence version brings with it leather seats, heated front seats and steering wheel and the bigger 8-inch screen. Our tester included the Drive Confidence package ($2,195), which adds LED headlights, blind-spot monitoring, rear cross-traffic alert, a power-adjustable front passenger seat and memory settings for the power-adjustable driver's seat. We also got the Experience Buick package ($2,695), which gives you SiriusXM satellite radio with navigation (plus a 3-month all-access trial), 18-inch 7-xpoke chromed aluminum alloy wheels and a power moonroof. With all that, the price tag on our tester was $42,830 (MSRP for the base model starts at $33,945; the base Essence starts at $39,445).
Official fuel ratings for the 2018 Regal Sportback AWD are 11.0L/8.0L/100 km (city/highway). My ratio was probably somewhere around 70% city, and my average was 10.8L/100 km. I have to say I was a little disappointed in that number. This is a 4-cylinder engine in a lighter-than-before car (car, as in, not SUV), equipped with a stop-start system. Maybe its muted sound deluded me into thinking I would rack up some seriously fuel-efficient numbers…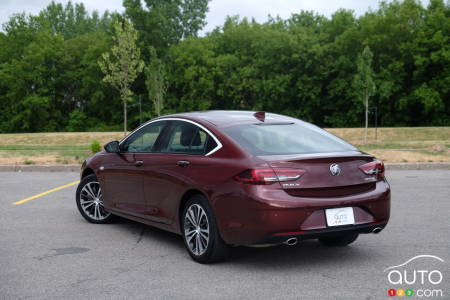 Premium but affordable
In a nutshell, Buick had to choose where to focus its energies so as to keep the 2018 Regal Sportback from being priced out of range of its target demographic, and it decided to put its eggs in the basket of looks and performance instead of interior luxury and refinement. How the car stacks up for you really depends on where you situate yourself on that spectrum of priorities. There's no denying that it offers a very good drive for the money (which should tell you where we sit!).
American consumers have access to a TourX wagon version, but unfortunately the powers that be have decided not to make it available north of the border. That's a pity, because the Canadian market is not exactly overflowing with choice when it comes to wagons, and the price range of the Regal Sportback would make it a very viable alternative to the Golf Alltrack, for example.
On the other hand, we can thumb our noses at the Yanks over the Essence edition's all-wheel drive system that we're getting and they're not. Nyah nyah.
By the way, we liked driving this model so much that we'll be repeating the experience in a few weeks, this time behind the wheel of the sportier GS version. Stay tuned for that review on Auto123.com!
Pluses
Great handling and acceleration
Quiet ride
Comfortable driver seat, position, etc.
Good ergonomics for the multimedia system
Great access to a very large trunk
All-wheel drive on the menu
Shapely contours
Minuses
What, no engine roar?
No power for that big, tall hatch
Sightlines out the back not great
No head-up display