A restyled interior came in 1996 along with the introduction of the C36. This new model allowed Mercedes to flex its muscles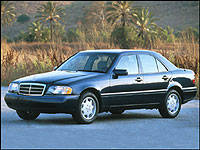 A restyled interior came in 1996 along with the introduction of the C36. (Photo: Mercedes-Benz Canada)
with a sport-tuned suspension and a 268-horsepower 3.6-litre inline 6-cylinder engine. The 240-horsepower BMW M3 of the era now had a serious contender.
The remainder of the C-Class models stayed unchanged until 1997, when the C220 became the slightly more robust C230 at 162 lb-ft of torque instead of 155 - its horsepower remained the same at 148. Still it needed over nine seconds to find 100 km/h, so performance enthusiasts were required to move up-market to the carry-over C280. Speaking of moving up market, the top-line C36 gained a few horsepower, now 276.
For 1998 the C280 received Mercedes' first V6, a 2.8-litre unit once again with 194-horsepower. Torque actually decreased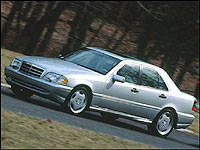 For 1998 the C280 received Mercedes' first V6, a 2.8-litre unit with 194-horsepower. (Photo: Mercedes-Benz Canada)
from 199 lb-ft to 195. New features included Brake Assist and side airbags as well as a BabySmart car seat detector. The biggest news was the wickedly quick 302-horsepower V8 powered C43, replacing the inline-6 of the C36. The downside? It only came with an automatic transmission. As good as the new car had become, it still experienced initial hesitation during full acceleration, a problem that even continues today with the new supercharged C55. On the good side, traction control became an option this year.