2002 Chrysler California Cruiser Concept - Is This the Next Wave for the PT?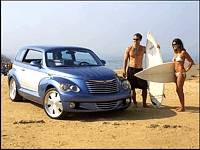 Do you think Chrysler has found an end to PT Cruiser variations? As if! There are so many possibilities for this popular crossover it must keep their product planners up at night, or at least it contributes to more lucid dreams? Either way, wouldn't every carmaker like to have such a problem?
The latest version, introduced at the Paris Motor Show last fall, is even more specifically geared toward those on the left coast than the hotrod-style production PT Cruiser - hence the new name California Cruiser.
"California Cruiser redefines both the look and the interior functionality of a 'Surf Wagon,' with ample space and comfort for four people, every imaginable extreme sports toy, and even the ability to convert to a hotel room for two," said Jim Schroer, Executive Vice President of Chrysler Group Global Sales and Marketing. "All that, and it is totally drop-dead gorgeous - a new interpretation of Chrysler Design magic."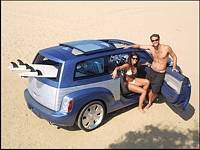 The new concept, penned by the Chrysler Group Design Studio, modifies the existing PT's bodywork substantially in order to take on the surf wagon role. First of all, its 3-door configuration, similar to the GT Cruiser and Panel Cruiser concepts from a couple of years back, gives the car a lowered, hunkered down appearance, amplified by a slightly reduced ride height.
Its rear end incorporates sharply creased corners instead of the PT's normal curves while two long, narrow "chopped" side windows stretch across the car's profile, adding to the low-rider appearance. Look just below and a satin silver bodyside appliqué spans between each wheel well before arcing up over the bulging fenders to wrap around the tail at one end, while rising to meet a side air vent at the other.