Saab 93-X Concept - Who Would Have Thought? Something Unorthodox From Saab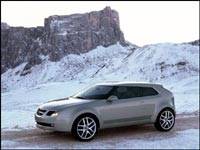 Am I the only one getting tired of the name 'crossover' being used every time a vehicle doesn't fit into a specific category? Many manufacturers are raising the ride height an inch and adding a little body cladding to last year's wagon or minivan and voila, a crossover is born. What about the new Saab 93-X concept car?
Among other things, I think of a crossover as having 5-doors (including the rear hatch) which would ordinarily preclude the 93-X. But that said its impressive ground clearance and substantial off-road capability have caused me to reconsider my automotive value system. The new Saab is truly different.
Evidently Saab's head of design, Michael Mauer agrees. "For Saab to be true to its heritage, we wanted to go off-road in a slightly different way. If you want a large, heavy sort of mud-plugger, there are plenty of products already out there. But if you want something truly distinctive with a strong sporty ethos, we think the 93-X coupe format provides quite a unique solution."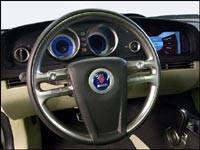 And it is unique. Unlike traditional SUVs it is relatively low and diminutive. Let's use the compact AWD Pontiac Vibe for a comparison, a car that fits the crossover mold to a 'T'. The 93-X is only 15 mm (0.6 in) longer than the Pontiac. That said its wheelbase is a substantial 100 mm (3.9 in) longer giving the short overhang Saab a lower appearance, further enhanced by its extra 51 mm (2.0 in) width. OK, the fact that the Vibe stands 118 mm (4.6 in) taller than the 93-X might also add to the Swabian's lower appearance as well as the Pontiac's considerable cargo advantage, 1,621 L (57.2 cu ft) when the rear seats are folded compared to the Saab's 950 L (33.5 cu ft). For comparison purposes only, the 2002 Saab 9-3 3-door hatchback that shares the 93-X's General Motors derived Epsilon platform, the same architecture that is the basis for the Opel/Vauxhall Vectra, offers a total of 617 L (21.8 cu ft) cargo capacity while the 9-5 wagon is capable of hauling an impressive 2,067 L (73.0 cu ft) with the rear seats folded flat.