In some ways, the return of the Nissan Z car foreshadowed the return of the American retro hot-rod which would occur several years later. Resurrecting the lineage of the popular 300ZX, Nissan brought the 350Z back to market to do battle with the likes of the
Honda S2000
,
Audi TT
, and
Ford Mustang
.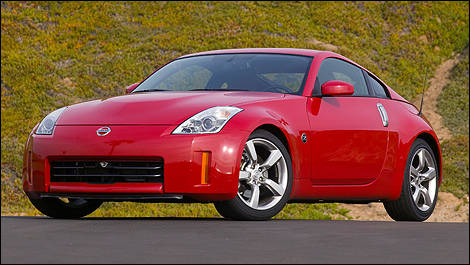 2007 Nissan 350Z
Nissan's just launched the second generation of the modern-age Z car, called the 370Z. Though this machine intends to attract new buyers to the Nissan brand, it's sure to attract a slew of existing 350Z owners, too. These folks will be giving their older Z's up as trade-ins on a new one—meaning selection in the used
350Z
market should be plentiful this summer.
The 350Z was available solely with Nissan's award-winning 3.5 litre VQ series V6 engine. Power output was rated between 287 and 306 horsepower, depending on the year in question. All 350Z models were rear wheel drive, with power handled by either a six-speed stick or a five-speed manual-mode automatic.
The Z was a two-seater, and available with a Bose audio system, heated leather seats, a 6-CD changer,
Bluetooth
phone interface, HomeLink and an auto-dimming rearview mirror-- to name a few options. Remote access, traction control and xenon lights were offered, too. The 350Z rolled on 18 or 19-inch factory wheels.
If you're on a relatively tight budget or concerned about long term costs, you may want to consider opting away from a model with the larger wheels and xenon lights. Tires get expensive in a hurry when 18 or 19-inch replacements are required, and xenon lights can be costly to replace when they burn out.
Most 350Z owners report satisfaction with the performance, looks and handling of their vehicles. The exciting driving experience comes without ruining any and all comfort and civility, meaning the 350Z can be used for day to day use by most drivers. It's the exotic-sounding, wailing exhaust note that gets the most praise, though.
Common complaints deal with limited interior storage space and a barrage of squeaks and rattles that pop up over time. Road and tire noise are somewhat common gripes, too. The largest and most common complaint deals with the outward view, though. The 350Z suffers from large blind spots and very limited rearward visibility. If you have trouble determining the position of a car's nose during parking, you'll likely exchange front bumper paint with the nearest curb, too.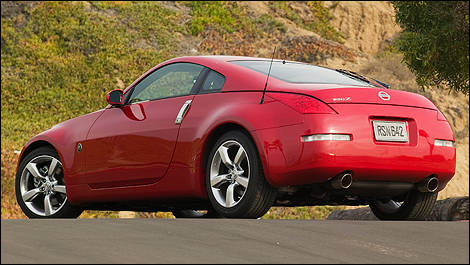 2007 Nissan 350Z