Too Bad That It's Only a Concept
Love the unique look and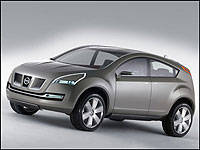 The new Nissan Qashqai is an exercise in size reduction over the current production Murano crossover vehicle. (Photo: Nissan Canada)
character of Nissan's Murano but don't want to shell out the big bucks? Or maybe it's too large and plush for your needs? Well Nissan just might have the vehicle you're looking for, embodying all the character of the Murano in a more compact, efficient package.
The new Qashqai is to Nissan what the xActivity concept was to BMW, an exercise in size reduction over the current production crossover vehicle while exploring new concepts, styles and technologies. The xActivity became the new BMW X3. So what's in store for the Qashqai? While Nissan hasn't announced anything concrete,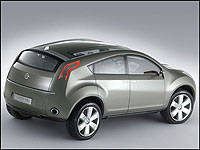 Qashqai is a go-anywhere, do-anything SUV for young, active professionals. (Photo: Nissan Canada)
it would do well to offer something similar with the crossover market being so hot.
This new reality was without a doubt Nissan's motive for creating the Qashqai in the first place. The new concept, if built, would provide the Japanese automaker's customers with a vehicle that can adapt to constantly evolving, recreational lifestyles. Sound familiar? It's the same message that Nissan has been touting in its X-Trail advertising campaign. Both are vehicles targeted at young, urban professionals, some with families and some without, successful in their careers for their age, who like to head out of town on the weekends to ski, snowboard and mountain bike.