2004 Porsche Cayenne - The World's Best SUV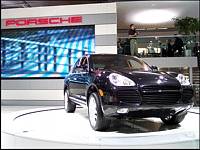 Porsche's Cayenne Turbo, shown here at its North American introduction at the Detroit auto show, is the new king of the SUV hill. (Photo: Trevor Hofmann, Canadian Auto Press)
If Porsche had launched an SUV in the 1980s everyone would have thought it was a positive, novel idea. After all, the audacious Lamborghini LM002, what many still consider the world's ultimate 'sport' utility, proved that exotic car manufacturers can play in the 4x4 game. Porsche, with its Paris Dakar winning 911 and 959, would have been the perfect candidate for a larger race truck.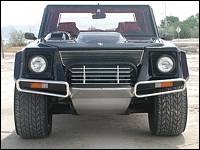 The 444-hp Lamborghini LM002 is finally dethroned as the world's ultimate SUV. (Photo: Lamborghini)
But now, a time when almost every traditional car manufacturer, from Kia to Maserati, is jumping on the SUV bandwagon, some Porschephiles think their company is selling out. And in effect they're right. But let me ask the purist's one question? Would they rather their coveted company have success with a sport utility and bolster their coffers so that they can make niche supercars like the
Carrera GT
, or risk the chance of not maintaining overall profits, and therefore stability in today's uncertain times, possibly leading to the independent marque being swallowed up by a major, like Volkswagen or Ford?