Words Can't Describe It
An unusual excitement radiated throughout the California Speedway press event room, where we were gathered to hear a group of
The thought of driving the most powerful, most exclusive and most expensive road prepared supercar Porsche has ever built will get even the most jaded automotive journalist excited. (Photo: Trevor Hofmann, Canadian Auto Press)
Porsche representatives fill us in on the goings on of the legendary marque prior to being let loose on the facility's road course that sits at the centre of the giant oval race track. While I say unusual, it wasn't entirely odd for most present at the event to be preparing to test drive a group of performance cars on a race track. And although the prospect of doing so with Porsche is thrilling to even the most jaded of automotive journalists, I for one, had been on a few courses with the Stuttgart brand. What made the buzz in the air of particular intensity this morning was the inclusion the most powerful, most exclusive and most expensive road prepared supercar the company has ever produced.
Pulling up to the pit area, a row of test cars were laid out for our perusal, starting with a sporty little base Boxster, finished in silver of course, and now featuring 240-horsepower in entry-level trim. Yes, that's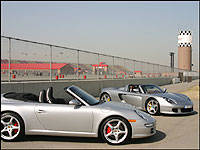 Porsche had nearly their entire lineup on hand for the track event. (Photo: Trevor Hofmann, Canadian Auto Press)
almost as much power than the original S, and together with the many improvements of the 2005 model it drives better than the outgoing upgraded model too. A yellow Boxster S sat beside it, now boasting at least as many upgrades as the base model, plus a new 3.2-litre engine good for 280-horsepower. If this were all the good doctor had ordered, that would be Herr Dr. in Porsche-speak, I still would have been excited to get on the track, but a new 325-horspower 911 Cabriolet, also completely upgraded for 2005, was on hand, plus a 911 S Cabriolet, now producing 355-horsepower.