Remaking a Brand Identity
Am I the guy that Saturn has been targeting all these years? While I'm in my early 40s now, I was in my early 30s when the GM division launched its first car. I drove it, was unimpressed and remained loyal to imports.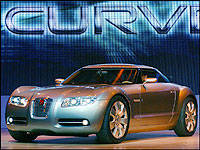 The Saturn Curve concept was unveiled to the media Sunday, January 4, at the North American International Auto Show at Cobo Center in Detroit. The Curve, along with the Pontiac Solstice production model and Chevrolet Nomad concept, are built on GM's new rear-drive Kappa architecture. (Photo: General Motors of Canada/Joe Polimeni)
I've driven all Saturns since, none of which would inspire me to give up a similar Honda, Mitsubishi, Nissan or Toyota, but I have to admit they have made major improvements in styling, build quality and performance in recent years.
But really, does anyone put street racing and Saturn together in the same sentence, however negative the connotations? That may change with the addition of the brand's Redline series, starting with hopped up versions of the ION Quad Coupe and compact VUE sport utility, but something like the new Curve concept that debuted at this year's Detroit auto show would do a heck of a lot more to modify perceptions.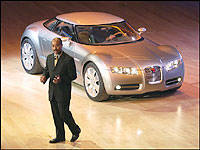 General Motors Vice President Design North America Ed Welburn unveiled the Saturn Curve concept at the Detroit auto show. (Photo: General Motors of Canada/John F. Martin)
I've heard negative and positive comments on the car's styling, but personally I like it a lot. It's aggressive compared to all of Saturn's current and previous offerings that are just simply happy to see you.
The Curve's grille is a variation on the last year's SKY convertible concept, but larger, bolder and like the name implies, curved at each corner. The entire car is curvaceous actually, especially the front and rear fender swells that jut out like classic pontoons, contrasting the subtle tapered arc of the roofline.