Forgetting for a minute the front end of the A6, stylists have more or less preserved the general shape of the old model. Why mess with a shape that has influenced an entire segment of the industry? The signature arced roof has been carried over, although altered slightly to encompass the car's longer wheelbase and overall length. Still the gently curving and sloping rear pillar is immediately identifiable.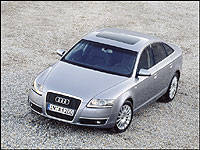 Apart from the front end, Audi knows well enough to leave the rest of the A6 design alone. (Photo: Audi Canada)
Having learned a thing or two from observing BMW's "flaming surfaces," the A6 features unusually smooth fenders and doors. Aside from the rolled fender flares and an upward sloping line that runs through the bottom half of the door to the rear bumper, no rub-lines or door guards interrupt in the sheetmetal.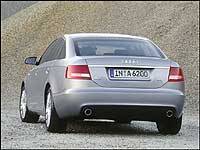 Audi claims that the body of the new A6 is a staggering 34 percent more rigid. (Photo: Audi Canada)
The rear of the new A6 has been slightly reworked too, with angular tail lamps that are more linear than wraparound. The trunklid features an integrated spoiler, while the deck is highlighted with chrome accent strips and badging. Altogether it's an impressive sculpture of plastic, aluminum and sheetmetal.
Sheetmetal? That's true. Unlike its larger, all-aluminum A8 sibling, the A6 still utilizes a steel monocoque frame, but dramatically stiffer than the outgoing model. Audi claims that the body is a staggering 34 percent more rigid, meaning higher crash safety standards as well as reduced noise transfer and better driving dynamics.