Of course a quieter cabin with a smoother ride and improved handling can only help the A6 compete against its rivals. In order to optimize the ride and handling balance, Audi has revised the suspension system. Up front is a four-link independent setup, while in back is a trapezoidal multi-link configuration. Having learned a great deal from both the A4 and the A8 in terms of geometry and tuning, expect the A6 to be a delight to drive in the corners. Upon release all A6s will feature standard springs and dampers, however, in 2005 Audi will introduce an adaptive air suspension system. Essentially, it's a scaled down version of what is currently fitted to the A8. Stiffness and ride height will be controlled via the MMI electronic interface's scrolling knob. Prior to the adaptive air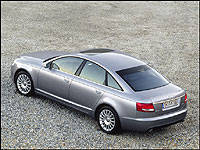 In order to optimize the ride and handling balance, Audi has revised the suspension system. (Photo: Audi Canada)
suspension's introduction, if customers wish to have a sportier driving A6 Audi will offer a Sport package. Essentially it will drop the ride height by 20 mm (0.8 inches), increase the spring rates and upsize the wheels to 18-inchers. As it seems, every taste, from comfort to performance, will be addressed by the new A6.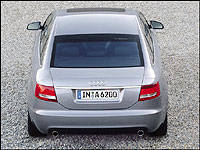 It appears Audi has taken the time and effort to ensure you'll be satisfied with the new A6, whether you're looking for comfort or performance. (Photo: Audi Canada)
Three gasoline engines will be available in Europe upon the car's introduction, ranging from 2.4 liters to the top-line 4.2 liter unit. These engines share the same general 'backbone' in a sense that all feature timing chains, are relatively compact, and include reduced friction rockers for improved valve operation. Inline fours, previously not available in North America, are even out in the European markets.