Track temperatures did indeed rise well into the 80 degree Fahrenheit mark, no less, which made sunscreen and my choice of a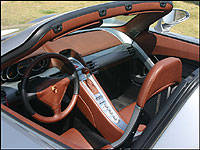 The rich brown leather, jewel-like aluminum trim and a finely detailed floating centre stack place driver and passenger into completely separate "cells". (Photo: Trevor Hofmann, Canadian Auto Press)
white helmet, the latter for reflecting heat, all the more appropriate. By the time the afternoon had rolled around and a few dozen laps of the track were under my belt, I knew its straights, turns and undulations a heck of a lot better. I had received some positive feedback from Tony, one of the better track teachers I have ever been taught by, and was starting to feel fairly comfortable piloting Porsches. This said, I was also getting a bit on the tired side and starting to lose concentration. Straddling the GT's sizeable rockers placed me snug in the centre of its encapsulating driver's seat, ignition switch at my left hand and ultra-short-throw shift lever at my right. The rich brown leather, jewel-like aluminum trim and finely detailed floating centre stack place driver and passenger into completely separate "cells" while setting the GT apart from any other Porsche, or any other car for that matter, but some things, such as the instrument cluster layout and three-spoke steering wheel appeared much as in a Boxster or
911
.
Getting ready to bring the GT to life, the first thing I noticed that was completely uncharacteristic of a modern day Porsche, was its "throwback" clutch design, that is hinged at its base similarly to a few early '70s VW Beetles I'd had at my disposal as a youth,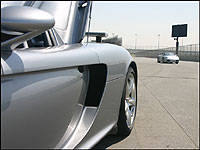 The variety of mechanical noises from the 5.7-litre engine were music to this gearhead's ears. (Photo: Trevor Hofmann, Canadian Auto Press)
and from what I've been told, early Porsche 911s too. With the clutch depressed, a ceramic composite one no less, the dry-sump lubricated 5.7-litre engine fired to life sounding every bit like an F1 V10, a high-pitched burbling complemented by a variety of mechanical noises that were music to this gearhead's ears. A quick blip of the throttle brought me back to life - there's nothing like strapping 600-plus horsepower to the backside to heighten a person's level of concentration. Well, that and the sobering realization that all the power also comes with a significant $440,000 USD ($550,000 CAD) price tag.