The warm weather is officially here-- and this might just be your year to finally buy that zippy convertible for weekend getaways. If fun, affordability and fuel economy are among your priorities in a used drop-top, you'll likely gravitate towards the last-generation Mazda MX-5 Miata.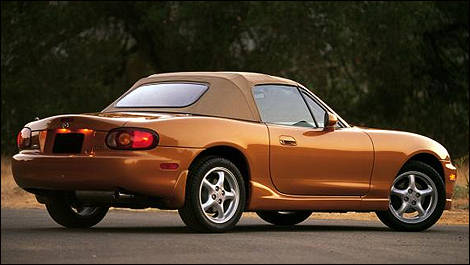 2000 Mazda Miata (Photo: Mazda)
Talk about a success story. For years, this little Japanese convertible has owned the market when it comes to reasonably priced fun-in-the-sun. A lightweight body and four-cylinder engine mean it's great on fuel, though Mazda's attention to exceptional handling and performance make it a popular choice for weekend motorsports enthusiasts, too.
Thousands of owners enjoy the Miata's driving character, manoeuvrability, performance, economy and styling. Of course, trunk space is limited-- and there's no rear seat. If these are issues for you, look for a bigger convertible like a Mustang or
Eclipse
.
The second-generation Miata hit the market as a 1999 model which carried on until the end of
2005
. All models got a 1.8 litre four-cylinder engine which developed between 122 and 142 horsepower, depending on the year in question. Miata is a rear-drive model in any case, with transmission options consisting of a manual five or six-speed box, or a four-speed automatic, depending on the year and model in question.
In the used market, more basic
MX-5
s were given GX or GS trim designations, while the GT and Limited models top out the model range. Features included antilock brakes, a Bose audio system, cruise, remote, power accessories, leather trim and a CD changer.
Note that a 178 horsepower turbocharged Mazdaspeed MX-5 model was available towards the end of the second-generation. It featured various performance and cosmetic upgrades and came with a six-speed manual transmission. These models are fairly rare, and will cost more to fuel, maintain and insure-- though they're a hoot to drive.
The hardest part of your used MX-5 shopping process might be tracking down a few models to test-drive. Cars like the used MX-5 sell quickly this time of year-- so be sure to act carefully but quickly. Determine the likely combination of mileage, year and trim level that you can afford, and search accordingly for used models. Book time for a test-drive and inspection as soon as possible, and have financing in order ahead of time to ensure your dream car doesn't wind up in someone else's garage.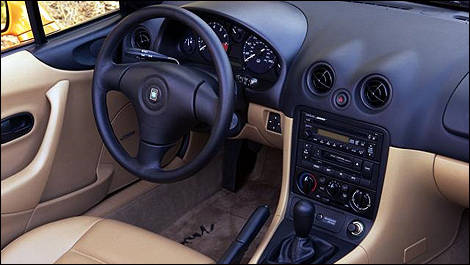 Photo: Mazda