An Exercise in LX Architecture Engineering or a Future Production Car?
I remember in March of 2003, sitting in a theatre-style conference room in the Tribeca Grand Hotel, NYC, as part of an exclusive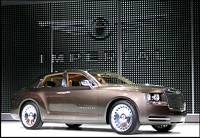 Like when the 300C was unveiled, I didn't like what I saw when the Imperial Concept rolled onto the stage. (Photo: Justin Couture, Canadian Auto Press)
international journalist pre-launch of the then all-new Chrysler 300C, with designer Ralph Gilles going on and on about the bold new look that was to shake up the mid- to full-size sedan segment. I'd like to say that I immediately caught his vision, and that I actually foresaw that the rectangular three-box four-door would almost single-handedly change perceptions about the "cool factor" of domestic vehicles. No, instead I was somewhat dumbfounded, wondering what these new Chrysler designers had done with the gracefully sporty 300M. And looking around, I wasn't the only one who felt this way. Most of those in the room were unsure of Chrysler's new direction, and some, like me, were even brave enough (or idiotic enough depending on how you see it) to state their points of view in ensuing reviews. That, of course, now makes us look as if we lacked vision, but even worse is the fact that I now love the 300C, holding it up as one of the most attractive designs to come out in years.
This realization, which turned into more of a reevaluation during the year or so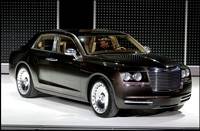 When I first saw the Imperial concept on an internet blog, I thought it was a really well executed artist's rendering of a terribly ugly vehicle. (Photo: DaimlerChrysler Canada) 
between when the concept was revealed, the production version released and soon after, when I went to Palm Springs to drive it, was similar to an experience I had with BMW's 745Li and Z4, both of which I had initially hated before eventually warming up to and adoring respectively. Seeing a pattern, I'm now less likely to bash any car's styling the first time I lay eyes on it, which, I suppose, has had me questioning my own taste in vehicle design ever since.
I mean, do I really have good taste or is my judgment of what may or may not be a future classic a bit flawed? This is a critical question a person in my position needs to ask himself, unless criticism of design, per se, isn't part of a given auto writer's bundle of specialty scribe services. It is mine, however, and I previously trusted in it wholeheartedly.
Why all this introspection? Because, I'll once again be brutally honest with you, when I first saw the Imperial concept on an internet blog, I thought it was a really well executed artist's rendering of a terribly ugly vehicle, but I couldn't believe anything so crass could have come out Chrysler Group's styling studios so I figured it was made up out of thin air by one of those creative genius graphic artist types, that can make a drawing look so real, often integrating a vehicle into a beautiful background to trick enthusiasts into thinking that it's the real deal, just to drive web traffic and, over the short term, satisfying the thousands of hungry auto fans starving for speculative info on the future of the auto industry. I mean, how many renderings of future Camaros have you seen over the last few years? Too bad that Chevy didn't hire one of those kids to design their latest pony car concept, but I suppose there will be more time to discuss this in another concept review (coming up soon btw).
And then, to get back on subject, when I saw the new Imperial Concept in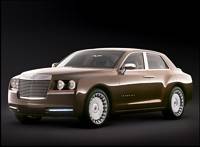 What do you get when you cross a Kia Amanti with a Rolls-Royce Phantom? You guessed it. (Photo: DaimlerChrysler Canada)
the metal at the North American International Auto Show in Detroit, where it debuted Sunday, I was shocked that the car on stage was the same as that depicted on the internet blogs previously... and like the 300C, not too happy with what Chrysler's design team had created. Actually, why don't I show you what I had initially written about the car as an opening paragraph? Here it is:
"What do you get when you cross a Kia Amanti with a Rolls-Royce Phantom, and then throw in some ZIL 41041 (Russian limousine) and, of course, a dose of the Hongki "Red Flag" HQD, limo-maker to the Chinese government? Yes, it's the ugliest concept car to show up at Detroit's North American International Auto Show in decades."