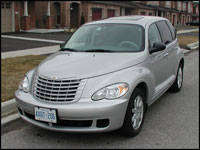 2006 Chrysler PT Cruiser (Photo: Leslie Wimbush, Auto123.com)
Some folks worship at the altar of pure horsepower and handling, while others appreciate the aesthetics of beautiful styling and attention to detail. And to a lot of buyers, reliability and practicality are the features most valued when they make a vehicle purchase. Fortunately, there are as many cars as there are individual tastes.
Chrysler's PT Cruiser
, a smooth, affordable little wanna-be hot rod first introduced in 2000, has received some tweaking for 2006 - quite possibly anticipating some competition from General Motor's new HHR.  Both were created by the same designer, Bryan Nesbitt, who departed Chrysler for GM a couple of years ago.
Exterior changes are marginal - the grille no longer extends down past the bumper and is garnished by a larger winged badge and framed by scalloped headlights with round fog lights beneath. A spoiler perches on the rear liftgate now, presumably to enhance aerodynamics.
The High-Output Turbo charged engine is blessed with an additional 10 ponies, raising its output to 230 from 220, with the torque staying the same at 245. The test car, a 2006 PT Cruiser Touring, had the 180-hp Turbo under its long tapered snout.
Flat on the bottom and with its highly domed carapace, the PT has always reminded me of large and very pretty turtle. Its cute and kitchy looks are big hits with fans of modernized hot rods - as well as those who grow fond of and name their cars. Its fans love its retro kitchiness - and appreciate the little details that a nice fit and finish offer.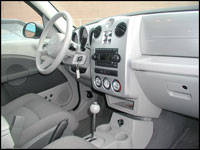 2006 Chrysler PT Cruiser (Photo: Leslie Wimbush, Auto123.com)
Once I stopped criticizing it for what it wasn't and started appreciating it for what it was - I started to enjoy the vehicle. Assessing the PT Cruiser for its road and track handling ability is a little like evaluating a Ferarri for its towing and cargo capacity.
Having fun with it required changing my mindset from sports mode to comfort setting however. This isn't a car for the driving enthusiast, but is great for someone who's in no hurry to get there and wants to arrive in unruffled comfort.
The turbocharged four-cylinder engine is peppy, but rushing the PT upsets it considerably. So why bother? It has enough grunt for highway passing, but body roll and wind noise make highway driving something to be endured rather than looked forward to. I found myself subconsciously checking the sunroof and the windows to ensure that they were completely closed due to the overwhelming wind noise. Having driven last year's model in convertible configuration - I chalked the noise up to the topless design, but it seems to have carried over to the '06 hardtop. Odd, because according to press releases, there are several acoustic improvements - including sealing around doors and windows, increased sound absorption in the trim, A-pillars and floor pan as well. Nonetheless, even the sound system couldn't drown out the rushing wind while bringing it home on the highway. Speaking of which, there's a new SIRIUS Satellite Radio with a free first-year subscription.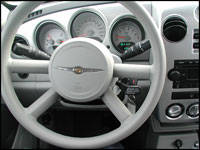 2006 Chrysler PT Cruiser (Photo: Leslie Wimbush, Auto123.com)
The PT excels at what it does best: cruising. The transmission is smooth and shift changes are quick. Steering is again, more comfort-oriented than athletic - with the expected amount of oversteer. As well, design of the steering wheel doesn't encourage the textbook 9 to 3 hand position, but annoyingly necessitates shuffling to adjust and correct steering on tight on-ramps. But it's perfect for downtown driving, parking is a breeze and the upright seating position puts the driver in a good vantage point visibility-wise.