Team auto123's final Tour of Duty at the 2006 SEMA show had us cruising through the North Hall. On the menu, we had mobile electronics, tools and equipment and car care accessories. A large part of the electronics is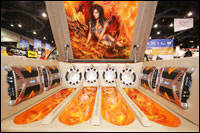 (Photo: Philippe Champoux, Auto123.com)
audio systems also known as ICE (in-car entertainment). Many displays were grandiose but the most impressive showcases are the cars. One booth featured a very early 70s Honda N600 that basically served as a box for three 15" subwoofers. Whether the vehicle was from the 50s or today, the possibilities for customized audio systems is limitless. We also found some companies that are investing in tire pressure monitoring systems. As some of you may know, these devices will be mandatory on all vehicles sold in the US by September of next year. It is already a well documented fact that TPM systems are problematic so it is good to see that there are groups out looking for better tools. One very interesting booth featured custom Convertible conversions. On display were a Toyota FJ Cruiser and a Chrysler 300.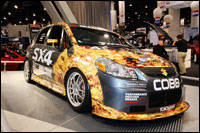 (Photo: Philippe Champoux, Auto123.com)
A number of car manufacturers made their presences felt all over the show with a number of their sporty models or with a series of modified versions of some of their latest products. Those that were present included: Honda, General Motors, Chrysler, Ford, Mazda, Volkswagen, Toyota, Kia, Nissan, Suzuki and of course, Volvo.
The most impressive booth, actually there were two of them, were Michelin with its uncanny collection of super-ultra-mega-exotic cars which included no less than a McLaren F1 LM, A Koenigsegg CCX, a Saleen S7 and a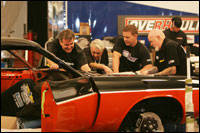 (Photo: Philippe Champoux, Auto123.com)
Bugatti Veyron to name but a few. The other was Mopar (Chrysler); never has the HEMI looked so good under so many hoods through so many years.
As it turns out, we will not have pictures of the final result from Overhaulin's. This is a little but of a let down as we were really looking forward to seeing the car in its full finished glory. I guess we will have to wait to catch the episode on TLC like everyone else.