What an engine!
Acura's TL is considered as one of the best sport-luxury sedans. Powerful, comfortable, distinctive, well-equipped... there isn't much to complain about. But the car has a problem that tarnishes the driving experience a little bit, or at least during full-throttle acceleration: the engine's power is transmitted to the front wheels.
Does the new Type-S version fix this? Um, no.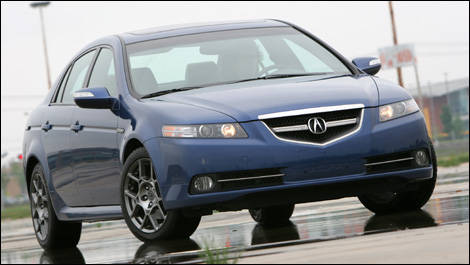 The TL is a front wheel drive performance sedan.


Esthetical changes this year
Bumpers, grille, headlights, fog lamps, taillights; all this has been redesigned, but visually, the changes are barely noticeable. But the
Type-S
version is easily recognizable by its exclusive bumpers, its rear decklid spoiler, its quad exhaust tailpipes and, the most striking element, the magnificent gunmetal alloy wheels. The verdict? I love it, and I'll never grow tired of looking at the car.
Same conclusion inside; the dashboard is well-executed with bright trim here and there, to add a little contrast. The metal pedals fit well with the sporty character of the car. The fluorescent illumination of the instrument pod is nice, and the controls around the steering wheel are all well-placed and easy to use while we're driving.
However, Acura has the bad habit of assembling most climate control adjustments on the navigation system's touch screen; we must take our eyes off the road to operate them. There is even a backup camera to help during reverse motion, although it's not very useful; during the first two days of this test, I didn't even notice its existence.
The seats are perfect, but I don't really like the light grey portions of the leather; a more-contrasting color to go with the black would've been better. There is ample space up front, but curiously, this big car can hardly sit three across on the back seat. Let's just that the TL is perfect for four people.
The sound system with 6-disc changer is sublime. It can read DVD-Audio discs and, new this year, MP3 and WMA files. The radio can also receive XM satellite radio. But the tape deck really doesn't belong here, looking like a pimple of the face of a supermodel. The performance of the speakers is impressive.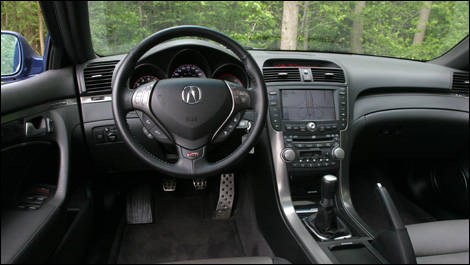 The black interior is somewhat austere but well assembled.