Performance Eclipses Comfort
Type-S
The Acura TL is a tremendously satisfying sports sedan in its non-Type-S format. Adding "Type-S" to its nomenclature doesn't necessarily inflate fulfillment. I have always enjoyed seat time in the TL, finding it to offer an outstanding blend of performance, refinement and luxury at a reasonable price. Despite the expanded handling thresholds of the Type-S, I wouldn't pay a nickel to move up from the standard TL. Why? Good question.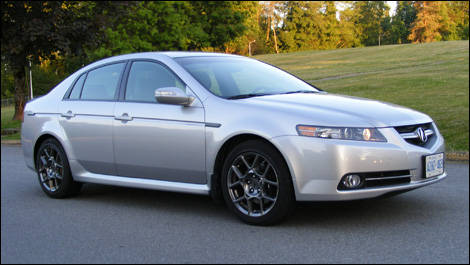 You will have to spend an extra $3,800 to get from the "base" TL to the Type-S.


Type-S ride and handling
This week's tester reminded me why I have always been a TL supporter- great performance, wonderful engine, Acura quality...the list goes on. It also confirmed why I'm not "Type-S" crazy. My silver bullet Type-S tester glued itself to corners with unrelenting tenacity; that was great! Not so great was the sedan's rigid ride accompanied by too much suspension thump. I couldn't live with the two detractions.
Of course, my quibbles may mean little to those seeking a sedan that'll hold a line as good as anything out there, and for less money than many. Personally, the cost - and I don't mean financial - of exercising enhanced handling over that of a regular TL is just too great. Living with a
TL Type-S
in the real world means commuting daily on deteriorating roadways while tolerating traffic snarls. These are not conditions that allow the exploration of Type-S's exceptional handling characteristics.
Real world driving would have me much happier in the smoother riding, more civilized base TL. Before I get accused of not understanding or appreciating the Type-S concept, let me put my displeasure with the ride quality and suspension noise of my tester behind me and get on with the body of my review.
Type-S technical
What turns a conventional TL into a Type-S? Increasing horsepower from 258 to 286 and torque from 233 foot-pounds to 255. Complementing the escalation in output is Brembo braking, re-calibrated suspension, sport seats, paddle shifting (auto only) and a spoiler along with Type-S-specific interior and exterior mods.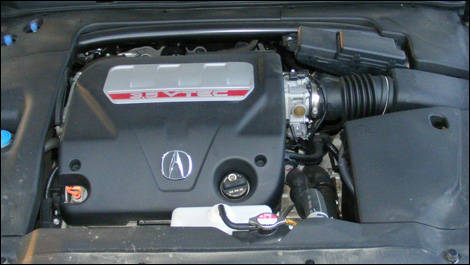 The 3.5-litre V6 engine offers an additional 28 hp.