Stealing thunder from the best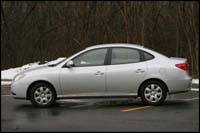 The Elantra gets a much-appreciated redesign for 2007.
Saying that Hyundai has been on a roll lately is an understatement. After rejuvenating the Sonata, the XG350/Azera, the
Accent
and the
Santa Fe
, as well as adding the Tucson SUV and the Entourage minivan, the company's compact sedan was also due for a drink in the fountain of youth.
The last Elantra was a marshmallow. One of the least-expensive offerings in its class, it was fairly competent but offered a very, very soft ride. Body roll was everlasting; agreeable for some who like a cushy suspension setup, and irritating for those who like a little more sportiness in their daily commute.
Much better road manners
The new
Elantra
is still soft compared to rivals such as the Mazda3 and Ford Focus, but its ride strikes a much better balance for floating over pockmarked roads as well as a highway off-ramp. The car's dynamics are much improved.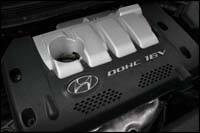 The engine is still the 138-hp, 2.0-litre 4-cylinder.
The 16-valve, 2.0-liter engine is still on duty under the hood, producing the same 138 horsepower as before. Hyundai probably thought that if it isn't broken, there's no need fixing it. They're partly right. There is adequate power, but the engine is a little noisy compared to some other compact sedans. There is a noticeable improvement over the old Elantra, however, maybe due to better sound insulation.
The 4-speed automatic's reflexes are a little slow, which is typical in recent Hyundai products I've driven. I managed a fuel consumption average of 10.5 L/100 km, which isn't bad, since about three-quarters of the kilometers I traveled in the Elantra was during city driving. Still, I was excepting better.
Nicely-furnished cockpit
While the base Elantra GL's standard features list is short, the rest of the model range is well-equipped. The GL Comfort Plus I'm testing includes heated seats, side airbags, side-curtain airbags and 4-wheel disc brakes with anti-lock.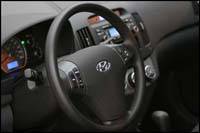 The flush-mounted controls on the steering wheel mimic those found in Hondas and Mazdas.
The wheel-mounted controls for the stereo with MP3-capable CD player and cruise control, flush-fit in the spokes, look just like those found in Honda and Mazda products, and are more convenient to use than those in other Hyundai models. Climate controls can't get any better than those found in the Elantra, with big round rotary dials.
Comfortable seats are bolted in a spacious cockpit that looks good. The quality of the materials is slightly below what the Japanese compacts offer, but is way ahead of the domestic-brand compacts and the old Elantra. There's plenty of room inside, since the Elantra is one of the biggest sedans in the compact category.