A Jeep for the one percent
It's important to set things straight right off the bat. The
Jeep Wrangler
Unlimited is not an SUV, and it's not luxurious, plush or even very refined.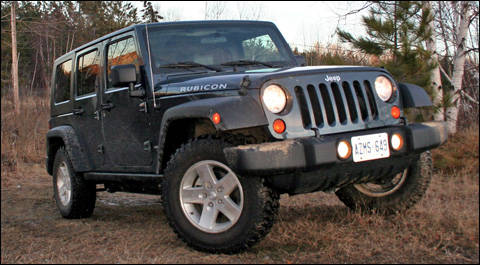 Possibly the most potent vehicle when it comes to off-road adventure.
That said, there will be no further mention of other sissy stuff like leather, soft-touch plastics or interior noise levels in this review. This is a Jeep, after all- not a wannabe off roader or some poser 4x4. What it is, is arguably the worlds most capable and confident machine when it comes to tackling nasty, sloppy ruts and steep, boulder strewn hills. Rocks, logs and streams get up and run at the slightest hint of this machines presence coming down the trail.
Instantly recognizable as a Jeep product, the Unlimited attracts crowds of curious onlookers and enthusiasts in parking lots, all with stories or compliments to share. It's some combination of the slotted grille, steel bumpers with hooks and bear-claw tires that communicate with little doubt that this machine doesn't belong on the road- but rather at the top of some huge mountain or in the middle of about 2 feet of mud. One girl I observed checking out the Wrangler said it looked "hot", and I'm not sure what she meant. After all, the Wrangler has the sex appeal of a large-mouth Bass, though the rugged, industrial and near-military look may grow on you.
But it doesn't just look capable. With a solid front axle, the componentry amounts to a mere steel girder with driveshafts installed. Handling suffers, but overall toughness benefits. Independent front suspensions are flimsy compared to this setup, including that of the twice-as-expensive Hummer H2, by the way. With no plastic bumpers and nothing but toughened, solid steel parts and skid plates underneath, drivers needn't worry much about contacting obstacles on the trails. Plainly, this is a truck for the 1 percent, and it's going to be successful at tackling any sort of off-road terrain.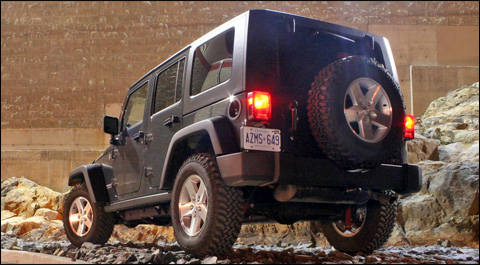 The Wrangler Rubicon comes equipped with all it needs to deal with anything you will throw at it.
But we haven't even started yet.