From point A to point B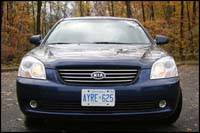 (Photo: Philippe Champoux, Auto123.com)
There are no less than 28 mid-size sedan offerings in Canada, if I counted correctly. That's a lot, as almost every manufacturer has at least one. So when a new model is introduced, it has to be good--very good.
After a week with Kia's Magentis, new for 2007, I'm not sure the car has what it takes to distinguish itself in the mid-size category. I'm not saying the Magentis is a bad car; it isn't, especially since it's a kissing cousin to Hyundai's award-winning
Sonata
.
First of all, the new styling of the car makes it hard to find in a shopping mall parking lot. Its bland looks do nothing to help it stand out of the mid-size crowd. It can be the ultimate stealth car, however, going unnoticed wherever you drive it. If Paris Hilton would want to quit being under the spotlight one day (highly unlikely), she could start by buying a Magentis.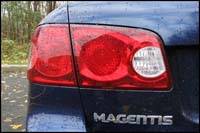 (Photo: Philippe Champoux, Auto123.com)
Compare a Magentis and a Sonata side by side, and you'll notice that they use the same doors. The rest of the sheetmetal is a little different. Overall, the car doesn't have any styling cues that tie it to Kia's brand image. It's far from being ugly, but it's a little boring. The old Magentis wasn't a pure beauty, but it least it looked different from the competition.
This test car is equipped with the base engine, a 2.4-liter inline-4 that produces 161 horsepower and 163 lb-ft of torque. It's fairly powerful and gives the car adequate acceleration. However, the engine doesn't have much low-end torque, and passing on the highway is more difficult.
The 5-speed automatic works well, and you can make it react faster by using the manual mode that's included in every Magentis. What's ironic is that the Kia Rondo I recently drove gets a 4-speed unit with the 2.4 engine, but seemed to be better adapted to the engine than the 5-speed in the Magentis. A 2.7-liter V6 with a little more power is also available,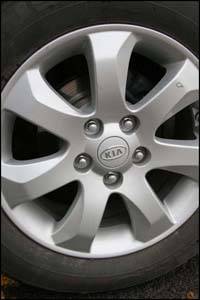 (Photo: Philippe Champoux, Auto123.com)
but Hyundai is keeping the Sonata's powerful 3.3-liter unit to themselves. My
fuel consumption
average is 10.4 L/100 km, which is pretty decent.
The Premium model also features traction and stability control systems, which are handy in nasty weather, but they aren't there because the car is overpowered. Kia also covered all
safety
concerns, as every Magentis is equipped with front, side and side-curtain airbags.
This is a soft car. The suspension setup is tuned for ride comfort, so there is some body roll, and the 16-inch tires squeal frequently in tight curves. The 4-wheel disc brakes include antilock and electronic force distribution, but the pedal is squishy and has a used-car feel to it.