Will it lose its bestseller title? Not really.
Gatineau, Quebec
- since its launch in 2000, Ford sold over one million Escapes, including 125,000 in Canada. At the time, the task was easy, but the compact SUV segment has become rather crowded, and there are now a lot of strong competitors.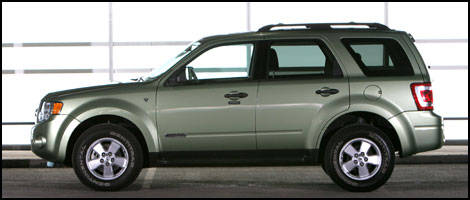 The changes brought for 2008 are more evolutionist that revolutionist.
The 2008 Escape hasn't received a complete redesign, but Ford gave it some noteworthy changes. You shouldn't mess with success, but we'd rather believe that Ford just kept the budget tight during the renewal of its small SUV.
What's new
First of all, the changes: on the outside, the sheetmetal is redesigned, inspired by other Ford trucks. So that means a squared-off appearance, a prominent chrome grille and a tougher overall look than the previous model.
The plastic lower-body cladding has been ditched, and the truck gains a cleaner profile. If the previous Escape's look started to accumulate cobwebs, the reskin of the new model is a success, in my opinion.
Inside, we notice a redesigned dashboard, which is more serious-looking and more functional. Plastic is still in fashion here, but at least its texture and appearance are much improved. The color schemes are very nice. A new display on the top of the centre stack gathers up relevant information, and the controls for heating and ventilation are easy to manipulate.
The navigation system includes a touch-screen, and I think Ford installs very good ones in their vehicles. In this case, however, the size of the screen isn't high enough; since the trajectory goes upwards on the map, you don't see much of what's coming up. The green instrument lighting is replaced by an ice-blue color, which is much trendier.
V6-powered Escapes regress a little in the brakes department with rear drums, since the equivalent 2007 models counted on 4-wheel discs.
Ford realized that 40% of compact SUV buyers opted for the smaller engine, so the company added XLT versions of the Escape with the 4-cylinder engine. The manual transmission isn't offered anymore for 2008.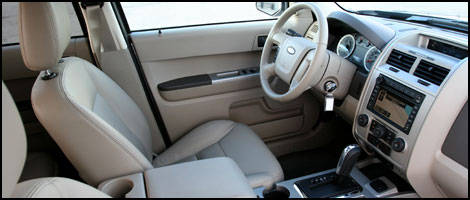 Interior fit and finish has been improved.