Driving excitement is seldom a priority of Toyota
buyers
. They're more interested in reliability, resale value, build quality and what can be described as understated styling. It's almost as if they where allergic to adrenalin.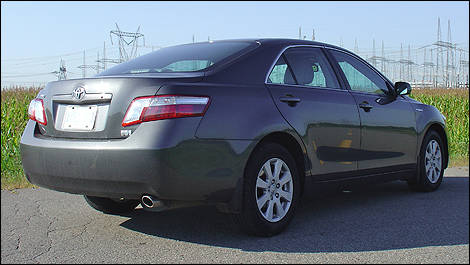 The Toyota Camry Hybrid offers comfort, economy and quality.
The same logic applies to the 2009 Toyota Camry Hybrid. True, this car has a certain charisma while also being fuel-efficient and flawlessly constructed. But in terms of thrills behind the wheel, the only thing that will send a shiver down your spine is if the interior temperature is too cold.
Vibrant Clarity
Like every other new Toyota, the Camry Hybrid is a product of the automaker's "Vibrant Clarity" design philosophy. The whole concept is pretty hard to explain, but the result speaks for itself: the rounded, bulging grille is instantly recognizable, the side panels are sleeker and more streamlined, and the rear section is equally graceful.
However, Toyota designers could have made the hybrid variant a little more distinctive. Of course, it takes nothing away from the car's green performance, but how on Earth will ordinary folks like you and me be able to tell the difference from the regular Camry? Eco-minded consumers who want to make a strong statement to the rest of the world will surely think twice before purchasing this model.
Room to spare
Likewise, the interior is modern yet relatively plain. The instruments are easy to read, the controls are conveniently located and the entire dashboard does a good job of combining brushed aluminum accents and grey plastics. Overall, the layout is tastefully executed and with no obvious flaws.
I don't know what's up with the center stack, though. I have no problem with the navigation display and
fuel economy
meter, which I found user-friendly, but could somebody explain to me the reasoning behind that ugly aqua blue trim?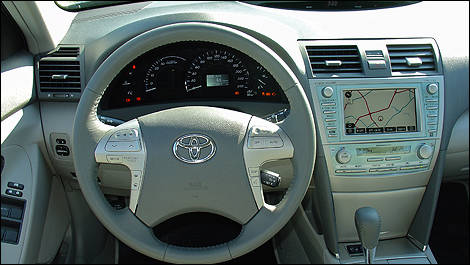 The instruments are easy to read and the controls are conveniently located.