The CSX, as well as the EL that preceded it, has a tough job. It serves as the entry-level model in Acura's Canadian line-up, but it's based on the
Honda Civic
that costs up to ten grand less.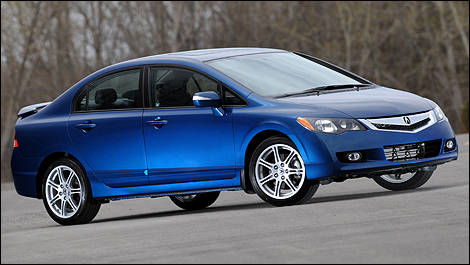 For 2010, Acura added more features into a new base model called the i-Tech. (Photo: Matthieu Lambert/Auto123.com)
Okay, we might be a little harsh here, as a $16K Civic DX and a $27,490 CSX are very different in terms of equipment level and powertrain.
For 2010, Acura even sweetened the deal by adding more features in a new base model. Called the i-Tech, it includes xenon headlights, a
navigation system
with voice recognition,
Bluetooth connectivity
and XM satellite radio; stuff that used to be part of last year's Technology trim that cost $29,990.
As for our Type-S test car, it gets a $3,410 price drop and now retails for $29,990, which is obviously a much better deal.
Although the i-Tech gets a 155-horsepower, 2.0-litre 4-cylinder engine, the Type-S gets a high-output version that develops 197 horsepower and 139 pound-feet of torque, while the only transmission available is a 6-speed manual. This engine is a rev-happy screamer, and redlines at 8,000 rpm. Yes, it's the same engine found in the Civic Si.
This is the type of engine that was amazing 10 years ago, but has lost a bit of its luster since. Although it develops nearly 100 horsepower per litre, it's rather low on torque, and peak power is obtained at just 200 revs shy of the redline. As such, you really have to wind the hell out of it in order to poke the entire stable of horses.
The kids probably like this type of rice-burner engine as much as I did when I was in my twenties and had my share of peaky VTEC engines. Fifteen years later, I don't seek to hit an engine's redline all that much anymore.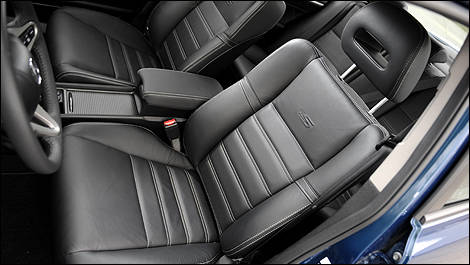 The Type-S' heated leather seats are generously bolstered and supportive. (Photo: Matthieu Lambert/Auto123.com)