Remember that comment about hybrids? Well, the proverbial proof is in the pudding! If Ferrari is toying with the idea of a hybrid, then the World has officially gone hybrid-gaga. As it would, this is no "ordinary" hybrid. Ferrari has based this concept on the forever-gorgeous 599 GTB Fiorano and managed to use the weight disadvantages normally associated with a hybrid powertrain to improve centre of gravity and thus not tampering with the drive. Although the mileage improvement is of roughly 50%, this is no fuel miser by any stretch of the imagination.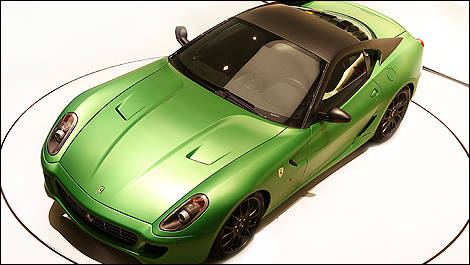 photo: Ferrari
As reported by Ferrari
Ferrari presents a vettura laboratorio (experimental vehicle) at the 80th edition of the Geneva Motor Show based on the 599 GTB Fiorano equipped with an advanced new
hybrid
transmission.
Hybrid technology is one of the solutions examined by Ferrari in its on-going research and development into making its production cars ever more efficient. Experimenting with alternative technologies represents the company's long-term strategy after the announcement in 2007 of a five-year plan to reduce fuel consumption and emissions across the range. With the launch of the Ferrari California (2008) and the 458 Italia (2009), in fact, Ferrari's average
fuel consumption
and
CO2 emissions
figures have already been reduced by around 30 per cent compared to 2007.
The HY-KERS displayed at the Geneva Motor Show is an example of how Ferrari is studying the application of hybrid technology to high-performance sports cars. Central to Ferrari's objectives is maintaining the balance, handling and performance characteristics typical of its cars despite the inevitable disadvantages in terms of weight represented by applying hybrid solutions to existing models.
To this end Ferrari has employed its racing experience to adapt a lightweight hybrid drivetrain to the 599 GTB Fiorano with the aim of ensuring that vehicle dynamics are unaffected. This was achieved by the careful integration of all system components, positioning them below the centre of gravity and ensuring that interior and luggage space are entirely unaffected. Similarly the flat lithium-ion batteries are positioned below the floorpan of the car inside the aerodynamic underbody. The result is a centre of gravity that is even lower than in the standard car. In addition, a part of the weight gained by fitting the electric motor, generator and the batteries is offset by being able to do away with the traditional starter motor and battery.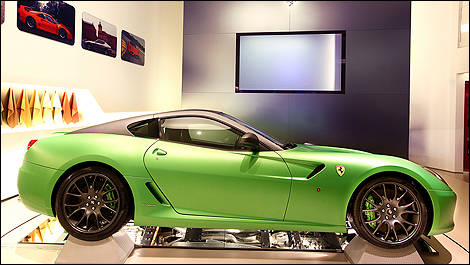 photo: Ferrari